All Eyes on Adair and Hasaranga as Sri Lanka, Ireland Eye Super 12 Berth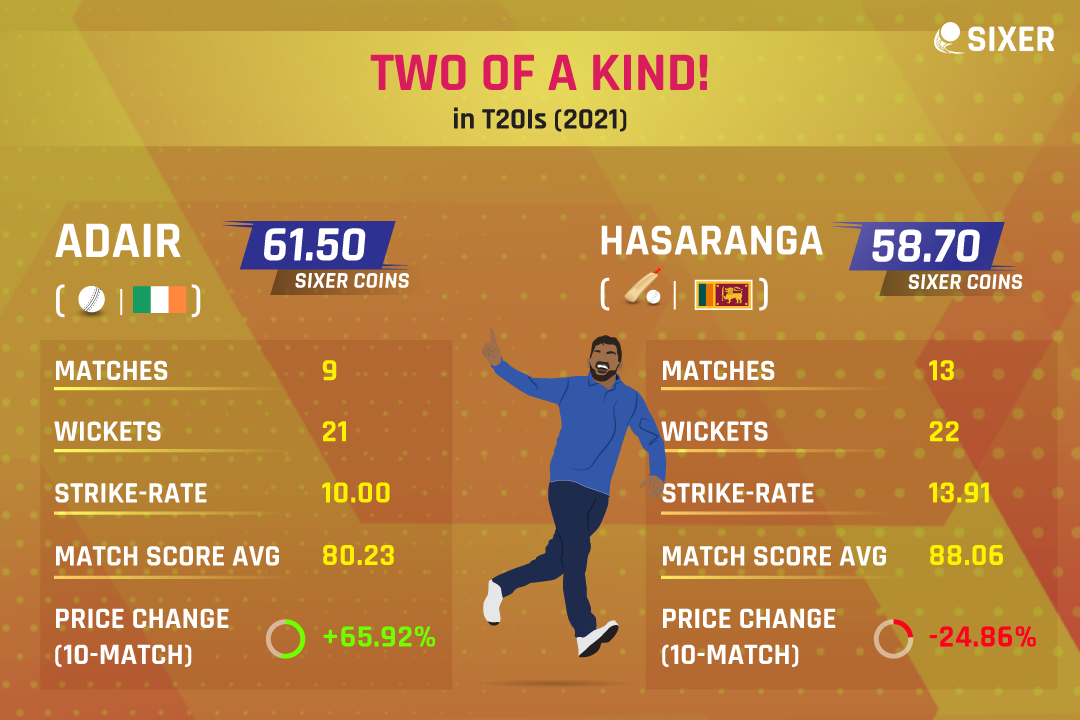 The T20 World Cup has already delivered a lot of opportunities in the Sixer Market, with the best part being we are only a couple of days into the tournament itself! While Sri Lanka and Scotland have already emerged as the standout teams, the likes of Ireland and Bangladesh aren't far off as well.
Speaking of Sri Lanka and Ireland, they will look to seal a spot in the Super 12 at the expense of one another later today. However, there's a mini-battle one needs to look into. The one between Mark Adair and Wanindu Hasaranga. Both of them have been brilliant in this format for the last year or so, which is exactly why we are going to take a closer look into their numbers! Without further ado, here's your dose of Sixer Insight ahead of Sri Lanka's vital clash against the Irish.
Two of a Kind! Hasaranga and Adair Averaging A Match Score Average of Over 80 in T20Is this year!
Mark Adair has been Ireland's best bowler for the last year and so and his numbers share the same story. In nine T20Is this year, Adair has picked 21 wickets at a brilliant strike-rate of 10. His match score average also reads a whopping 80.23, the highest for any pacer this year. His ability to swing the new ball and also hold his own in the death overs has served him well, earmarking him as one to watch out for in the Sixer Market.
In fact, Adair has seen a stellar price increase of 65.92% in his last ten outings for Ireland, indicating the level of impact he has had for them. In addition, Adair is a handy batter down the order and has also been promoted a couple of times to accelerate the scoring, marking him as a premier all-rounder for the Irish!
Speaking of premier all-rounders, there aren't many spin-bowling all-rounders who can boast of what Wanindu Hasaranga has done in 2021. He has picked 22 wickets in 13 games with a match score average of 88 to show for his efforts. He picks a wicket every 13.91 balls, which accounts for almost two wickets per game.
That isn't all for Hasaranga. He has the experience to fall back on as well, and despite his price dropping by 24% in his last ten outings, it still reads a whopping 58.70 Sixer Coins! For fantasy shareholders, this is an opportunity to grab Wanindu Hasaranga, whose all-time high belittles his current fantasy price. The pitches in the UAE are also helping him and his leg-spin, which surely will be a factor in the tournament ahead. But can he first get the better of Adair, Stirling and co today? Only time will tell!
Other insights that might interest you