All Eyes on Babar As Pakistan Eye T20I Series Whitewash Against Injury-Ridden Windies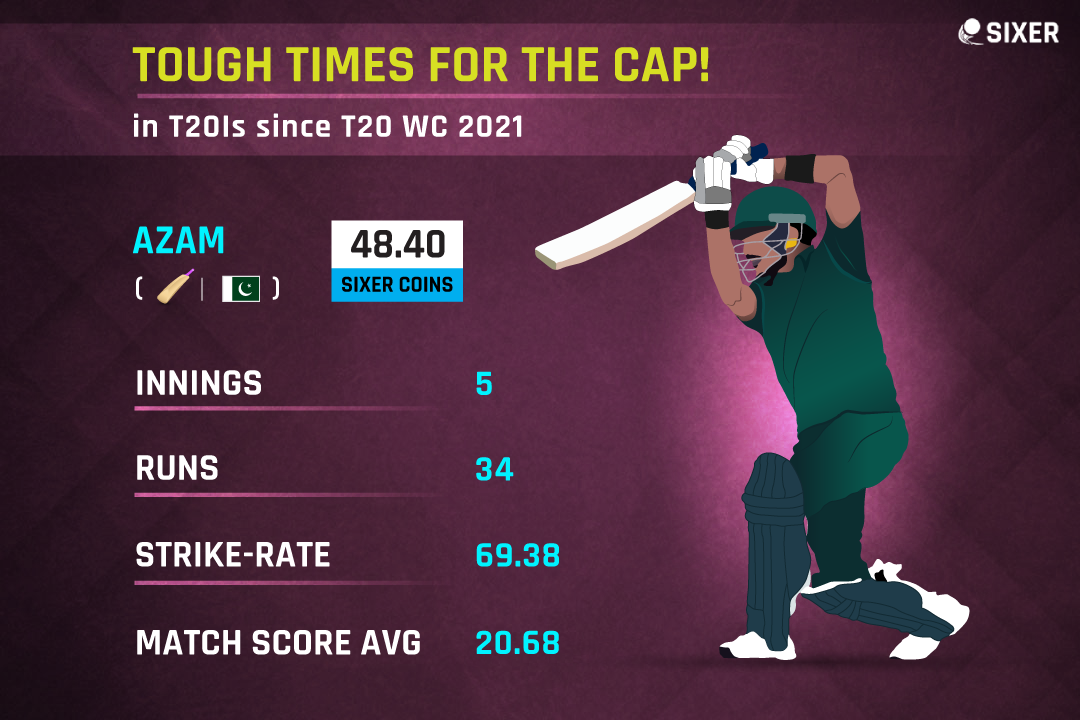 The Sixer Market has been buzzing with BBL fantasy players over the last few weeks. Be it, Josh Philippe or Glenn Maxwell, people have been eyeing fantasy trades like a hawk. But with the BBL on a brief hiatus given the Pink Ball Test, fantasy trades are looking elsewhere.
There is plenty of cricket going on around the world with the Ashes set to hog the limelight over the next few days. However, it isn't just about the Ashes or India's tour of South Africa in the international circuit. Amid all the happenings, West Indies have already played a few T20Is in Pakistan with the home side already gaining a series win. They will be eyeing a cleansweep today but it hasn't been quite rosy for the hosts by any means!
Babar Azam has failed to get a 50+ score since his ICC T20 World Cup exploits, scoring just 9 runs in the ongoing series as well. Although Pakistan has gone about their things without any fuss, they will have one eye on their captain's form, which has been un-Babar-like in the last few weeks. However, this needs a deeper inspection, which is exactly why we are here! Without further ado, here is your dose of Sixer Insight for the day!
Azam Fantasy Stocks Available for 48.40 Sixer Coins - His 28-Match LOW!
Babar Azam hasn't been his usual self since the World Cup. Although some may claim this to be fatigue, Azam might just be undergoing poor form owing to rotten luck and some good bowling too. Firstly, let's take a look at the numbers. Azam has played in 5 T20Is since the T20 WC but has scored just a mere 34 runs at a strike-rate of 69.38. To make matters even worse, he averages a match score of just 20.68, which is poor for even an average cricketer!
While he didn't play on flat-tracks against Bangladesh, against whom he played three games, Azam doesn't have this excuse for his failures against West Indies. The pitch at the Karachi Stadium, which hosts the third T20I today, is a good one to bat on with the ball skidding on to bat nicely. But Azam has failed to get himself going with the Pakistan captain even suffering from rotten luck via a run-out!
But again, we are talking about Babar Azam, Pakistan's answer to Virat Kohli in the white-ball formats! He is one of the most consistent performers in the T20I format and averages over 45 with the bat. Against a weakened Windies bowling attack, it may only be a matter of time before Babar gets back into the runs. At 48.40 Sixer Coins, Babar Azam's fantasy stocks are available for a bargain. With fantasy users already turning their focus towards this T20I, Babar Azam's fantasy stocks are going to be worth their weight in gold, metaphorically of course!
Other insights that might interest you