All Eyes on Chartbusters Samson and Harshal Ahead of RR vs RCB Clash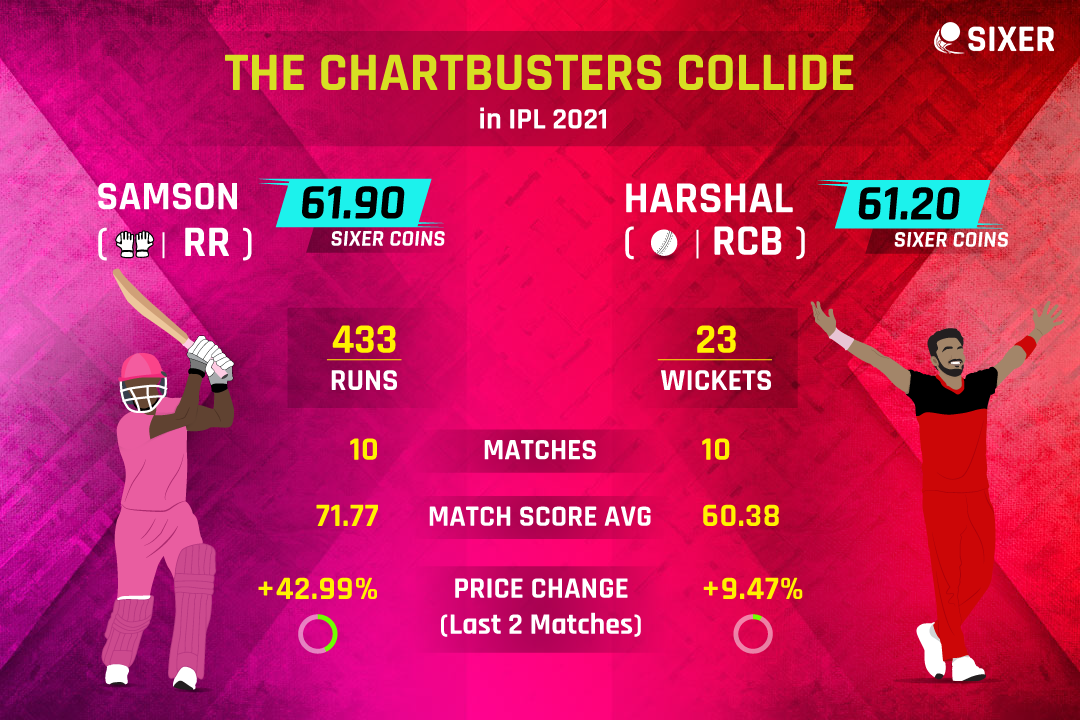 The IPL is a gift that keeps on giving, with players coming up with splendid performances for their sides. Not to mention, some of them have even gone on to achieve personal highs and even tournament highs.
Two such players who are on course to breaking their personal highs and setting the standard in IPL 2021 are Sanju Samson and Harshal Patel. Both of them have seen a rapid rise in their valuations over the last few months courtesy of the IPL and rightly so.
While Sanju Samson is in the mix for the Orange Cap with over 400 runs to his name, Harshal Patel has been the surprise package in IPL 2021. Barring a miracle of gigantic proportions, Harshal Patel should win the Purple Cap this season and we are still at Match 43.
As both Sanju and Harshal come face to face today, here's some much-needed insight on the two chartbusters to get yourself going in the Sixer Market!
Leadership Bringing the Best out of Samson?
Sanju Samson was appointed RR captain ahead of the IPL season and boy has he delivered with the bat under pressure! He started his campaign with a scintillating hundred against PBKS although that was just the beginning. Samson has now gone on to score 433 runs in 10 matches with a match score average of 71.77!
In fact, Samson's price has gone up by 43% in his last two games, which indicates the kind of form he is in going into this game against RCB! Nothing has changed in terms of Samson's batting position this year. It has been better application and composure in accumulating runs in the top-order.
Sure he is perhaps the most stylish batter in the competition but there's no value in having quality where there isn't quantity. With a heap of runs under his belt and a supposedly fresh approach to his batting, Samson briefly wore the Orange Cap in his previous outing. He will be looking to not only reclaim it but also steer away from the pack that includes Shikhar Dhawan and reigning Orange Cap winner KL Rahul!
Can Harshal Scale Unfathomable Heights in IPL 2021?
It isn't going to be an easy task for Sanju Samson as he faces a resurgent RCB bowling attack, led by Harshal Patel. Traded ahead of the season, Harshal Patel has vindicated the decision with as many as 23 wickets in ten matches, which is five more than Avesh Khan (second-highest), although even Avesh has played a game more than Harshal!
Harshal's variations and uncanny knack of picking wickets in the death holds him in good stead. While his match score average lies in the 60s, 'Purple' Patel, as he is being fondly called by RCB faithful, has been highly influential in RCB's standing in the points table.
However, Harshal might have a different goal in sight at the moment. With 23 wickets and four games to go in the tournament league phase, Harshal will be eyeing the coveted 30-wicket and possibly even breaking the record for most wickets in a season held by Dwayne Bravo. But it seems to be an thought at the moment. With how the pitches have behaved in the UAE leg, Harshal might not be a bad bet to do so by any means.
But the immediate goals for Harshal will be to get the better of Samson and his colleagues as RCB looks to close in on a top-four finish. Who will come out on top in this clash of the chartbusters? Only time will tell!
Other insights that might interest you