All Eyes on Perera As SL Eye Aussie Scalp in T20 WC!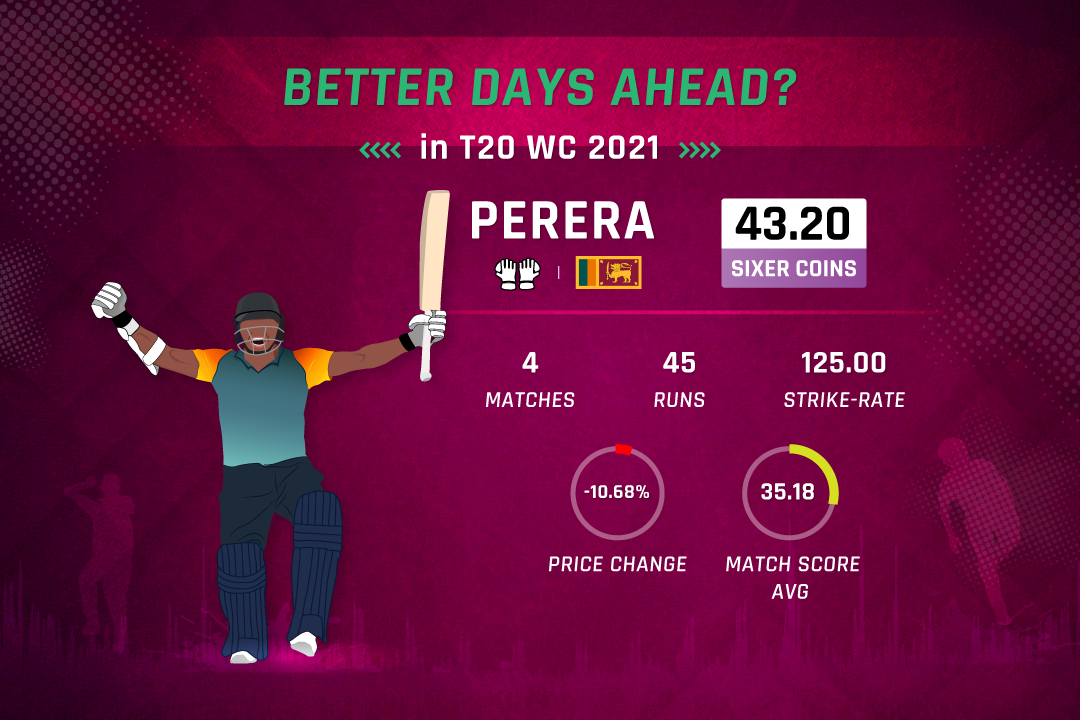 The Australians are back in action in the T20 World Cup. After a resounding win against South Africa last week, they will be looking to continue their fine form and sustain their push for a top-two finish in Group 1.
But Australia isn't the only unbeaten team in the competition. Their opponents on Thursday, Sri Lanka, are yet to lose one ad they come into this game on the back of four wins, including one against Bangladesh. Their bowling attack has been their USP, with Lahiru Kumara and Wanindu Hasaranga impressing in the middle overs.
However, our focus shifts to the batting unit and onto Kusal Perera in particular. The Sri Lankan wicketkeeper is well-known in the cricketing circuits, and for good reasons. Who can forget his sensational hundred against South Africa in 2019 (Tests) or his explosive performances for Sri Lanka in the ICC Men's World Cup 2019?
Earmarked by many as Sri Lanka's best with the bat, Kusal Perera has fallen off the radar in this tournament. His form has been dismal, although Sri Lanka has been able to get through his patchy form with ease. But against quality oppositions such as Australia and England, Kusal Perera's form is critical. So without further ado, here's some insight into Kusal Perera's performances in this year's Men's T20 World Cup!
Down but not out! Kusal Perera down by 10.68% in T20 WC
Kusal Perera models his batting around the legendary Sanath Jayasuriya, and it shows too. Strong square of the wicket and ruthless against width on offer, Perera has done well in foreign conditions more often than not. The extra bounce on offer in countries such as Australia and South Africa is something that Kusal Perera relishes, given his comfort in playing the pull and the cut.
However, the UAE pitches aren't anything like those in Australia and South Africa. With the pitches across the tournament being a touch on the slower side, Perera hasn't been able to unfurl his attacking prowess. This has shown in his returns which read 45 runs in four games at a strike rate of 125.00. His match score average also reads just 35.18, resulting in a 10.68% decrease in his fantasy stock valuation.
Now the pitches might be a reason for his poor form but not a blocker by any means. Kusal Perera has ample experience to fall back on and overturn his form. As the week has gone by, we are beginning to see more and more bowlers dig the ball into the pitch, something that may play into Kusal's hands. But temperament and composure are also in need for the southpaw, for whom it may just be a matter of a few balls hitting the middle of the bat to get him going.
He often reserves his best for the best! There aren't many better bowling attacks than what Australia has in its arsenal. Although there is some concern about Mitchell Starc's fitness, Australia can still call upon Pat Cummins and Josh Hazlewood to do the damage. With Sri Lanka looking to continue their fairytale journey in the ICC Men's T20 World Cup, all eyes will certainly be on Kusal Perera, whose fantasy stocks (priced at 43.20 Sixer Coins) could be in high demand come 2:00 PM IST and 7:00 PM IST!
Other insights that might interest you