All Eyes on Root and Bumrah Ahead of Series Finale in Old Trafford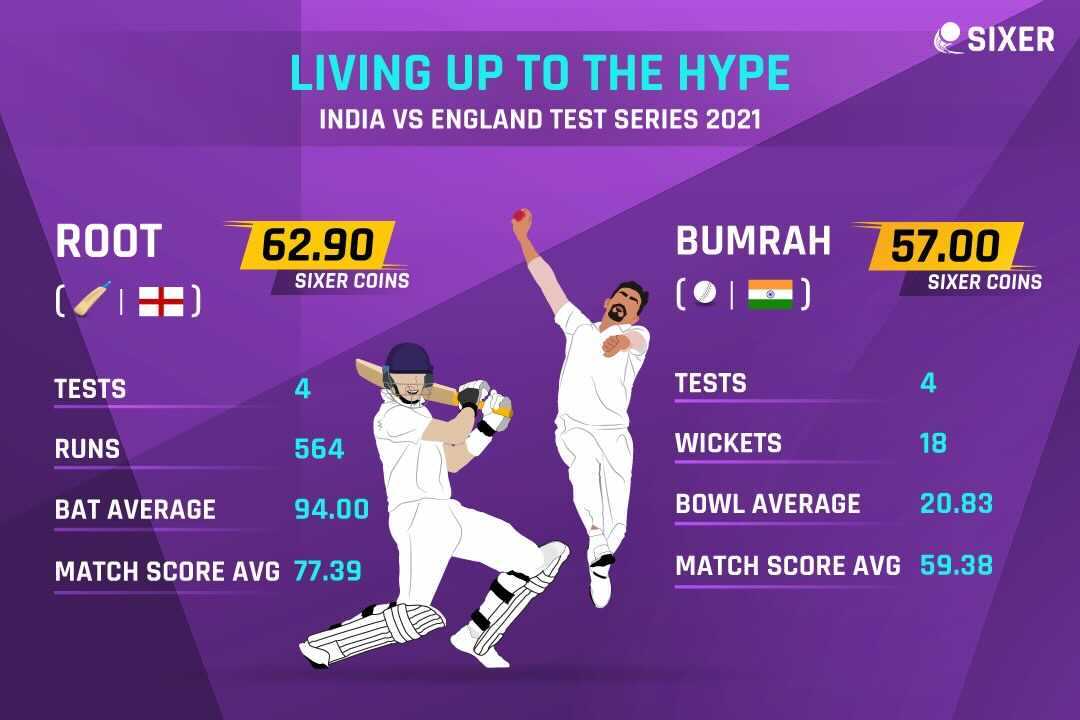 After a pulsating fourth Test which culminated in a Team India win, the action shifts to Old Trafford with both India and England eyeing a crucial win albeit for different reasons. Amid calls of the Test being called off, England would be looking to level the series and restore parity while India eyes an outright series win!
As the wait for the final Test slowly inches towards an end, our sights fall upon the duo of Joe Root and Jasprit Bumrah. Both individuals have been brilliant in this series with their individual performances stealing the headlines on a couple of occasions.
Joe Root has been sensational with over 500 runs in this series for the English team. However, he has more or less been neutralized by Jasprit Bumrah, whose spell in the fourth Test is still being talked of and held in high regard. To understand the genius of these two, here's some much-needed insight to kickstart your day in the Sixer Market!
Joe's the Man - Root Averaging Match Score of 77.39 in Ongoing Series!
Joe Root has been a touch subdued in the Test format over the last few years. However, 2021 has seen a revival in form for him. Although he came into this Test series on the back of stellar subcontinent tours of Sri Lanka and India, there was a lot riding on Root, especially due to the lack of experience and confidence in the England batting unit.
While the likes of Zak Crawley and Dom Sibley have felt the wrath of the selectors, Joe Root has stood up for the English side with noteworthy performances in the top-order. Joe Root has scored 564 runs in four Tests at an average of 94.00. He has often come up with telling performances at the time of need with his match score average of 77.39 being the highest in the series for a batsman.
The Indians have found Joe Root a tough nut to crack with his resilience costing them a game already in Leeds. While his teammates have struggled against India's pace quartet, Root has used the conditions well while playing the ball late to stamp his authority despite Bumrah running rampant with the ball.
Bumrah Leads the Way With Match Score Average of 59.38!
Speaking of Bumrah, the express pacer came into this series with a few critics calling for his exclusion. But the manner in which Bumrah has silenced his critics is no less than excellent. Bumrah has starred with 18 wickets in four games with his bowling average of 20.83 being the best among bowlers who have played in two or more Tests.
Bumrah has been potent with the new ball, setting up batsmen with his array of variations and stock deliveries. However, his ability to price wickets in the middle overs with his wit and resilience has held him in good stead throughout this series.
It isn't just with the ball though. Bumrah has come up with eye-catching knocks with the bat with his handy contribution in the 2nd Test earning India a historic win. With Bumrah firing on all cylinders, India are a step away from clinching their first-ever series win against England in England as Root and co look to thwart his threat in Old Trafford. With Bumrah set to play in the IPL as well, 57.00 Sixer Coins for his fantasy shares might not seem much at all!
Other insights that might interest you