Are Chahal and Harshal In Line For A Late National Call-Up?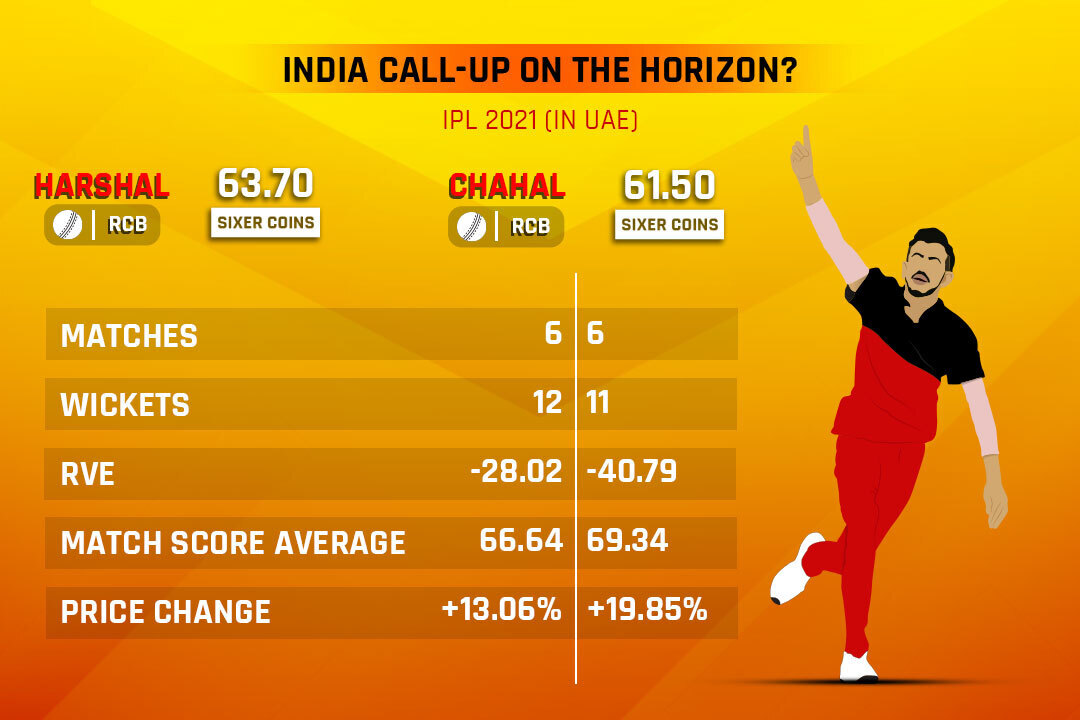 Royal Challengers Bangalore, with a fresh squad and balance, has qualified for the playoffs this season. Their moves in auction and the trade window have reaped rewards for the Bangalore franchise even better than expected.
While the auction saw them gain the services of Glenn Maxwell, their top runscorer at the time of writing, RCB was able to trade for Harshal Patel, who is the highest wicket-taker in IPL 2021 as of now.
Speaking of Harshal Patel, the Haryana all-rounder has been brilliant in the death overs, picking a heap of wickets for RCB! Alongside, Yuzvendra Chahal, who has also been in terrific form with the ball, Harshal has overturned RCB's fortunes with the ball, something that has haunted them for a few years now.
Now with both of them running riot in the UAE, the focus shifts onto their effectiveness if picked in the Indian T20 team ahead of the World Cup. With changes allowed till 10th October 2021, there's definitely merit in looking into their effectiveness! Without further ado, here's an insight into RCB duo of Chahal and Harshal and their performances in this year's IPL 2021 UAE Leg!
Purple Patel Stands Out in Resourceful RCB Bowling Attack!
RCB turned a few heads when they traded for Harshal Patel and Daniel Sams from DC ahead of the IPL 2021 auctions! While many expected Daniel Sams to feature heavily, given his BBL 2020-21 exploits, Harshal Patel's success has come as a pleasant surprise to RCB and their fans!
Harshal Patel started his IPL 2021 campaign with a brilliant fifer against Mumbai, leading RCB to a thrilling win. He has integral to RCB's blitzing start, who didn't lose a game in Chennai! Harshal's variations were key although there were some concerns over Harshal picking 'junk' wickets in the death overs.
While people did think Harshal's success was a one-off and wasn't sustainable, they were again for a surprise. Harshal's variations and uncanny ability to nail the yorkers have served him well in UAE as well. In six matches, Harshal has picked 12 wickets at a match score average of 66.44. He has also seen a price increase of 13.06%, the highest for a fast bowler in the RCB set-up. Harshal's wicket-taking ability has been essential to RCB's fortunes but again, their bowling improvement isn't a one-trick act!
Chahal Answering His Critics In Style!
Yuzvendra Chahal didn't have the best of IPLs last time around and was even dropped from the Indian T20 squad despite being one of their more successful bowlers. Although the depth in the leg-spin department isn't great, Chahal's exclusion did garner some positive responses.
However, Chahal has answered his critics in style with stellar performances in the second leg of IPL 2021. Chahal has picked 11 wickets in 6 games at a match score average of 69.34. He has seen a price increase of nearly 20% with his Runs Given vs Expected Runs value being -40.79, i.e. he conceded nearly 7 runs less than what was expected from him PER MATCH!
Staggering, isn't it? And when you combine Harshal's RvE value of -28.2, that is nearly 12 runs less than what was expected from just these two bowlers per match! Now when you've got resources going about things in such a manner, surely the thought of them starring for India might have crossed Virat's mind as well. But will they be able to make a stronger case ahead of the October 10th deadline? Only time will tell!
Other insights that might interest you