Are Southern Brave Getting the Best Out of Conway?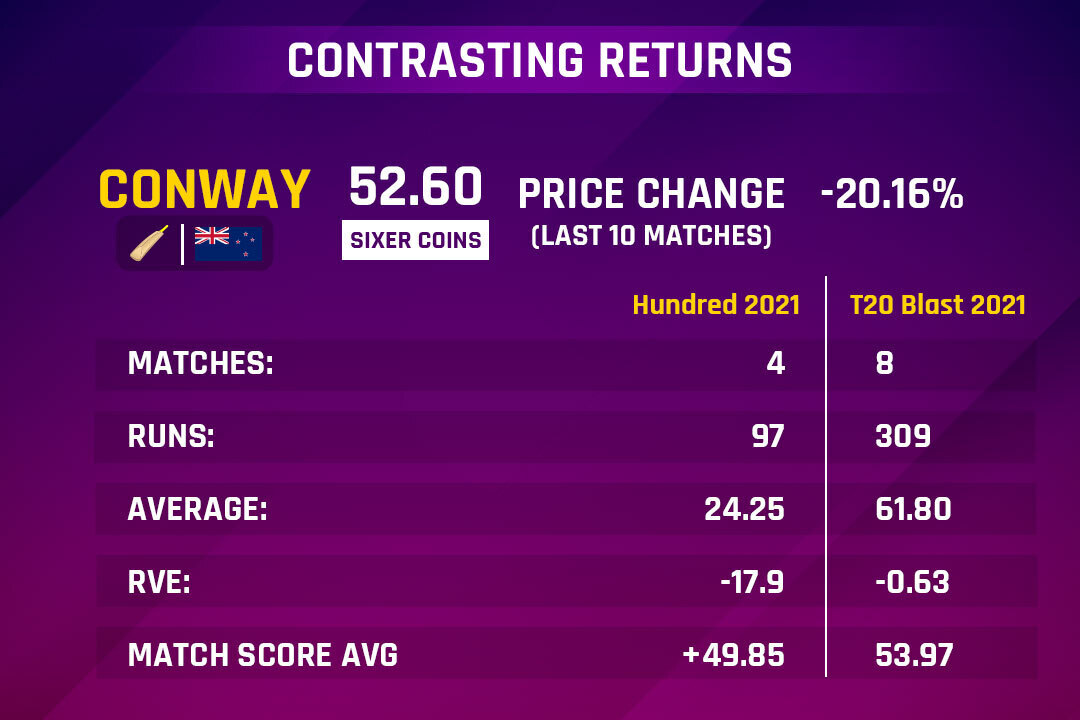 The Hundred has seen its fair share of entertainment with young talents such as Joe Clarke and Matt Parkinson impressing in the tournament. Both Clarke and Parkinson are set for action today as the Manchester Originals face Southern Brave at Old Trafford.
Although the Originals can bank on their home conditions, they face a resilient Southern Brave side that has won their last two games in the Hundred. The Southern Brave has a brilliant squad filled with talent and depth, although it has come back to bite them indirectly.
The Southern Brave's riches in the batting department is well-known. They possess as many as four openers in Quinton de Kock, James Vince, Devon Conway and Alex Davies, all of whom are expected to play today. But this would mean two out of the aforementioned quartet playing out of their preferred positions.
Devon Conway has seen a marked decrease in his fantasy stock price over the last few games, especially in the Hundred. The Kiwi international hasn't been used particularly well by Southern Brave, although there is more to him than just the overlying numbers! Here's an insight into his recent performances as Southern Brave travel to Old Trafford today!
Just A Matter for Time for Conway To Come Good?
Devon Conway has enjoyed a brilliant start to his international career. He currently averages in excess of 40 in all three formats. Who can forget his double-hundred on debut against England at Lord's? This kind of form caught the eye of Somerset, who signed Conway up for the T20 Blast.
Devon Conway, who slotted right at the top of the order, had a successful T20 Blast 2021 season. In eight games, Conway scored 309 runs at a match score average of 53.97. He averaged 61.80 with the bat, a number that ranks among the very best in the competition. Although he did take his time early on in each innings, he made up for it towards the end with a Runs vs Expected Runs value of -0.63!
It was such performances that caught the eye of Southern Brave, who signed the southpaw up for a stint in the Hundred. But it hasn't really gone to plan so far. Conway has just 97 runs in four games at an average of 24.25. His match score average also reads less than 50, a concern for his fantasy shareholders.
However, there's more to his lack of runs. He is batting at numbers three and four, which requires a batter to be dynamic with the bat. But Conway looks to settle down before going big, an act that has a profound impact in a shortened game such as the Hundred.
With the need for scoring runs increasing once Conway settles down towards the end, he has failed to kick on for Southern Brave. In fact, his Runs vs Expectation value reads -17, which further tells us that Conway has been getting starts, but it is the actual move on that he is lacking in at the moment.
But this isn't really a big issue for Conway given his skill-set. Adept at batting in the top order as well, his match score average is down by just 10% from the T20 Blast, something that could be corrected with one solid knock. Hence, it might just be a matter of time before Conway gets a move on and makes a mark in the Hundred. If you think today could be his day, you better be on the move in the Sixer Market!
Other insights that might interest you