Battle of the All-rounders: Will Hafeez Chase Down Chase?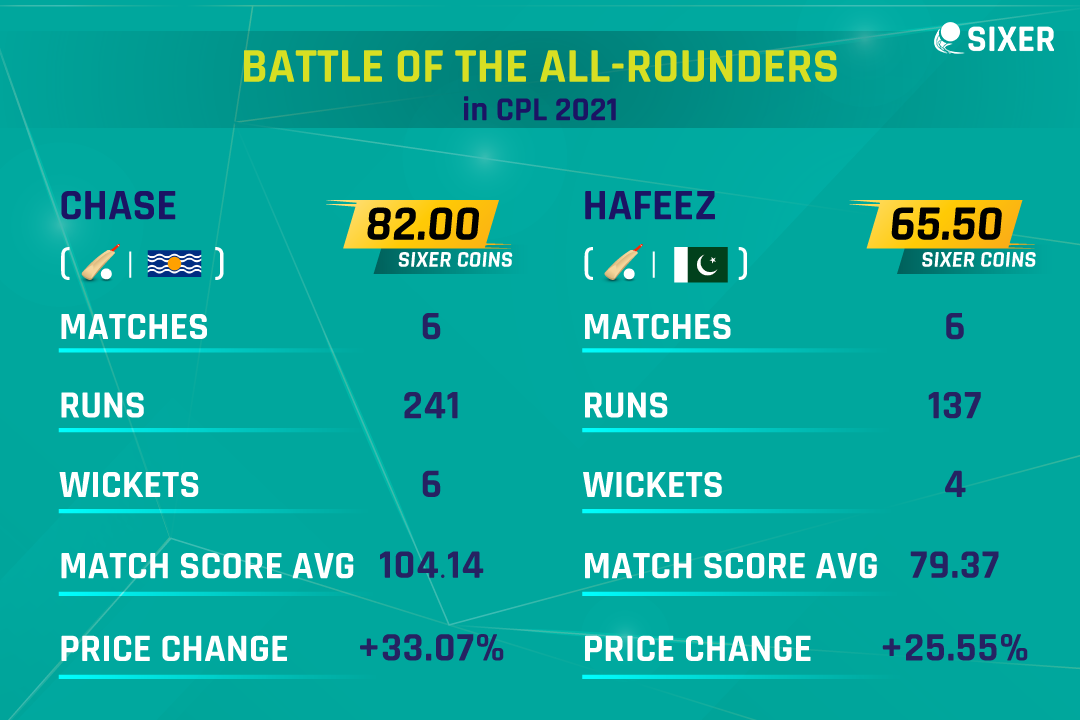 The competition for the top-four spots in the CPL points table is heating up with only a handful of games left in the league phase. With each game coming in at a rapid pace with no turnaround whatsoever, Sixer fantasy shareholders are in for a cracking time ahead.
The marquee game today pits Guyana Amazon Warriors against a red-hot Saint Lucia Kings, who did the double over the previously-unbeaten St Kitts and Nevis Patriots. Crucial to their win was captain Faf du Plessis, who smashed a hundred in the first encounter.
However, Faf du Plessis has been overshadowed by all-rounder Roston Chase, who has been a revelation in this tournament. He has now emerged as a late contender to make the cut for the Windies ICC T20 World Cup 2021 squad.
While Chase will be one to watch out for in this game, there is another off-spin all-rounder in the opposition ranks in Mohammad Hafeez, who is definitely one to keep an eye on in this fixture. To get a deeper insight into the all-rounders' performances in the CPL, here's a dose of Sixer Insight!
Battle of the All-rounders - Hafeez and Chase Averaging A Match Score of Over 70
Roston Chase, who was earlier viewed as a red-ball specialist, has grown in leaps and bounds in the white-ball formats over the last two CPL seasons. Chase was a brilliant acquisition for the Kings last time around as well as he starred in their run to the CPL 2020 final. However, one thing that was missing was his ability to hit the big shots.
That is exactly what Chase has improved in - big-hitting ability. This has resulted in him scoring 241 runs at a healthy strike rate in the top order. In addition, Chase has also picked six wickets with the ball, adding more value to him being billed as the MVP of the CPL this season. He averages the highest CPL 2021 match score average of 104.14, resulting in a price increase of 33.07%, which is also the highest in this CPL. With such stunning numbers to show for his efforts, the Windies selectors will have an eye on him as they try to finalize a 15-man squad to defend the ICC T20 World Cup in UAE.
However, Chase has a more immediate threat to his standing as the most influential player in CPL 2021. Mohammad Hafeez of the Guyana Amazon Warriors has been a good addition to the roster despite him being on the wrong side of 35. Although he has batted in multiple positions so far, Hafeez has scored 137 runs in 5 innings with a couple of match-winning knocks in the top-order. However, it has been his off-spin that has come to the fore more often than not with the offie picking four wickets.
The balance he provides with his handy off-spin, and not to mention, his experience is a valuable asset for any team he plays for. He is slated to play for Pakistan in the T20 World Cup later this year, and it is his ability to fill in as a sixth bowling option that gives him the nod over the likes of Azam Khan and Khushdil Shah. But before that, he will need to take care of Chase and the Kings today with his all-round ability. Can he add to his match score average of 79.37? Only time will tell!
Other insights that might interest you