Bulls & Bears of the Week: Buttler, Harshal Shine as Gaikwad Drops 15%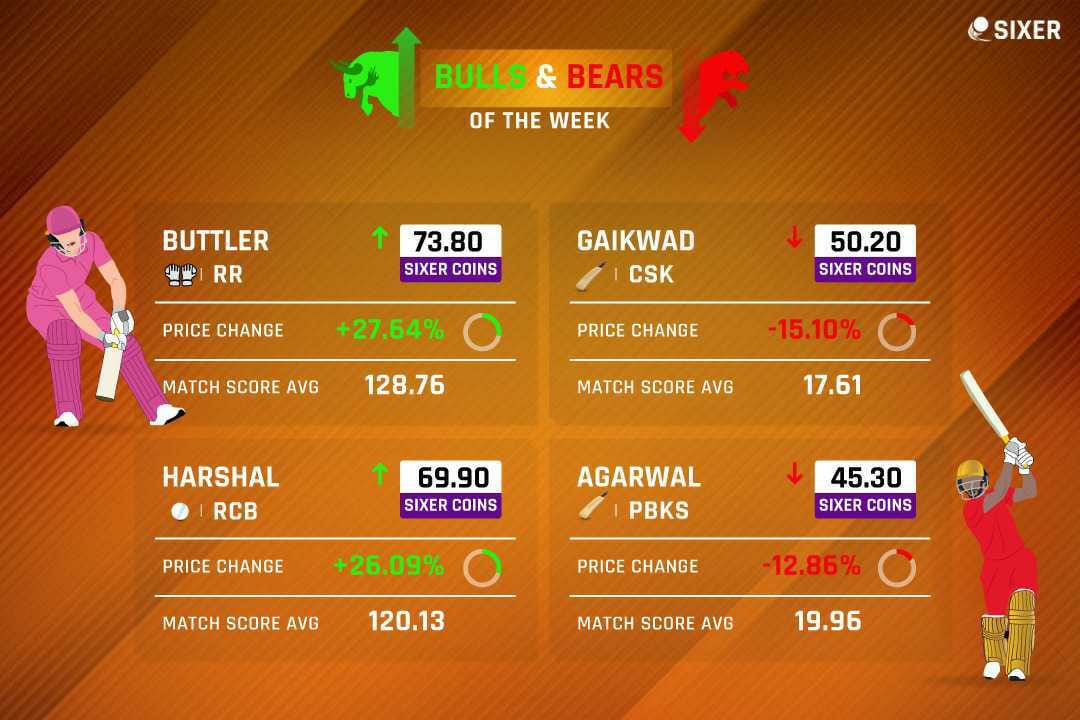 The Sixer Market is buzzing with fantasy trades and players making the moves on the field and off it too. While the Gujarat Titans continue to excel in their debut season, the story is not quite the same for the two most successful IPL franchises - Mumbai Indians and Chennai Super Kings. But who actually stood out during this week? Here's your weekly dose of the Bulls and the Bears!
Bull #1: Jos Buttler (Rajasthan Royals)
Who else but Jos Buttler? The Royals star opener started the week off with a scintillating hundred against Mumbai Indians. But that wasn't all. He followed it up with a hard-fought fifty against RCB albeit in a losing cause. As a result, Buttler's fantasy stocks rise by 27.64% courtesy of a 128.76 match score average. With Buttler looking in no mood of slowing down, he might be in for more fruitful knocks in the IPL.
Bear #1: Ruturaj Gaikwad (Chennai Super Kings)
From one star batter to another, we move on to Ruturaj Gaikwad. The reigning Orange Cap winner (IPL 2021) has struggled for runs, scoring just two runs in his first three IPL games. He has been found wanting against quality swing bowling, unable to get past the powerplay phase in IPL 2022. However, Gaikwad is a class act. Although his price is down 15.10% in the last week or so, Gaikwad's ability to score big runs and attack spinners makes him a bankable entity in the Sixer Market!
Bull #2: Harshal Patel (Royal Challengers Bangalore)
Enough of the batters, you reckon? Harshal Patel has got all you bowling enthusiasts covered in this week's Bulls and Bears. Harshal, who was a revelation in last year's IPL, is hell-bent on proving that he is one of the best bowlers in this competition. Harshal turned out two brilliant performances over the week, including two back-to-back wicket-maidens against KKR. Harshal averaged a match score of 120.13, resulting in a massive increase of 26.09. With the pitches also on the slower side, watch out for Harshal's dipping yorkers in the death overs.
Bear #2: Mayank Agarwal (Punjab Kings)
Last but not least is Mayank Agarwal, who makes the cut as a Bear this week. The Punjab captain has blown hot and cold in this season with his price dropping by 12% over the week. However, Agarwal is known for his attacking nature with the bat, which sometimes may lead to a failure or two. But with Jonny Bairstow also returning to the side, Agarwal should get more freedom to attack at the top of the order. If you think Agarwal has it in him to flip the script, 45.30 Sixer Coins per fantasy share is what it'll take to add him up in your fantasy portfolio.
Other insights that might interest you