Bulls & Bears of the Week: Jatinder Sizzles In Sixer Market Debut as Morgan Drops Further by 12%!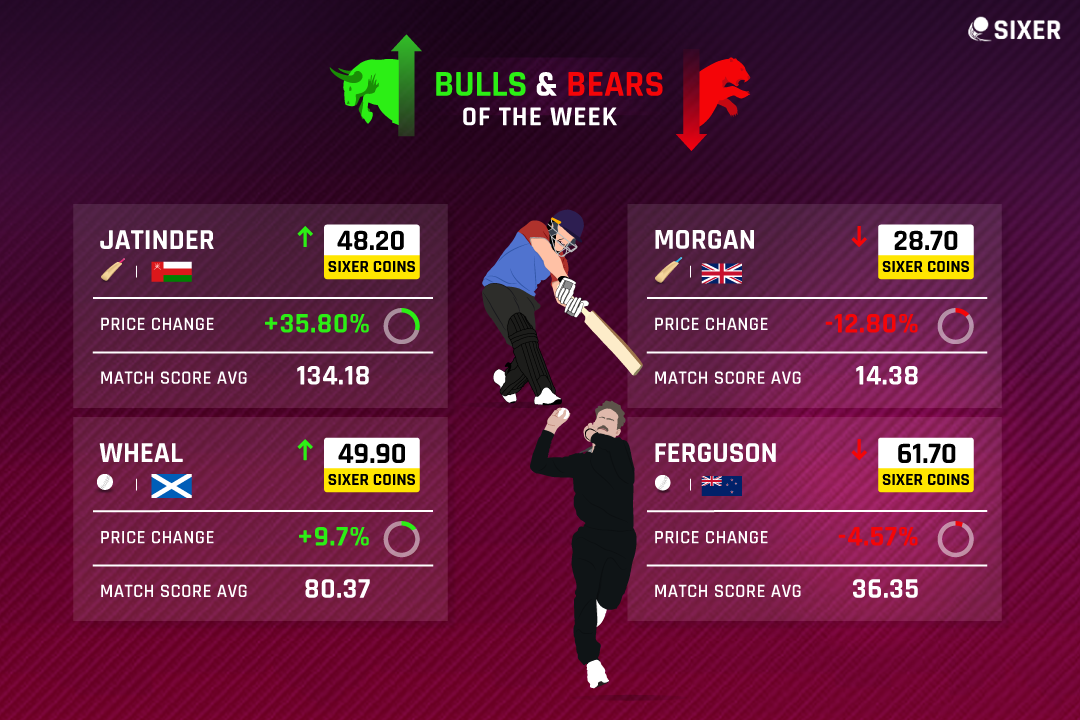 It's been a busy period in the Sixer Market! While we did see the IPL come to a close, the action didn't stop with the much-awaited ICC T20 World Cup getting underway in Oman and the UAE! However, that wasn't all in the Market.
For the first time, Associate Nations players from Oman, PNG, Scotland and Namibia were introduced in the Sixer Market with some of them even stealing the show in their very first outings in the T20 World Cup! With the action coming at us thick and fast, and insight on the most significant movers is in order. Without further ado, here are your Bulls and Bears of the Week!
Bull #1: Jatinder Singh (Oman)
Who else but Jatinder Singh? The Omani opener, who mimics Shikhar Dhawan's thigh-slap celebration on the field, mimicked his attacking batting too against PNG in the tournament opener. Jatinder smashed a whirlwind fifty at the top to hand Oman a ten-wicket win over PNG.
While fantasy shareholders were a touch sceptical of adding Associate Nations players, given the four-match rule, Jatinder's short-term gain of 35.80% in his first game indicates the fact that the Associate Players ARE HERE TO STAY! With Sixer covering all Associate Nations games post the World Cup, you shouldn't be missing out on the likes of Jatinder Singh when the opportunity arises in this T20 World Cup!
Bear #1: Eoin Morgan (England)
While Jatinder had an instant impact in the Sixer Market, the same cannot be said for English captain Eoin Morgan. Morgan, who led Kolkata Knight Riders to the IPL final, was at his best as a captain. But it was his batting returns that left a lot of room for improvement.
Morgan, who has been on a steady decline since the start of the UAE leg, has seen his price drop by 12.80% during the last week or so. His match score average reads a paltry 14.38, with his fantasy price at an all-low of 28.70 Sixer Coins! However, Morgan has the experience and skill to overturn his form. With Liam Livingstone seemingly injuring himself in the warm-up game against India, Morgan could be in for a more significant say with the bat come the World Cup.
Bull #2: Brad Wheal (Scotland)
Moving on to our next Bull, it wouldn't be fair on Scotland pacer Bradley Wheal to not make the cut after his showing against Bangladesh. Scotland pulled off one of the biggest upsets in their opening T20 WC fixture against Bangladesh, with Brad Wheal being at the forefront of it!
Wheal picked three wickets while conceding just 24 runs as Scotland defended 140 against a strong Bangladesh side. Wheal registered a match score of 80.37 as a result, seeing a price increase of 9.7%! Wheal's T20 Blast and the Hundred experience have served him well so far. With the pitches also helping his hit-the-deck-hard style of bowling, there is a lot of room for an increase in Brad Wheal's price. Watch out for Wheal and the rest of the Scottish players as they face PNG in the first game of the day today!
Bear #2: Lockie Ferguson (New Zealand)
Speaking of players to watch out for, Lockie Ferguson was certainly someone fantasy shareholders were keeping an eye on in the IPL final! However, Lockie failed to deliver with the ball as the Chennai Super Kings stormed to yet another IPL win!
Despite starring in almost every game for the Kolkata Knight Riders, Lockie couldn't come up with a similar performance in the IPL Final. He could only muster a match score average of 36.35, which was severely boosted by his batting exploits towards the end of the game. This saw his price drop by 4.57%, which isn't much but is a notable drop for a player of Lockie Ferguson's class. With his exploits in the UAE leg still fresh on everyone's mind, Lockie's fantasy stocks, which are currently priced at 61.70 Sixer Coins, could be in demand come next week!
Other insights that might interest you