Bulls & Bears of the Week: Maxwell Puts On A Big Show in the Market as Curran, Rohit Falter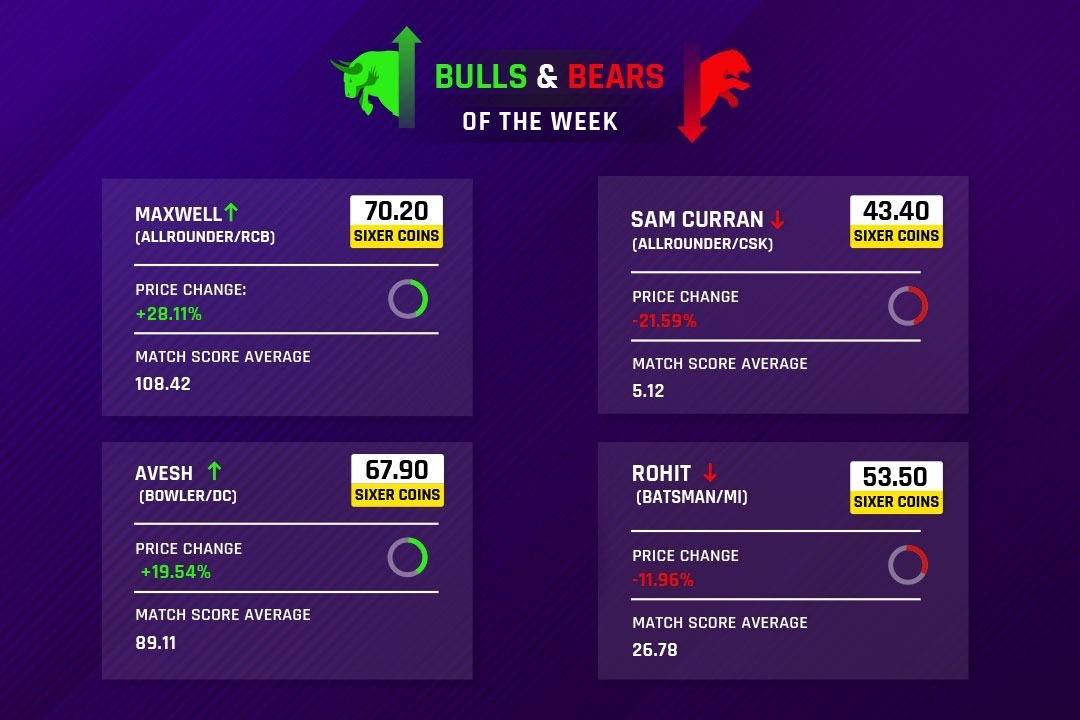 Only a handful of games remain in the Indian Premier League league phase this season. While three teams, Chennai Super Kings, Royal Challengers Bangalore and Delhi Capitals, are already assured of a top-four finish, as many as four teams are in contention for the final knockout spot.
The pressures of the IPL bring out the best in individuals, be it a cricketer or even fantasy traders like yourself. With a pulsating week of IPL cricket on the cards, here's are the Bulls and Bears of the Week to give you a headstart in the Sixer Market!
Bull #1: Glenn Maxwell (Royal Challengers Bangalore)
Who else but Glenn Maxwell? Maxwell's contributions in the RCB unit are highly valued this season, and rightly so. The balance that the 'Big Show' has provided with his big-hitting ability is unparalleled. Over the past week or so, Maxwell has scored three consecutive fifties, including one against his former employers Punjab Kings.
As a result of his sensational performances, Maxwell has earned his fantasy shareholders a profit of 28.11%. He managed a match score average of 108.42, the highest for any player who played two or more games during the week. With Maxwell set to play a big part in the IPL playoffs and, of course, the T20 World Cup, the Big Show can only get bigger and bigger!
Bear #1: Sam Curran (Chennai Super Kings)
Moving on to another all-rounder, our very own Sam Curran makes the cut as a Bear this week. Despite all the talent in the world, Curran couldn't get going for Chennai in the two games that he got to play in. Curran was expensive with the ball as he could only manage a match score average of 5.12.
This resulted in a 21.59% decrease in his Sixer Market valuation, hitting his fantasy shareholders hard. However, this may just be the perfect opportunity for potential fantasy shareholders to add him to their portfolios for just 43.40 Sixer Coins per Share. With Chennai Super Kings hell-bent on keeping the likes of Bravo and Hazlewood fresh, we should be in for more Sam Curran appearances in the yellow of Chennai, making him one to watch out for in the Market!
Bull #2: Avesh Khan (Delhi Capitals)
Someone that fantasy traders and the cricketing world cannot take their eye off at the moment, Avesh Khan, emerges as a Bull this week and rightly so. Avesh Khan has been sensational with the ball, even outshining experienced pacers Anrich Nortje and Kagiso Rabada.
Avesh has a match score average of 89.11 to show for his efforts over the past week. Not to mention, his fantasy price now reads 67.90 Sixer Coins as a result of a 19.54% hike. Avesh's accuracy and ability to generate extra bounce has proven to be a vital asset for Delhi, who are currently at the top of the IPL points table. Although Avesh seemed to have injured himself in his previous outing, he should feature heavily in Delhi's playoff run without an iota of doubt!
Bear #2: Rohit Sharma (Mumbai Indians)
Last but not least is Rohit Sharma, who makes the cut as the second Bear this week. The Mumbai Indians are in a spot of bother, with the defending champions needing two wins in as many games to stand a chance at qualifying. However, Mumbai has been troubled by the lack of contributions by their top-order batsmen, particularly Rohit Sharma.
The MI captain hasn't been able to score big runs with no fifties to his name over the last week. As a result, his price has dropped by 12%, with only a match score average of 26.78 to show for his efforts. However, Rohit's experience holds him in good stead going into the final week of the IPL league phase. Can he lead MI to another knockout phase appearance? Only time will tell!
Other insights that might interest you