Bulls & Bears of the Week: Pooran Finally Delivers on Promise as Willey Stock Plummets by 23%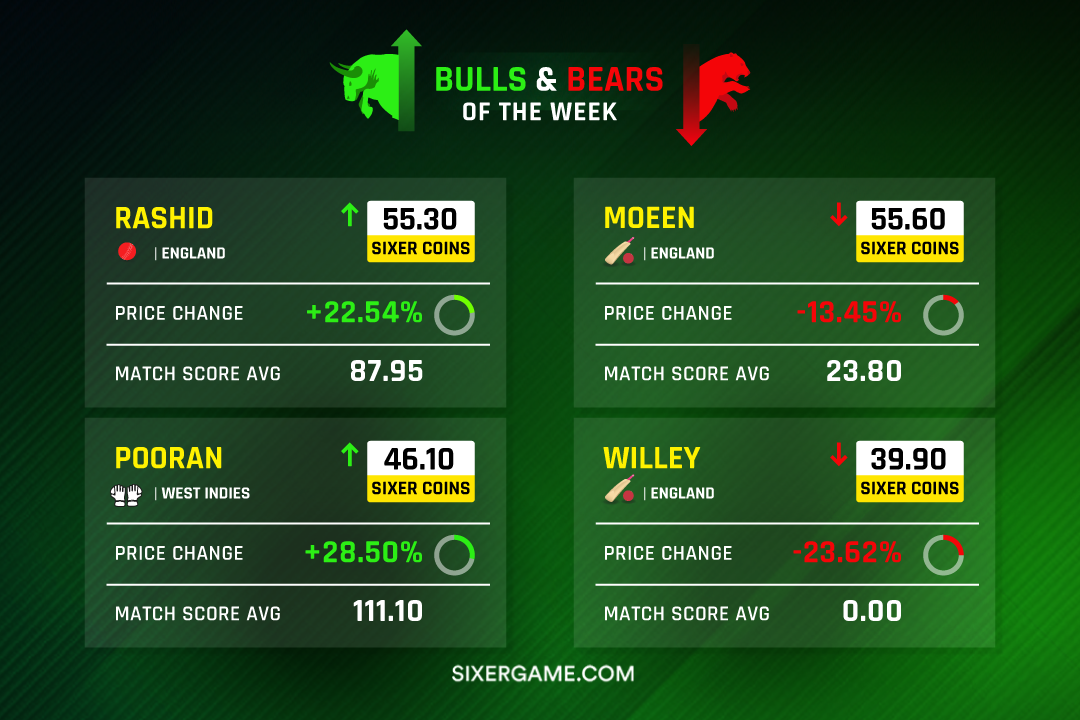 It's a new month, which only means one thing for fantasy shareholders - new opportunities in the Sixer Market! However, there's been a lot going in the Market with the Hundred action taking over world cricket. A glimpse of the most significant movers in the Market is in order, which is exactly what we have in store. Without further ado, here are this week's Bulls and Bears!
Bull #1: Adil Rashid (England/Northern Superchargers)
Adil Rashid has been a consistent performer for England in the shorter formats for quite some time. Even though he was a big part of their 2019 ICC World Cup win, Rashid doesn't get the same level of fame as his peers do. However, Rashid has outperformed most bowlers in the Hundred so far as makes the cut as a Bull in the Sixer Market this week.
With seven wickets to his name, Rashid is among the top wicket-takers in the competition so far. In addition, his economy reads a miserly 7.20, something that sets him apart from the rest. His match score average of 87.95 has spurred his price to 55.30 Sixer Coins, an increase of 22.54%.
Given the turn that is on offer for spinners in the Men's Hundred, partly due to all Men's games being a second game at the very venue in a day, Rashid could be in for more impactful performances in the Hundred and the Sixer Market!
Bear #1: Moeen Ali (England/Birmingham Phoenix)
Adil Rashid's spin partner in the English colours, Moeen Ali didn't have a productive week in the Hundred. Earmarked by many as the potential MVP of the tournament, Ali couldn't get going with bat or ball in both games that he played in for the Phoenix.
Although he did have a wicket and a quick cameo to show for his efforts against the Trent Rockets, Moeen failed miserably against Southern Brave, handing his fantasy shareholders a loss during the week.
Moeen averaged a match score of 23.80 during the week, resulting in a 13.45% decrease in his fantasy stock price. However, Ali could be in for a productive few weeks in the Hundred given the nature of the pitches. With his price reading 55.60 Sixer Coins per Share, Moeen could be a popular selection in the Sixer Market!
Bull #2: Nicholas Pooran (West Indies)
Speaking of popular selections in the Sixer Market, there aren't many players who have been bought more often than Nicholas Pooran! The southpaw hasn't been in the best of forms this year with price lingering in the low 20s more often than not.
While patience was of high value with Nicholas Pooran's fantasy stocks, those who stuck with the southpaw have finally realised his undeniable potential. In the only completed game against Pakistan in the ongoing T20I series, Pooran smashed four fours and six sixes on his way to a 33-ball 62, albeit in a losing cause.
However, his fantasy shareholders oversaw a 28.50% profit on their prized investment over the week, courtesy of a match score of 111.10! But Pooran isn't don't yet. His fantasy price still reads 46.10 Sixer Coins, which has some room for growth. But only time will tell if he can go above and beyond!
Bear #2: David Willey (England/Nothern Superchargers)
Last but not least is our second Bear of the Week, David Willey. While English all-rounders such as Liam Livingstone and Matty Potts have enjoyed success in the Hundred, this hasn't been the case for the Nothern Superchargers captain.
Willey registered two match scores of 0 in his last two games, resulting in a massive decrease of 23.62%. He hasn't picked a wicket in two games and cannot buy a run by the looks of things. However, he has got some experience behind him, which should work in his favour.
Given that Willey is available for a reasonable price of 39.90 Sixer Coins per Share, he could be a popular player in the Sixer Market. With the Superchargers looking to climb up the ladder, they will bank on their captain to lead the way with bat and ball!
Other insights that might interest you