Bulls & Bears of the Week: Rohit Stars With 15% Increase as Azam Stock Plummets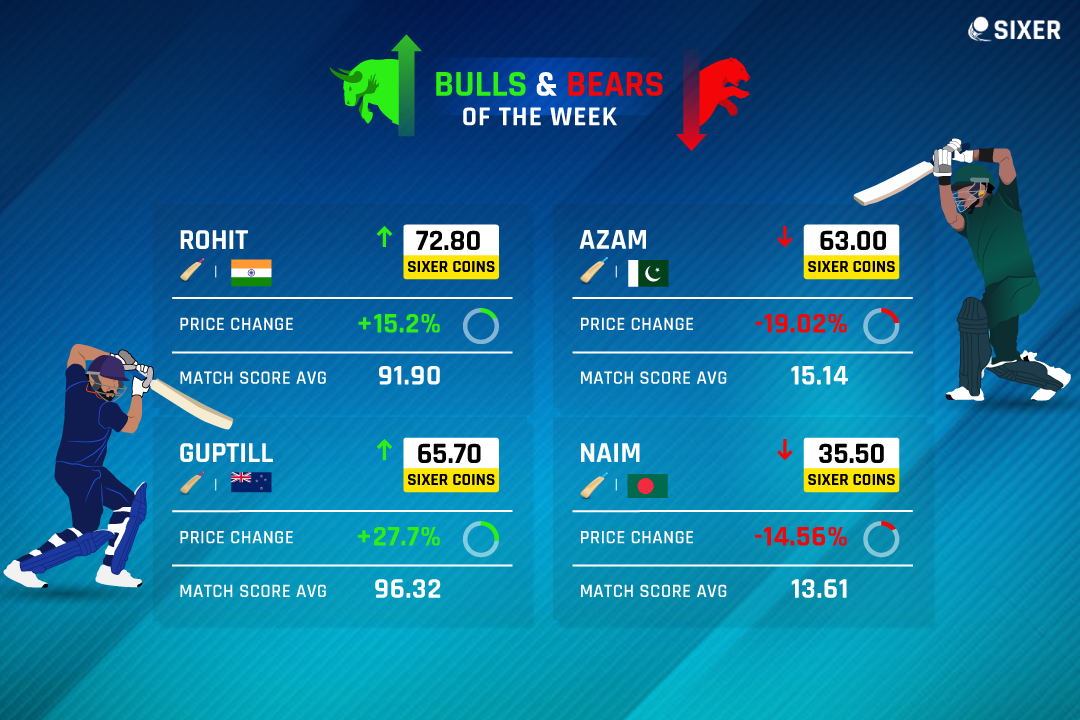 What a week it has been in the Sixer Market! Although the ICC Men's T20 World Cup ended, there was no dearth in action as India and Pakistan inflicted thumping losses upon New Zealand and Bangladesh, respectively. However, the Sixer Market didn't reflect the same, with individual performances being rewarded according to merit. So without further ado, here are your Bulls and Bears of the Week!
Bull #1: Rohit Sharma (India)
Rohit Sharma was appointed full-time T20 captain ahead of the New Zealand series. While there aren't many doubters when it comes to his captaincy, there were a few doubts on how he would perform as a batter whilst bearing the responsibility of captaincy. However, Rohit starred both as a captain and batter against New Zealand over the past week.
Rohit scored two fifties in three games, scoring over 150 runs and averaging a match score of 91.90. This helped his fantasy shareholders by a massive 15.2%, taking his price to 72.80 Sixer Coins per Share. These performances helped India to a convincing 3-0 win over the Kiwis, with Rohit's form at the top of the order being the cherry on the top. With Rohit looking in sublime touch since he was dropped to number three in the World Cup, he is surely one to keep an eye out for in the future.
Bear #1: Mohammad Naim (Bangladesh)
Mohammad Naim unfortunately makes the cut as a Bear this week after a lacklustre series against Pakistan. Earmarked as Tamim Iqbal's long-term successor, Naim has had a decent career so far in this format. However, he couldn't truly come to the fore against Pakistan in home conditions.
Naim could only muster a match score average 13.61, which resulted in a price decrease of 14.56%. He was unable to get out of the powerplay unscathed, with the pacers troubling him with extra bounce and swing. Despite his poor showing, Naim is strong square of the wicket, and with the next ICC T20 World Cup being held in Australia, he looks to be the real deal for Bangladesh!
Bull #2: Martin Guptill (New Zealand)
Martin Guptill makes the cut as the second Bull of the Week, and for good reason. The Kiwi opener was one of a few bright spots for New Zealand as they were swept away by a second-string India side. Guptill scored over 100 runs in three matches, earning him a price increase of 27.7%!
Guptill was able to achieve a match score average of 96.32 in the series, the highest for any batter across both teams. The lanky opener was able to sustain his attacking prowess against both the pacers and spinners with the Indians struggling for the most part of the series. With Guptill in decent form, he should be one of the players to watch out for in the Super Smash, starting this week.
Bear #2: Babar Azam (Pakistan)
Last but not least is Babar Azam, who surprisingly makes the cut this week as a Bear! The Pakistan captain came into this series against Bangladesh as the highest runscorer in the T20 World Cup but couldn't replicate the same in Dhaka. Azam could only manage a match score average of 15.14, resulting in a price change of -19.02%.
Babar Azam struggled to get going in the powerplay, with the likes of Shoriful and Aminul getting the better of him. However, this could just be a one-off with Azam's class and talent known to all. With his price dropping to a five-game low of 63.00 Sixer Coins per Share, Azam could be a handy addition ahead of the Bangladesh Tests! Will you take advantage of his poor form and buy the dip in his fantasy stock?
Other insights that might interest you