Bulls & Bears of the Week: Umesh, Shami Light Up The IPL as Williamson Falters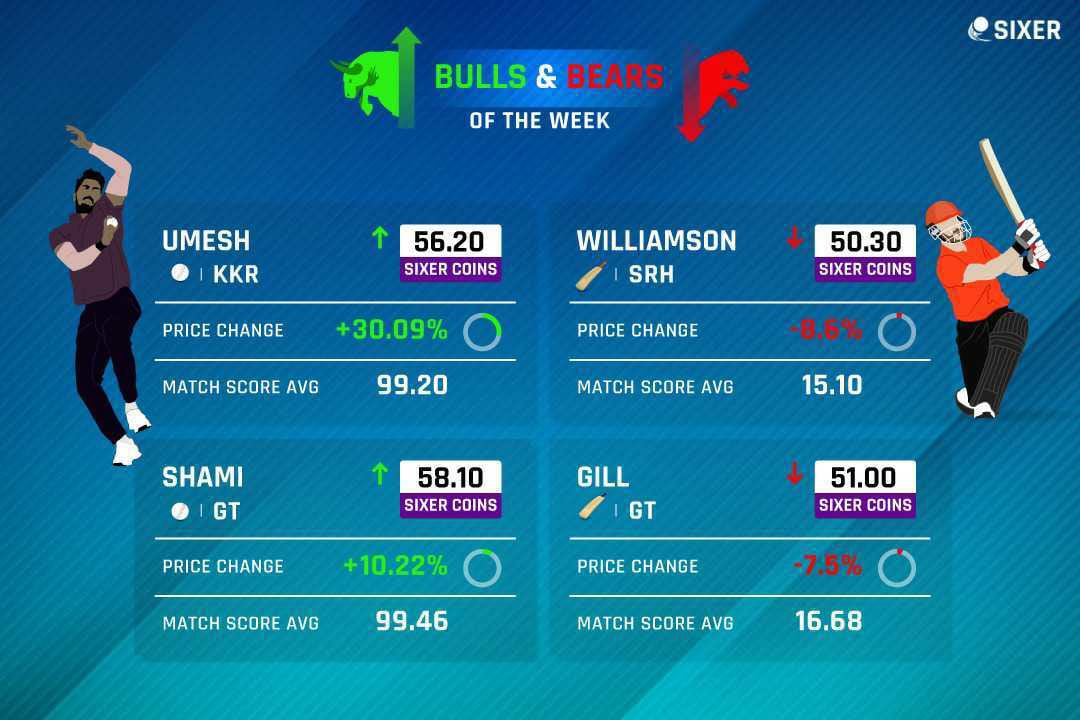 What a week it has been in the Indian Premier League! Low-scoring thrillers, 200+ chases, sensational power-hitting and mouthwatering spells of bowling with the new ball - the IPL is a gift that keeps on giving. As we walk into a new week of IPL cricket, here are the Bulls and Bears of the Week! Without further ado, HERE. WE.GO!
Bull #1: Umesh Yadav (Kolkata Knight Riders)
Umesh Yadav wasn't the top choice to make KKR's first eleven but has certainly stood out so far. Umesh's new ball prowess has served KKR well with wickets in the powerplay overs. The KKR pacer has been economical and has picked four wickets in two matches, yielding a match score average of 99.20. His price has gone up by a massive 30.09%, which is the highest in IPL 2022 so far. If we'd be trading fantasy stocks, Umesh and his new ball spells is something we'd keep a keen eye on.
Bear #1: Kane Williamson (Sunrisers Hyderabad)
Speaking of a keen eye for a player, Kane Williamson is perhaps one of the best batters in the world. A former Orange Cap winner, Kane Williamson has been given the license to anchor the SRH batting with a promotion to the top of the order. However, it didn't go according to plan for the SRH skipper, not able to score many runs against RR. As a result, Williamson's fantasy price dropped by 8.6% courtesy of a match score of just 15.10. But with good pitches on offer in IPL 2022, we wouldn't write him off just yet.
Bull #2: Mohammed Shami (Gujarat Titans)
Who else but Mohammed Shami? The express pacer came into the IPL season having lost his spot in the T20I set-up albeit briefly. But how better to reinstate his credentials than a stunning new ball spell, getting the better of KL Rahul, Quinton de Kock and Manish Pandey. His searing pace and incisive swing bowling helped Gujarat to a crucial win and resulted in a massive price increase of 10%. With Shami having a point to prove in this IPL, he could be in for a big season.
Bear #2: Shubman Gill (Gujarat Titans)
Last but not least is Shubman Gill in this week's Bulls & Bears edition. While Shami ran through the LSG batting unit with his swing bowling prowess, Gill suffered the same fate against Chameera, unable to score any runs in his Gujarat Titans debut. As a result, Gill suffered a near 8% decrease in fantasy price in just one match alone. But again, Gill is a decent player of spin and pace and with conditions also helping batters, he is one to watch out for going forward.
Other insights that might interest you