Bulls of the Market: Rashid, Rizwan Revel On the Big Stage!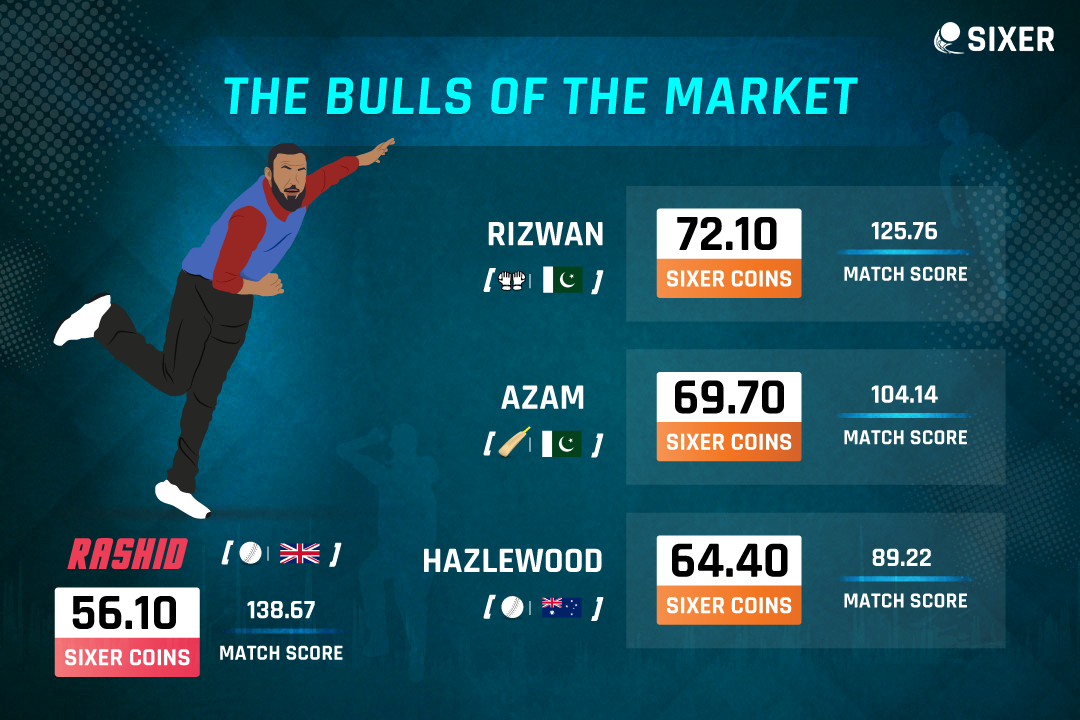 Double-Header Tuesday is back, and boy, we've got a couple of cracking games to look forward to in the ICC Men's T20 World Cup! While the first game between West Indies and South Africa is one to keep close tabs on as well, Pakistan vs New Zealand is perhaps the most-awaited game after India-Pakistan owing to recent unfoldings in the international circuit.
But no double-header day is complete with a hint of Sixer Insight. So without further ado, here are the top performers from the first five matches of the Super 12 phase in this year's ICC T20 Men's T20 World Cup!
1. Adil Rashid (England/Bowler)
Match Stats: 2.2-0-2-4 vs West Indies, Match Score: 138.67
Picking four wickets in a T20I game is no mean feat. But picking four wickets in just 14 balls is something that isn't too common. Adil Rashid turned out figures of 4 for 2 in his first outing against West Indies, skittling them out for just 55 in the process. His guile and variations were too much for the Windies, who had no answer as he earned a price increase of more than 10% courtesy of a match score of 138.67.
With Rashid taking up the lead spinner's role in the side and the pitches in the UAE being quite helpful for the spinners, the best of Rashid might still be on the way. Think he can continue his fine form? Only time will tell!
2. Mohammad Rizwan (Pakistan/Wicketkeeper)
Match Stats: 79(55) and two catches, Match Score: 125.76
Who else but Rizwan? The Pakistan wicketkeeper was in brilliant touch against India as he eased through to a well-made 79. He was crucial in Pakistan's big win against India, setting the tone early with a couple of boundaries in the very first over.
Rizwan earned a match score of 125.76, the highest for a batter in the first round of fixtures. Given his form at the top of the Pakistan order, Rizwan is one of the players to watch out for in this tournament. However, New Zealand will pose a big threat to the opening pair of Rizwan and Babar, making for a great contest today!
3. Babar Azam (Pakistan/Batter)
Match Stats: 68(52) and one catch, Match Score: 104.14
Mohammad Rizwan's batting partner, Babar Azam wasn't far off as Pakistan broke their duck against India in ICC World Cup events. He scored a well-composed 68 off 52 balls, often taking down the spinners in the middle overs.
In fact, he was one of the most sought after players during the game with a match score of 104.14 doing justice to his performance. However, the task isn't over yet. Pakistan will be keen to get over New Zealand as well and crucial to this task will be their captain Babar Azam. We all know what happened the last time Azam played an ICC tournament game against New Zealand. For those who don't, Azam smashed a brilliant hundred in a run-chase and if he were to repeat it today, Pakistan would have just sealed their place in the top four!
4. Josh Hazlewood (Australia/Bowler)
Match Stats: 4-1-19-2, Match Score: 89.22
Last but not least by any means is Josh Hazlewood! Josh Hazlewood isn't regarded by many as an effective white-ball bowler. However, the lanky pacer has already proven his critics wrong with his stellar performances in the UAE.
Coming off a decent IPL campaign, Hazlewood translated the same form in Australian colours with figures of 2/19 against South Africa. He was instrumental in their win with a match score of 89.22 and a player of the match award adding value to his performance. His relentless accuracy and knack for outthinking batters have served him well in the UAE and with Australia keen to get the most out of him, Hazlewood isn't a bad shout in the Sixer Market!
Other insights that might interest you