Buttler vs Boult - Who Will Come Out On Top As England, New Zealand Meet in the 1st Semi-Final?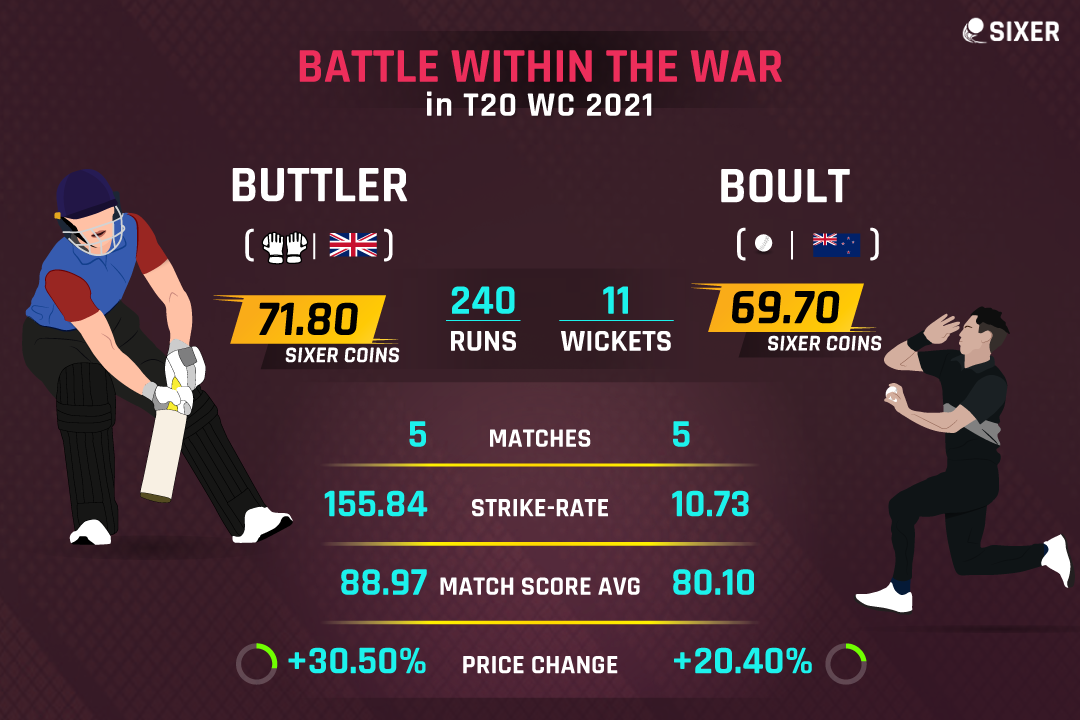 The first semi-final between England and New Zealand isn't far away! The last time these two sides met in an ICC tournament knockout fixture, it ended in a Super-Over. We are in for a treat if we were to even come close to what we witnessed in that infamous ICC Cricket World Cup 2019 Final.
However, the setting of the two games is different in all respects. The T20 format has added another layer of intrigue with the often-used 'Match-Ups' serving England well in the shortest format. As for New Zealand, it has been meticulous planning and execution, earning them a spot in the final four!
Within this war between the two sides, there is one battle that one will have tabs on - the one between Jos Buttler and Trent Boult in the powerplay overs! To get a better understanding of their form and performances, here's some much-needed insight to get you underway!
All Eyes on Buttler and Boult in the Powerplay Overs!
Jos Buttler has been England's go-to batter in this World Cup with 240 runs to his name. But it is his strike rate of 155.84 that really stands out. Buttler's sensational ton against Sri Lanka on what was a tough pitch to bat on is perhaps the innings of the tournament.
Buttler is averaging a match score of 88.97, which is among the highest for batters in this tournament. Although Jason Roy's injury might not be ideal for England, Buttler's form eases the pain. He has been lethal against pace and wary against swing and spin, a ploy that has served him brilliantly so far.
However, Buttler will come across a rampant Trent Boult, who has been perhaps the best pacer in this tournament after South Africa's Anrich Nortje. Boult has picked eleven wickets in five games, the highest for any pacer in this tournament. His strike rate of 10.73 is noteworthy, with a match score average of 80.10 being excellent.
Trent Boult is one of the best swing bowlers in the world and has often delivered in the powerplay too. However, he has been brilliant in the death overs, too, yielding him and New Zealand a few wickets despite Lockie Ferguson's death bowling prowess being missed out on.
Both Buttler (30.5%) and Boult (20.4%) have seen a huge rise in their fantasy valuations on Sixer. But both their approaches are bound to contradict each other, with Buttler's all-out attack against the new ball being a risky option against Boult. But Buttler isn't your ordinary batter by any means. This is what makes this battle so unique, and even the numbers say the same thing. With a lot riding on this specific battle, who are you going to back in this high-octane game between England and New Zealand in Abu Dhabi?
Other insights that might interest you