Can Pujara and Rahane Flip the Script Against the Kiwis?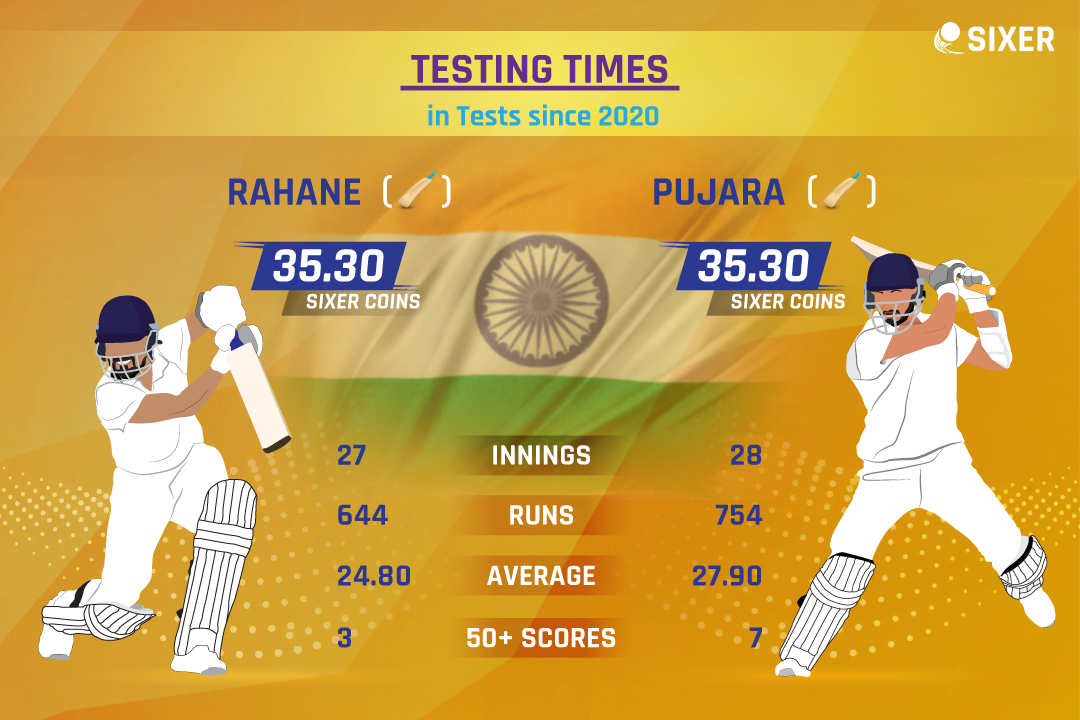 After a pulsating T20I series, India and New Zealand will lock horns in the Test format, starting Thursday. India bears a new look with Virat Kohli and Rohit Sharma opting to rest, while KL Rahul's injury could force Team India to field a debutant.
However, the focus will be on Ajinkya Rahane and Cheteshwar Pujara, who will be donning the roles of captain and vice-captain. In the absence of Kohli and Rohit, the onus falls on Rahane and Pujara, who are pretty experienced in this format and in this level. Against a strong New Zealand outfit, Rahane and Pujara will be keen to give a good account of themselves.
But the battle ahead for Rahane and Pujara isn't as straightforward. The experienced duo hasn't been in the best of forms over the last year or so, with some even questioning their place on the Test side. Despite India's success in Australia and England, Pujara and Rahane have underwhelmed with the bat. To get a better understanding of the duo's form in Tests, here's some Sixer insight to kickstart your day in the Sixer Market!
Rahane and Pujara Averaging Less Than 30 in Tests Since 2020!
India has enjoyed success in Australia and England, with their bowling attack leading the way in both series. The performances of Mohammed Siraj, Jasprit Bumrah and Mohammad Shami have taken some spotlight away from Pujara and Rahane, whose returns have been backed with a longer rope by the Indian management.
First up is Ajinkya Rahane, who was earmarked by many as the best middle-order batter in the world. However, since 2020, Rahane has only managed 644 runs in 27 innings at an average of 24.80. Only 3 50+ scores during this period also do him no good although one of them was a sensational hundred at the MCG.
As for Pujara, he has fared marginally better than Rahane with 754 runs in 28 innings. However, his average of 27.90 is nowhere near the standard he has set for himself in the Test format. Although 25% of his knocks have yielded 50 or more runs, Pujara has often been accused of sucking momentum and batting himself into a shell, putting further pressure on the others.
Both of them may have been affected by the pandemic's start-stop nature. Lack of proper game time and foreign conditions could have played a part in their form. Nevertheless, both of them are now back in familiar territory, i.e. Indian conditions. Much is expected of them, with some of the senior players opting out of this series. But can they silence their haters and prove their worth in this format? Only time will tell!
Other insights that might interest you