Can Warner Overcome His Knockout-Match Blues Against Pakistan?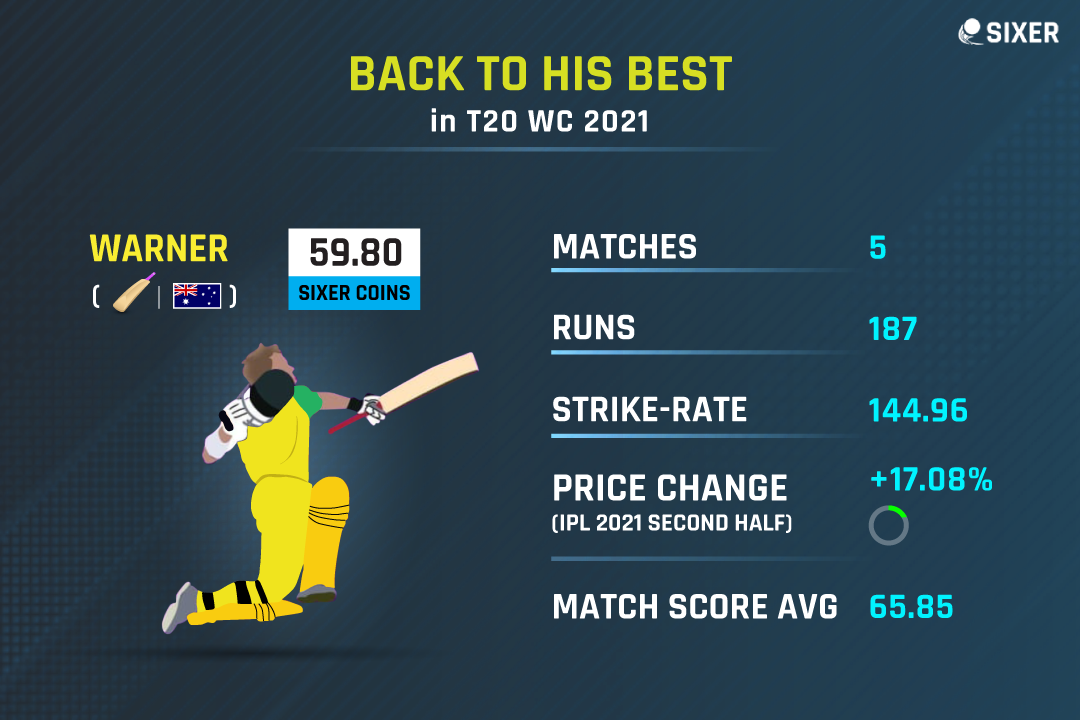 The ICC Men's T20 World Cup continues to serve up its fair share of surprise. Although it may not have come as a surprise to some, New Zealand pulled off a brilliant win against England in the first semi-final courtesy of Daryl Mitchell's sensational fifty. They enter their second ICC final in two years, and this time, they seem ready.
Only Australia or Pakistan pose a threat to New Zealand's title aspirations at the moment. While Pakistan has been the team to beat in this World Cup, Australia is a force to reckon with. While Adam Zampa and Mitchell Starc have been bang on with the ball in hand, their batting fortunes have revolved around southpaw David Warner!
David Warner has seen a reversal in form over the last few matches, although there is much more than just numbers to his game. So without further ado, here's some much-needed insight to get you underway in the Sixer Market!
Is Warner Back To His Best?
David Warner didn't come into this tournament in good form. However, the southpaw was able to flip the script with a sensational campaign this World Cup, featuring two whirlwind knocks against Sri Lanka and West Indies. Warner has 187 runs in five outings with a strike rate of 144.96 to show for his efforts.
His match score average of 65.85 is notable, although there is still some room for improvement. Although Warner's price has increased by 17.08%, the southpaw hasn't really hit peak form, which is highly awaited by fans alike.
However, David Warner hasn't been the best outlet for runs in knockout games for Australia. Warner, who stood out as one of the top runscorers in the ICC Cricket World Cup 2019, couldn't get a big knock in the semi-final. This can also be seen in the 2015 Final and Semi-Final in which Warner failed to get past Umesh Yadav and Trent Boult.
But Warner is a force to reckon with in the shortest format. If he can get past the incisiveness of Shaheen Afridi upfront, it may be plain sailing for the southpaw. Can he overcome the new-ball threat of Wasim and Shaheen? Only time will tell!
Other insights that might interest you