Can 'Wonderkid' Davies Step-up in Billings' Absence?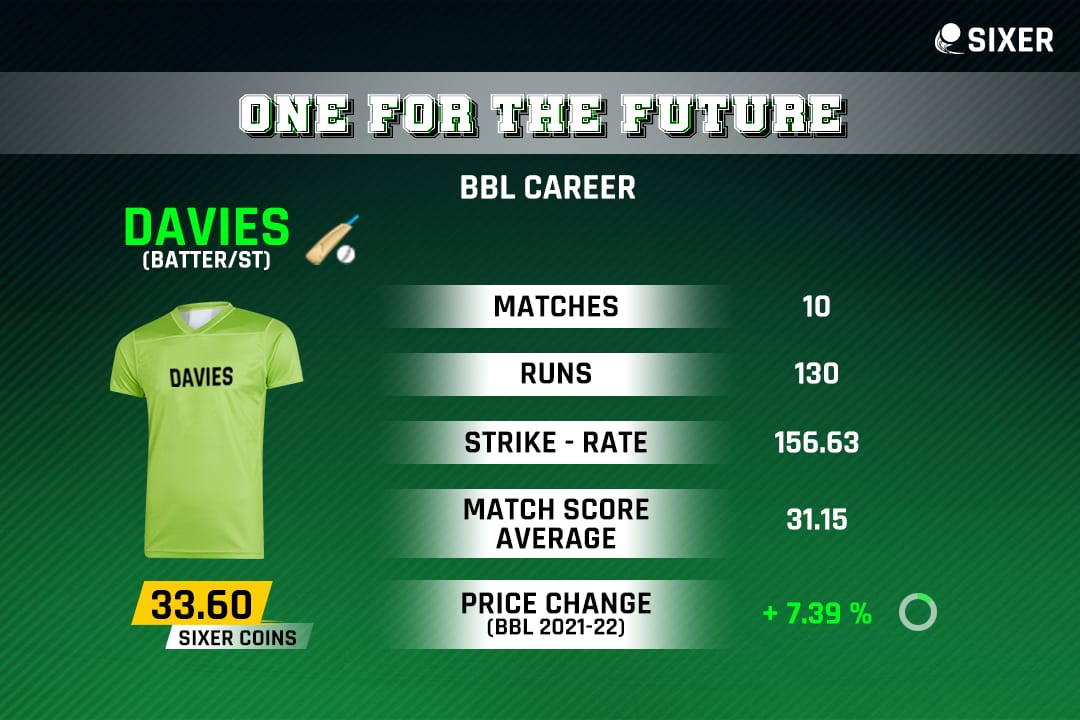 The Sydney Thunder have been brilliant of late and considering the fact that their big guns Tanveer Sangha and Alex Hales have not played in their last two games, you have to give them due credit. A major reason for their recent resurgence is Sam Billings, who has been sensational in the middle-order.
The Englishman has taken on the spinners like no other in the BBL, scoring in excess of 250 runs at a healthy strike-rate. But all good things do come to an end. National duty beckons for Billings, who plays his final BBL game of the season against the Scorchers on Thursday.
But again, the Thunder have a special talent ready to pounce on the opportunity at hand. The Thunder have invested a lot in young talents such as Tanveer and Jason Sangha. But it gets a lot bigger with Ollie Davies, a highly-talented batter hailing for New South Wales.
However, the question does and will arise - can Oliver Davies fill in Sam Billings' shoes in the middle-order? To help you figure this part out, we've got some much-needed insight. So without further ado, here we dive into the numbers!
What Does Billings Bring To The Table?
Before we jump into Davies' credentials, it's imperative to understand what Billings brings to the Thunder set-up. Apart from his experience of playing in countless franchise leagues, Billings is equally comfortable against both pace and spin. He is capable of constructing an innings and also giving an innings a boost towards the backend of the innings.
Billings has a constructive and calculated approach to his innings, often picking gaps and using the pace of the bowler to his advantage. The solidity he has provided in the Thunder middle-order has been crucial to their fortunes, even earning him two player-of-the-match awards. With 266 runs at a strike-rate of 152.87 at the time of writing, Billings has put on quite a show and a tough act to follow.
Young, Wild and Free - is Davies the Future of the Thunder Set-up?
Although Billings is a tough act to follow, the Thunder have got a gem in Oliver Davies. Davies, for all of you who aren't aware, is a right-hand batter who is naturally aggressive and goes after both the pacers and spinners. While most Aussies are good players of pace, it is the spin aspect that really troubles batters in the BBL.
However, Davies has this covered as well! You would only need to look as far as his wonderful backfoot check-drive over the top of covers over Rashid Khan to understand his potential. Yes, he did it over RASHID KHAN!
Now although his numbers don't make for a good reading (130 runs in 10 BBL matches), his strike-rate of 156.63 is eye-catching. Although he lacks the build of say an Andre Russell, Davies is a clean-striker of the ball and can score at the rate of knots.
In his last two games this season, Davies has come at number five, which isn't his preferred position. But the New South Welshman has delivered with quickfire knocks in both games. With Billings leaving for the UK soon, Davies will slot in at four, a position that holds a lot of weight and value in the Thunder set-up. But can he deliver on the promise? Only time will tell!
Other insights that might interest you