County Bulls & Bears of the Week: Rhodes Stock Soars by 13% As Head, Lyth Continue To Falter!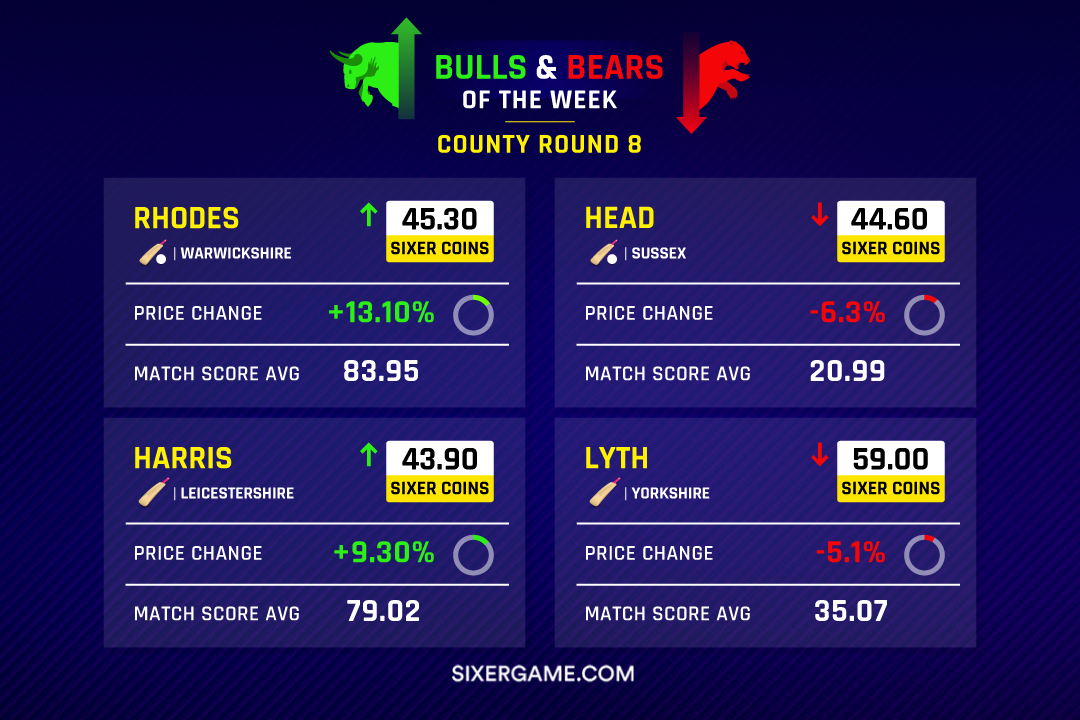 After two months of week-on-week County Cricket action, we come down to the last week of County Cricket before the start of the white-ball season! With the T20 Blast set to kick off next week, County Round 9 presents an opportunity to add in the eligible games and also make a profit, all in one go.
As many as eight County games are scheduled to start today; the marquee game is between Essex and Nottinghamshire. With no dearth in star power, this week read Liam Livingstone and Travis Head among many; this County Round should be as exciting as any so far. To help you build your portfolio around the English domestic stars, here's a weekly dose of the Bulls & Bears Insight!
Bull #1: Will Rhodes (Warwickshire)
The first Bull of the Week is Warwickshire captain Will Rhodes, who earned himself a 13.10% increase in the Sixer Market. Although the Warks had a tough task against Nottinghamshire, Will Rhodes was up for the task. Opening the batting for his side, Rhodes scored twin fifties, 91 and 63, as he handed a weakened Notts side a telling loss. In addition, Rhodes also chipped in with the ball with three wickets across two innings.
This earned him a match score of 83.95, the highest among all the players in the County Championship last week. His 13% increase now takes his fantasy stock price of 45.30 Sixer Coins, which does leave ample room for an increment. Given that Rhodes is set to play a significant role for Warwickshire in the T20 Blast, he is undoubtedly one to keep an eye out for in the coming days.
Bear #1: Travis Head (Sussex)
Travis Head finds himself as a Bear yet again this week, courtesy of a match score of just 20.99. In what was a crucial game for Sussex against Northamptonshire, Head couldn't improve his team's chances by any means. He only managed scores of 1 and 0, hampering his fantasy stock price by 6.3%. He couldn't spend time in the middle with Sanderson and Kerrigan getting the better of him early in his innings. His tentative technique has left him prone to movement away from his body, something that bowlers will look to target.
Although he is in for another tough test against Yorkshire this week, the long-run has much more on offer for the Australian. Like Rhodes, Head is expected to play a big role for Sussex alongside Phil Salt and Delray Rawlins. With his fantasy stocks trading at 44.60 Sixer Coins, you wouldn't want to miss out on Travis Head ahead of a potentially career-defining season ahead of him.
Bull #2: Marcus Harris (Leicestershire)
It wasn't a bad week for Australians in County Cricket with Marcus Harris filling in as our second Bull of the Week. Harris, who has been in decent form for Leicestershire, put on a performance for the ages with a sensational fourth innings ton. It wasn't an ideal game for the Foxes, who were on the back foot against Middlesex for almost three days. In fact, they were asked to chase down a huge total of 387 and considering the Foxes only managed 136 in the first innings made it even more difficult.
However, Harris stepped up with a sensational knock of 185 to lead his side to a five-wicket win. This performance ensured a match score of 79 and a price increase of 9.30%. This shouldn't come as a surprise to regular shareholders, given his recent increase of 22% in his last four games. With Harris now among the highest run-scorers in the competition, the fight for his fantasy shareholders might be on today. But can he continue his fine form against Gloucestershire this week? Only time will tell!
Bear #2: Adam Lyth (Yorkshire)
Last but not least is Adam Lyth on our list, albeit as a Bear. However, Lyth presents a curious case in the Sixer Market. Having topped the run-scorers charts and even the Sixer player charts, it has gone all wrong for Lyth. He entered the week on the back of a 13% decrement across his last three games, and it only worsened at the end of their clash against Lancashire. Lyth could only score 43 runs across two innings as Yorkshire slipped to a huge defeat of an innings and 79 runs.
This performance has seen his price drop by a further 5% to 59.00 Sixer Coins per Share, which is still quite decent. Taking up a bird's eye view, Lyth is still one of the top run-scorers in the competition, with 581 runs despite his price dropping by 17.94% in his last four games. He hasn't had a 50+ match score in four games, with his last one incidentally coming against Sussex, who happen to be Lyth and Yorkshire's next assignment. Can he come up with a fitting end to this round of County fixture before he dons the coloured clothing? If you think so, 59.00 Sixer Coins is all it takes to get him aboard!
Other insights that might interest you