Diamond in the Rough - Can Parkinson Strike A Chord With Consistency?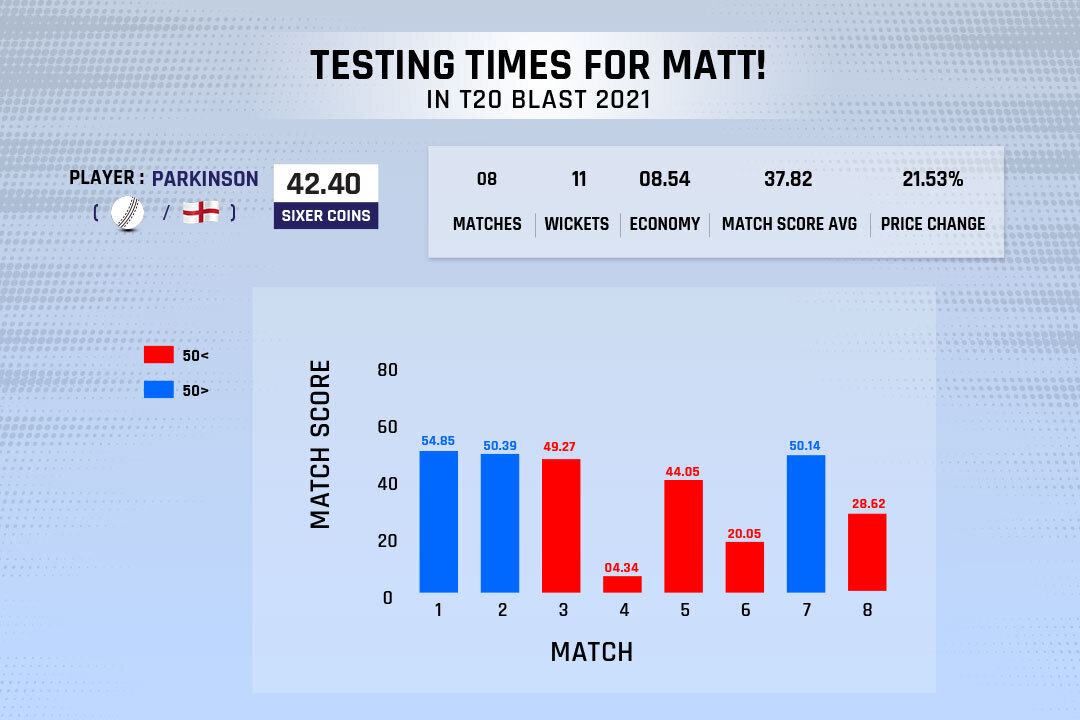 England has one of the best rosters as far as the white-ball formats are concerned. They have a fixed ideology that has already earned them an ICC World Cup trophy. With Morgan at the helm, attacking batting and bowling is prioritised, regardless of the situation.
England might have already found a few gems for the future to replace their swashbuckling batsmen. While Jason Roy and Jonny Bairstow continue to plunder runs for fun, the likes of Tom Banton, Phil Salt, and Ollie Pope are working their way to a national team berth.
However, England might be slightly concerned over their supposed lack of depth in the spin department. Although Rashid has been doing a tremendous job, he can be a touch wayward at times and, more importantly, won't be here all the time. Identifying a replacement or a backup might be Morgan's priority at the moment.
While a few were tried and tested, England has had to stick with Adil Rashid for the time being. But no one can deny that young Matt Parkinson is the brightest prospect of all. Although his record in his budding international career suggests otherwise, Parkinson is a generational talent.
As the T20 World Cup build-up continues, Parkinson has failed to really get going in this year's T20 Blast. Is his magic already on the wane? This demands an insight, which is precisely what's on the agenda today. Here's some much-needed insight to kickstart your day in the Sixer Market!
Testing Times for Matt! Leggie Averaging A Match Score of Less Than 40 In T20 Blast 2021
Matt Parkinson is easily one of the best spinners in the T20 Blast. Viewed as the focal point of the attack, Parkinson has often been tasked to bowl in the backend by captain Dane Vilas, indicating the level of confidence in his young leggie.
This year, however, both Parkinson and Lancashire have blown hot and cold in the T20 Blast. In eight matches so far, Parkinson has picked eleven wickets, although they have come at a cost. His economy reads 8.54, something that has cost his side dearly.
Parkinson usually looks to attack the stumps and give the ball some air, contributing to the high economy. But a match score average price of just 37.82 isn't acceptable. Although he started off his campaign with two 50+ match scores, he has endured a tough time since then.
But this just part of the game for Parkinson and any young leggie. Leg-spin is an art that requires immense control, and sometimes you can get it wrong. Look no further than Adil Rashid, who does go at over 7 in an ODI game at times. But that doesn't take away the fact that he is as effective as any bowler in the middle overs.
Parkinson, however, relies on attacking bowling in the shorter formats. His dot ball percentage of 28% this season is a touch under-par, something that can be used to bait batsmen into making a mistake. Occasionally, like any other leggie, Parkinson has a tendency of going short with his length, although it is something that can go both ways.
All in all, Parkinson's magic is not on the decline, but it could just be a case of poor form. Trading at 42.40 Sixer Coins per Share, Parkinson is a brilliant option in the Market as well, but again form does play a role. But with the potential that he promises, he could well be a killer trade to get your portfolio.
Other insights that might interest you