Diamonds in the Rough - Are Padikkal and Gaikwad the Real Deal?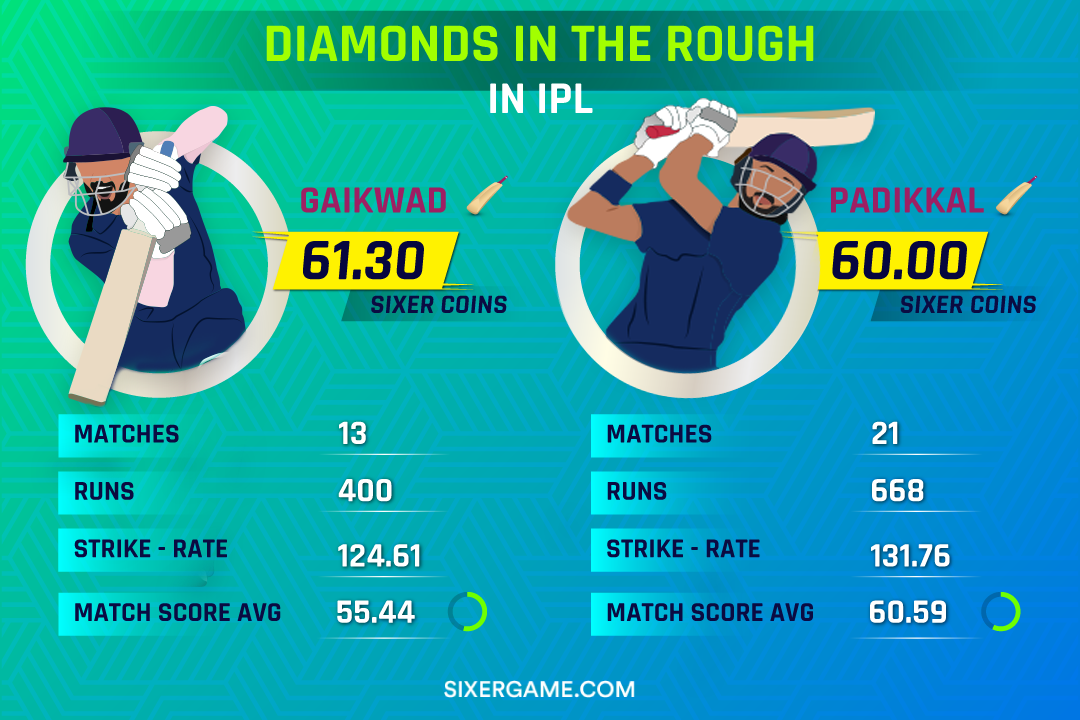 While Indian fans still recovering from the heartbreak of the WTC Final, the Sri Lanka tour provides some relief. The Indian white-ball tour of Sri Lanka holds a lot of importance for Indian cricket. This tour provides an opportunity for young stars to assert themselves in the white-ball picture and hands them a chance to make the cut for the all-important T20 World Cup as well.
Several youngsters will get the chance to make a debut for India on this tour. While the likes of Chetan Sakariya and Nitish Rana will be relishing the opportunity, there are a couple of highly-rated openers whose career path may depend on how they come to terms with international cricket in Sri Lanka.
Ruturaj Gaikwad and Devdutt Padikkal are two of the brightest talents in the Indian domestic circuit. Right from the Syed Mushtaq Ali Trophy to the IPL, both of them have excelled at the top of the order. While Gaikwad has ample experience playing under Rahul Dravid in the India A set-up, Padikkal's rise to prominence in the IPL puts him in the conversation for a starting berth.
But are Gaikwad and Padikkal the Real Deal? Walking along the same lines, here's some much-needed insight on Devdutt Padikkal and Ruturaj Gaikwad to get yourself going in the Sixer Market!
Gaikwad, Padikkal Averaging A Match Score Of Over 55 in their IPL Careers!
Devdutt Padikkal was always touted for big things since his Karnataka debut. However, his rise to prominence in the IPL is nothing short of stunning. Padikkal had a brilliant first season for RCB as he finished as their highest run-scorer.
Overall, Padikkal has 668 runs in 21 games to his name, with a match score average of 60.59. While his strike rate of 131.76 is decent, there is some room for improvement in this aspect. Padikkal, this year, even scored his first IPL ton against Rajasthan Royals, which made him one of the youngest to score an IPL hundred.
On the other hand, Ruturaj Gaikwad had a slow start to his IPL career. He couldn't make full use of the early opportunities given to him in IPL 2020, but towards the backend of the tournament, he came into his own.
Gaikwad, in his 13-match IPL career, has scored 400 runs at a match score average of 55.44. His strike rate of 124.61 is slightly low for an opener, but given his role, Gaikwad hasn't missed a beat. With multiple fifties to his name, Gaikwad has consistently given good starts to CSK, one of the teams to beat this IPL season.
Padikkal and Gaikwad are pretty similar in the way they bat. They try to maximize the powerplay and set themselves up for the entire twenty overs. While Padikkal models his game around Gambhir, Gaikwad's busy style of batting akin to Ajinkya Rahane is quite effective.
With both these players expected to make their India debut against Sri Lanka in the next few weeks, a lot of their fans will expect them to come good and insert themselves into the bigger picture also. But can they make the jump to the international circuit with ease is a question whose answer can earn you some bucks in the Sixer Market!
Other insights that might interest you