Does Namibia Stand A Chance Against Shaheen and Rauf?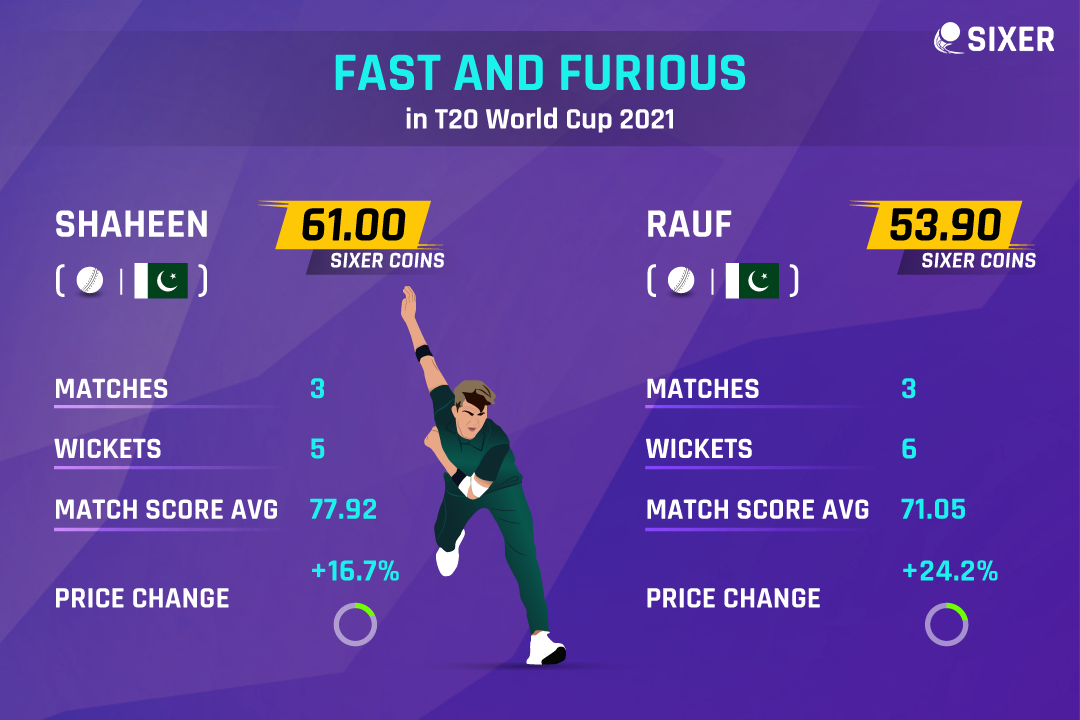 The ICC Men's T20 World Cup 2021 is fast approaching the business end. While India has struggled to get going in this competition, arch-rivals Pakistan are undoubtedly the team to beat alongside England. With three wins in three games, Pakistan is well on course for a semi-final berth.
A win today against Namibia will seal the deal for Pakistan, whose batters have been brilliant so far. Right from Rizwan to Asif Ali, Pakistan looks like a well-oiled unit. However, it has all been about the pace duo of Shaheen Afridi and Haris Rauf, unfurling 145+ kmph thunderbolts while picking wickets for fun.
Although Namibia isn't anywhere close to being pushovers, their relative lack of experience goes against them. While the likes of Gerhard Erasmus and David Wiese have held their own, they haven't faced a duo as relentless as Shaheen and Rauf. To get a better idea of how they have performed in this tournament, here's some much-needed insight to get you underway!
Fast and Furious - Shaheen and Haris Averaging A Match Score of over 70 in T20 WC 2021!
Shaheen Afridi and Haris Rauf have been highly successful in this tournament, and it does show in their numbers as well. Shaheen has picked five wickets in three games with a price increase of 16.7% to show for his efforts. As for Haris Rauf, he has fared slightly better on paper with six wickets in three games. His price has gone up by 24.2%, courtesy of a match score average of 71.05.
Both Shaheen and Haris work in different ways. Shaheen relies on his ability to swing the ball both ways and at a high pace. Not to mention, he is an exceptional death bowler with the left-arm angle also playing into his hands.
As for Haris Rauf, the express pacer banks on his pace and back-of-a-length deliveries to get the most of these UAE pitches. He doesn't often bowl in the powerplay and is more of a death overs specialist, which evenly spaces out the impact of pace for Pakistan. In layman terms, Shaheen sets the tone with two overs in the powerplay, which is then taken over by Haris outside of the powerplay, a relentless approach from Pakistan that has already served them well in this tournament.
Now Namibian batters are good players of spin as seen in their previous games. Gerhard Erasmus and David Wiese are among those who can play both spin and pace equally well. However, Shaheen and Rauf are a different proposition. The Namibians would have to go for a calculated approach against these two, but again, it isn't just about Shaheen and Rauf for Pakistan. They have a brilliant bowling attack featuring Hasan Ali, making it difficult for Erasmus and co. But from what we have seen, Namibia is a force to reckon with and should make for a great contest in this mouth-watering clash in Abu Dhabi!
Other insights that might interest you