Down by 13%, Can Pujara Bring His A-Game to Lord's Against England?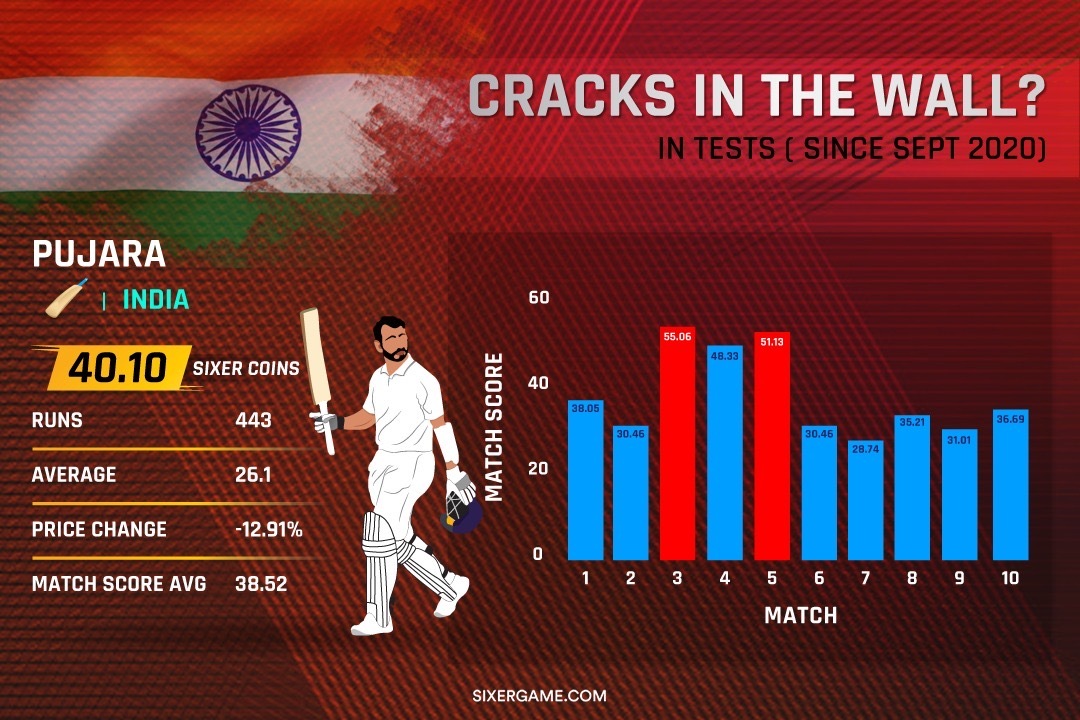 Team India nearly sealed a big win in the first Test against England last week. However, it wasn't as comfortable for the Indians, who had to overcome a few obstacles to get to a commanding position.
While the performances of KL Rahul and Jasprit Bumrah bode well for India in the coming games, there were a few moments in which Indian fans felt nervous. One of them was a middle-order collapse as the trio of Cheteshwar Pujara, Virat Kohli and Ajinkya Rahane fell in succession, handing England a route back into the game.
While Virat and Rahane are two of the best in the business and have, from time to time, come with outstanding knocks, Pujara isn't far off as well. Likened to Rahul Dravid, Pujara often renders opposition attacks toothless with his no-nonsense approach with the bat.
However, Pujara hasn't been in the best of forms off late in the Test format. The right-hander hasn't scored a hundred in quite some time now despite impressing in patches. His failure in the World Test Championship Final put his place in some doubt although he did start in the first Test.
Are there cracks in Pujara's wall that are hindering his and his team's prospects? Here's a look into his recent performances in the Test format to get your day going in the Sixer Market!
Cracks in the Wall? Pujara Averaging A Match Score of 38.52 Since September 2020!
Pujara has for long held the Indian top-order by himself. His performances against Australia in 2018-19 are still some of the best in recent memories. However, Pujara has struggled since then in the Test format.
He has scored just 443 runs in his last ten Tests with his price decreasing by nearly 13%! In addition, he hasn't scored a hundred in over 900 days, a worrying sign for any Indian fan. With the amount of talent that the Indians can call upon, Pujara might be a touch nervous about his place in the Test side.
However, Pujara has the temperament and skill to flip the script. His rock solid technique is what sets him apart although he has often pushed himself into a bubble while blocking deliveries. This puts needless pressure on his peers and can often cause his dismissal.
But Pujara has the experience of playing in England. He is well-versed with the conditions, having played for Yorkshire in the past. Although his numbers don't tell the whole story, Pujara is certainly one to keep an eye on in the Sixer
Other insights that might interest you