"Fab Four to Five" - Is Azam Worthy Of The Inclusion Among the Best?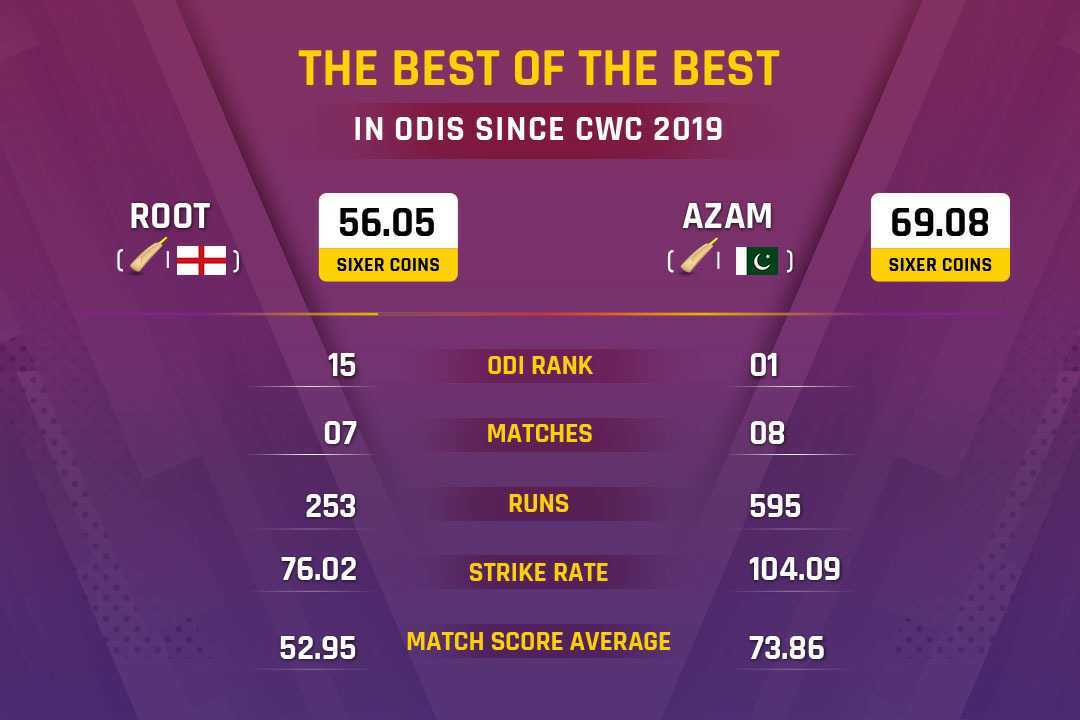 Babar Azam is a generational talent; there's no doubt in it. Easy on the eye and blessed with temperament, Azam has already done wonders in limited-overs cricket for the national side. His cover drive is worth envying, with the right-hander only improving as time passes on.
But a lot of players have a picturesque cover drive, technique and range. Yet Babar stands out along with the best such as Virat Kohli and Joe Root. Ever since his superlative hundred against New Zealand in the 2019 ICC World Cup, Azam has grown in confidence.
His numbers speak for themselves, with Pakistan also entrusting him with captaincy, something that has only improved his game with added responsibility on his shoulders. Azam averages 56 in ODIs and is currently the top-ranked batsman in the format too.
However, Azam is still left out of the conversation by a few when it comes to the Fab Four. There are a few claims that Azam has overtaken Root and could even replace him in the Fab Four, which features Steve Smith, Virat Kohli and Kane Williamson. Although Joe Root isn't expected to play in the ODI series against Pakistan, starting today, a look into Babar Azam's recent ODI form alongside Root's is in order.
Babar Trumps Root in All Metrics in ODIs Since CWC 2019!
Pakistan in a rebuilding phase with Sarfaraz Ahmed stepping down as captain after the 2019 ICC Cricket World Cup. In a time of turmoil, Azam has done exceedingly well to step up to the fore with telling performances in the top order.
In eight ODIs since the 2019 CWC, Azam has accrued 595 runs at an impressive average of over 70. However, what really strikes is the rate at which Azam has scored his runs. Often criticised for a lack of intent early on, Azam has a strike rate of 101 in ODI cricket since August 2019. With an average of over 60 and a strike rate of over 100, surely Azam deserved to be in the conversation of the Fab Four.
He averaged a match score of 73.86, the highest for any player since the last 50-over World Cup. As a result, he is currently the top-ranked batsman in the world in this format, overshadowing the likes of Virat Kohli and Joe Root. He has been brilliant in the middle overs, where the bowlers have dominated in the recent past. But with a complete range of shots combined with an eye for a big score, Azam is the epitome of consistency.
Speaking of consistency, Joe Root isn't far off as well. He averages 51.34 in his ODI career while striking at 86, a touch similar to what Azam has done in his career. It is this consistency that has propelled Root into the Fab Four, although his recent form would suggest otherwise.
Since the iconic Super Over in the CWC Final in 2019, Root has played in fifteen ODIs. However, the trails Azam in all basic metrics with just 253 runs to his name. His strike rate of 76.02 is unacceptable in this format, especially for a batsman who bats in the top order. However, his numbers have improved after two matured knocks against Sri Lanka. He now averages a match score average of 52.95 in this time frame, which is quite commendable given his horror run in 2019 and 2020.
Joe Root is quite similar to Babar Azam in the manner they go about things. A brilliant technique to go along with a hunger for runs, Azam's numbers have truly built a case for him to enter the Fab Four. But Azam's real challenge lies against the English in testing English conditions. Although England's frontline bowlers aren't available, the likes of Jake Ball and Saqib Mahmood should prove to be a handful for Azam. But to cement his legacy and standing as one of the world's best, a strong showing is in order for Azam.
Azam's career has truly come a long way and completes a full circle with a return to English conditions after his mesmerising knock against New Zealand in the World Cup. But can Azam continue his hot run this time around is another question, whose answer could hand fantasy shareholders a hefty profit. With an exciting battle in-store between Azam and England, the Sixer Market is sure to be a busy place in the coming days.
Other insights that might interest you