How the Scorchers Have Out-Spun Opponents in BBL 2021 ft Agar and Hatzoglou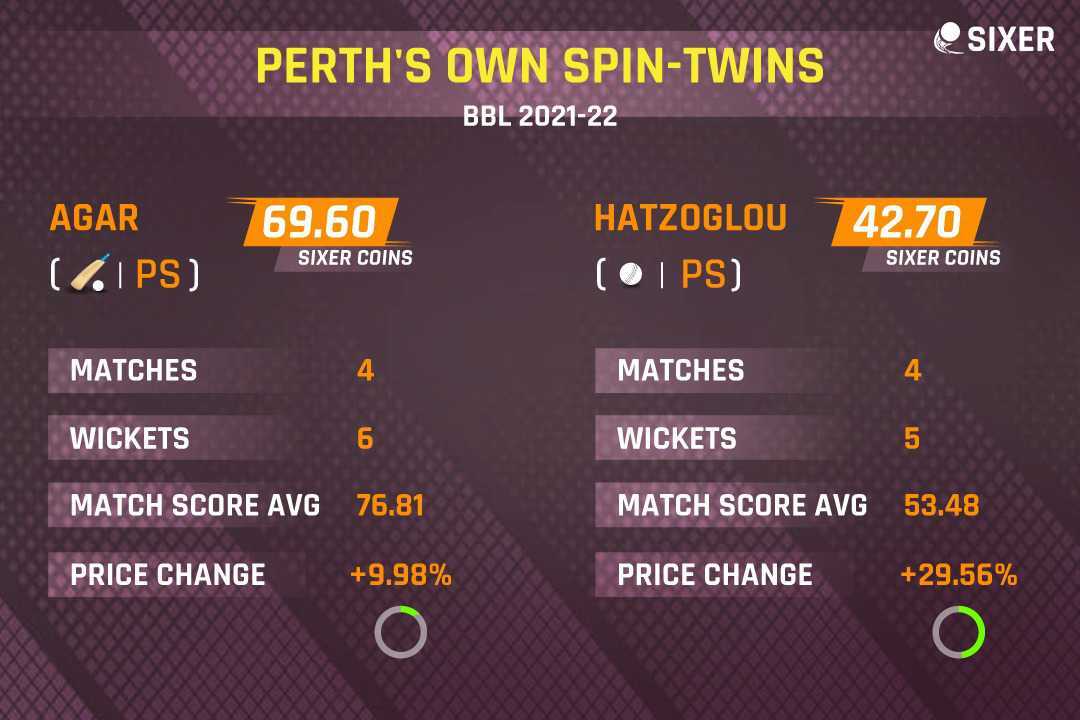 The Perth Scorchers, staying true to their name, have absolutely scorched the league so far with four wins in four games. They have been brilliant with the bat with Colin Munro and Mitchell Marsh scoring centuries. And if they underwhelm with the bat, they've got a world-class bowling attack to fall back on.
Their bowling attack led by Andrew Tye, the highest wicket-taker in BBL 2021 at the time of writing, has not disappointed in any games. Be it with the new ball or in the death overs, the Scorchers have been brilliant.
However, there is one aspect that the Scorchers are consistently coming up trumps in and that is in the middle overs. A lot of their middle-overs success can be attributed to their spin-twins Ashton Agar and Peter Hatzoglou. Both of them have impressed with their variations and accuracy, which have yielded them a few wickets and made the job easier for the pacers in the backend.
To get a measure of how effective they have been in the BBL this season, an insight is in order. So without further ado, here's your dose of Sixer Insight for the day!
Spin-Twins Wreaking Havoc - Agar and Hatzoglou Averaging A Match Score of Over 50 in BBL 2021!
Make no mistake that spin-twins are quite common in BBL and T20 cricket. Be it Zahir and Nabi or Zampa and Qais, there isn't a dearth in spin-twins. But the fact that two spinners are dominating with the ball in a pace-heavy Perth Scorchers side that relies on their quality pacers is quite refreshing.
Ashton Agar, who was part of the T20 World Cup winning squad a few months, has been the standout spinner in the BBL itself. The left-armer has picked six wickets in four games at a match score average of 76.81. His arm-ball has accounted for a few left-handers too, a match-up which many thought could cost the Scorchers a few games. With his batting prowess also coming into play, Agar has seen a price increase of nearly 10% in four games so far.
But it isn't only about Agar, is it? Peter Hatzoglou, who broke out with the Renegades last season, has been brilliant with his leg-spin in the middle overs. The Greek-born leggie has picked five wickets in four matches while securing a price increase of a whopping 29.56%! But again there's more to these two than just plain old numbers.
Both of them have often been used in tandem and to good measure. While Hatzoglou tries to lure batters into making mistakes by tossing the ball up and ripping one through, Agar keeps it tight and simple with his left-arm spin. Both of them complement each other perfectly, which is the key to their and the Scorchers' success this season.
With the pitches likely to get slower as the tournament progresses, we could see more of these two in terms of impact and wickets. But consistency is something both Agar and Peter have not been able to crack. Perhaps this is the season they truly do!
Other insights that might interest you