Is Axar Too Good to Warm the Bench for Team India?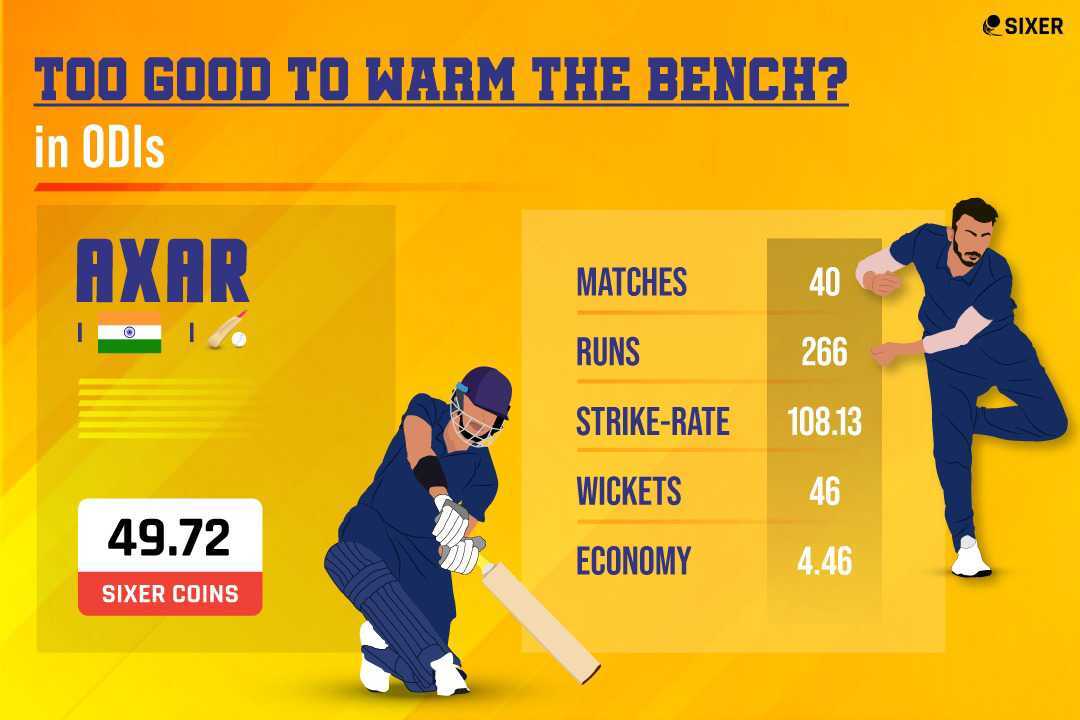 India is blessed with spin-bowling allrounders in the domestic circuit with Ravindra Jadeja and Ravichandran Ashwin ruling the roost. A few pop up every year with R Sai Kishore being the breakout star in the IPL this time around.
Taking the international scene into picture, Team India has relied upon the duo of Jadeja and Ashwin across all formats in the last few years. While Jadeja remains a resourceful asset, the talented Axar Patel has had to warm the bench.
The ongoing West Indies tour offered a much-needed chance for Axar Patel to showcase his talents in the absence of Ravindra Jadeja. And boy did he deliver! Axar Patel has been decent with bat and ball in this series, even pulling off a heist of a run-chase in the previous ODI.
His recent performance throws more light onto the question - is Axar Patel too good to warm the bench? Is he still being viewed as Ravindra Jadeja's understudy? Here's more insight into Axar Patel's credentials in the international circuit.
Similar Skill-Sets Hurting Axar?
Axar Patel averages in excess of 30 with the bat and below 30 with the ball in Limited Overs cricket, which is more than just noteworthy. Any other international team would love to have all-rounder of Axar's calibre. Axar would be a starter in most teams but in Team India, given the similarity he has with Ravindra Jadeja. Both are left-arm spinners and left-hand batters who bat nearly in the same position. But that's where the similarities also end.
Axar Patel is a crafty bowler, perhaps even better than Ravindra Jadeja in white-ball cricket, given his accuracy and ability to entice batters into making mistakes. The left-armer has been an integral part of the Delhi Capitals in the last few seasons, impressing in the powerplay and middle overs. As for his batting, he might not be as effective as Jadeja, but Axar can hold his own against both pace and spin.
It has come to a point that Axar might feel undone that he is not playing regularly for Team India. He has picked over 100 wickets in his international career and specifically in ODI cricket, his economy rate reads a miserly 4.47. Although he has played most of his matches in subcontinent conditions, Axar's ability to generate extra bounce and drift allows him to be a greater threat with the ball than Ravindra Jadeja.
Given his recent performances for Team India, Axar is viewed as the second best spin allrounder in the country and is likely to take the number seven position in the side once Jadeja calls it a day as well. But for now, Axar remains too good to warm the bench - a selection headache which the team would ideally want. But as Axar continues to put in consistent performances, for how long can the management ignore him?
Other insights that might interest you