Is Mitchell Starc the Best ODI Bowler in the World?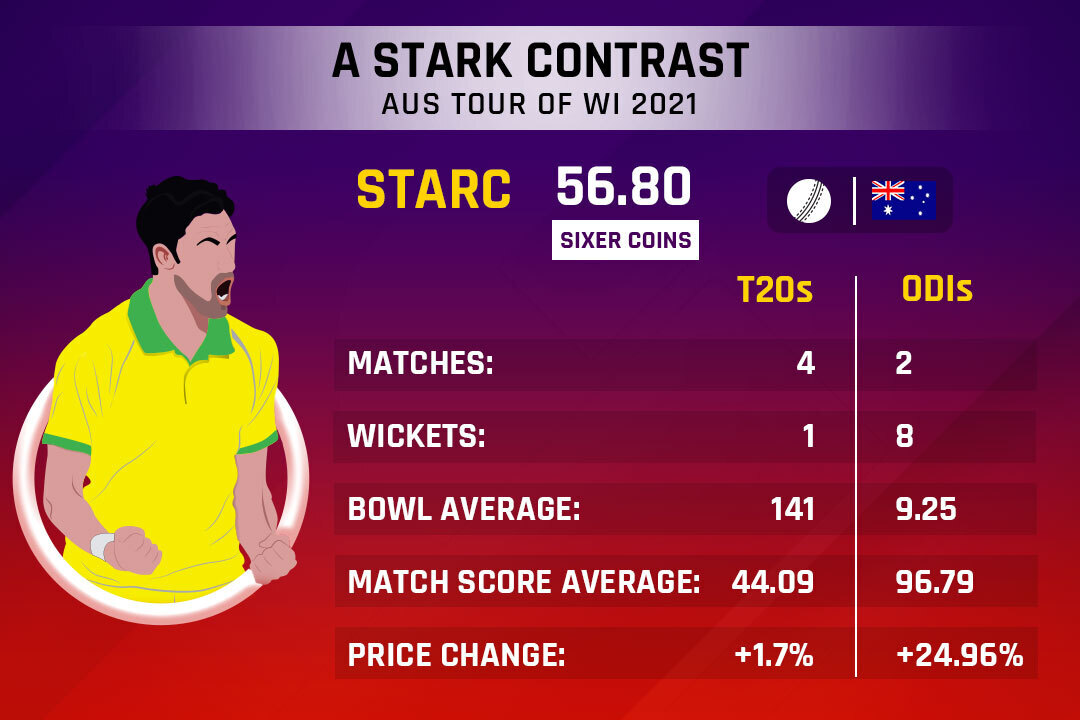 The ongoing Australia tour of the West Indies has been nothing but sensational so far. While the Windies dominated the T20I series, the Australians have hit back with some brilliant performances in the ODI format. However, the series hangs in the balance as both sides face one another for one last time on this tour in a few hours.
The marked change in Australia's performance in the ODI format can be attributed to their improved bowling exploits. On further introspection, this can be zeroed down to Australia's lead pacer, Mitchell Starc!
The left-arm pacer has been sensational in the two ODIs so far, although numbers only tell a simple and plain story, which is why we break his performances down to their last shred. Without further ado, here's your daily dose of Sixer Insight!
A Starc Contrast - ODI Match Score Average Up by 119.5% From T20Is!
Mitchell Starc was a shadow of himself in the T20I series against West Indies. The express pacer only picked one wicket in four matches while registering a match score average of just 44.09! His bowling average read 141 as the Windies were able to take the attack to him.
However, it has been a different ball game in the ODIs. Starc has picked eight wickets in two games at a bowling average of 9.25! His match score average reads 96.79, a whopping 119.5% increase from the T20Is. But it isn't just about the wickets with Starc.
In the ODIs, Starc has been disciplined with his lines and lengths, something he couldn't grasp in the T20s, perhaps due to the nature of the format. Starc has posed a lot more questions in Barbados than he did in St Lucia, although some degree of his success can be attributed to the conditions.
He has conceded nearly 32 runs less than what he has been expected to concede in this ODI series. All this while accruing a wicket value point aggregate of 103.90 in just two ODIs, resulting in a whopping 24.96% increase over the last week or so!
Can Starc Already Be Considered An ODI Legend?
His turnaround in ODI format also gives rise to another lopsided argument - is Starc one of the best to have graced the format? The lopsidedness is in his favour, with his numbers speaking for themselves.
99 Matches, 192 Wickets at a bowling average of 22.59, including two chart-topping campaigns in 50-Over World Cup history!
Surely, these numbers are worthy enough to ink his name into cricket folklore. However, longevity is something that is an issue with Starc. Despite all his injuries and layoffs, Starc has managed to shine through for the Australian ODI side, and with the left-armer on the cusp of playing his 100th ODI, surely Starc has already cemented his place among the most effective bowlers this format has ever had the pleasure of witnessing!
Other insights that might interest you