Is Narine Kolkata's Ace in the Hole?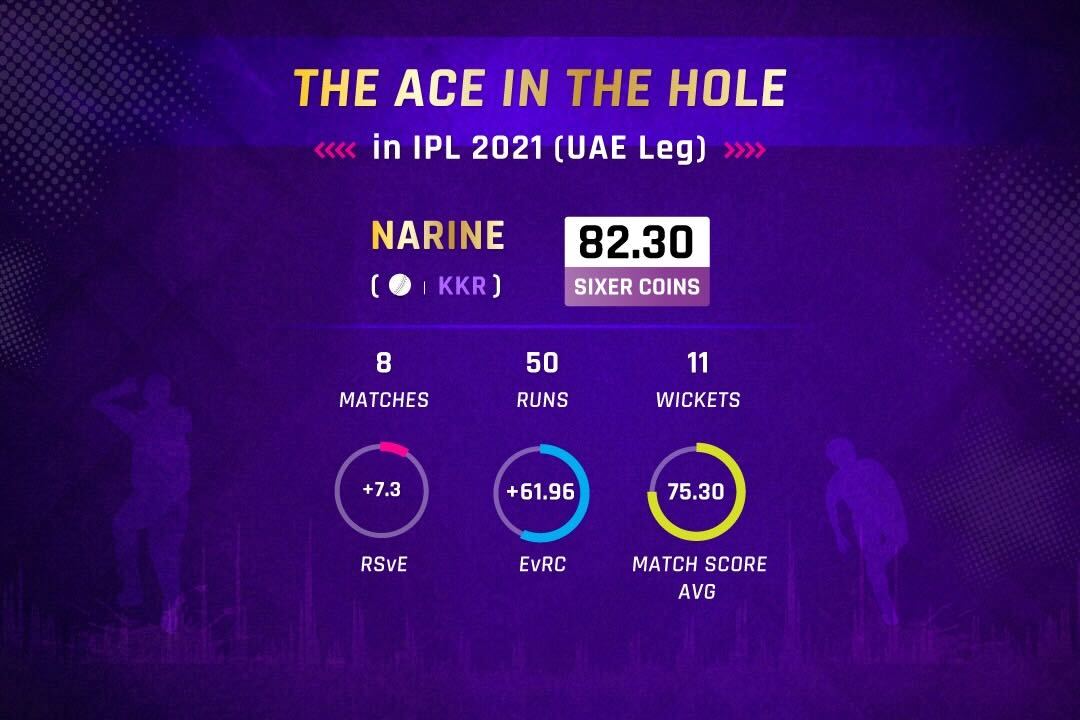 Kolkata Knight Riders have been the team to beat in the UAE leg despite the likes of Andre Russell and Lockie Ferguson suffering injuries midway. A major reason for their resurgence has been their bowling attack, which has been bang on the money, especially on sluggish tracks such as that in Sharjah. While some may attribute their success to a renewed balance provided by the inclusion of Venkatesh Iyer and Lockie Ferguson, there is one more individual who has been sensational in the UAE leg.
Kolkata Knight Riders didn't achieve much success before IPL 2012. Ever since Sunil Narine sprung onto the scene for KKR, they have emerged into a force that ought to be reckoned regardless of the captain or the entire roster. Although his bowling action has earned criticism at times, Sunil Narine has worked hard to remain a valuable asset in this format.
While people have questioned his ability with the ball, Sunil Narine has one-upped them with the bat too. In the UAE leg, Narine has formed a potent partnership with Varun Chakravarthy, choking the teams off runs in the middle overs and delivering wickets at the time of need. Narine has also come up with crucial knocks down the order, an art that was exclusive to the powerplay phase. With the Knight Riders keen to utilize the Sharjah conditions against an equally good Delhi Capitals side, Sunil Narine and his contributions will be critical. Walking along the same lines, here is some much-needed insight on Sunil Narine and how he has gone about things in the UAE leg ahead of this crucial encounter.
Back to his Best - Narine Averaging A Match Score of 75.30 in the UAE Leg of IPL 2021
The UAE leg has seen some inspired performances from the likes of KL Rahul and Harshal Patel. However, Narine has been a class apart in this leg. In eight matches, Sunil Narine has picked 11 wickets with his match score averaging reading 75.30, among the highest in this UAE leg. In addition to his wickets, Narine has scored 50 runs batting down the order, even winning them a couple of games. However, these are just plain numbers which do not do justice to Narine's undeniable impact.
Sunil Narine's USP in the second half has been economy. He has gone about things in a professional manner with an Expectation vs Runs Conceded value of +61.96! This number translates to nearly 8 runs every game, which has often contributed to KKR's success. His variations have served him well on sluggish tracks, the exact kind of pitches he thrives on. Narine has often gone wicketless in this leg but hasn't given many, sustaining the pressure from one end.
Narine has backed his bowling prowess with his pinch-hitting down the order. Although his tally reads just 50 and a Runs Scored vs Expectation value of 7.3, Narine has been key in not one but two games. While his sensational knock against the Royal Challengers Bangalore is still fresh on everyone's minds, Narine already had one match-winning knock to his name when he took down Kagiso Rabada and the Delhi Capitals at this very venue! He hit Rabada for a couple of boundaries to ease the pressure, which earned him the man-of-the-match award as well.
All in all, Narine has come up trumps with the ball more often than not and has come up with crucial knocks at the time of need with the bat. On a track that is known to be on the slower side, Narine's off-spin along with his brilliant pinch-hitting ability offers a unique proposition for Kolkata. The Delhi Capitals will be wary of what Narine is capable of on this surface although they are well and truly capable of stopping Narine in his tracks. Who will come up trumps in this much-awaited clash? Only time will tell!
Other insights that might interest you