Is Shakib In For Another Dream ICC Tournament Run This Year?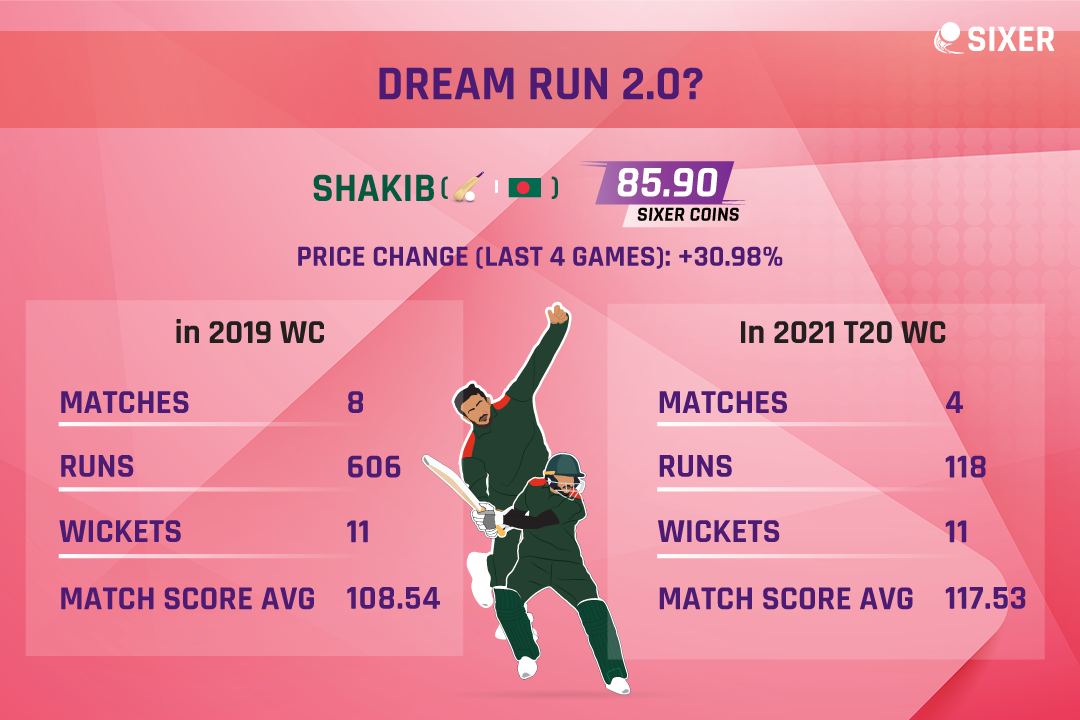 Another day, another double-header awaits us today as part of the ICC Men's T20 World Cup! While two Associate Nations in Scotland and Namibia go head-to-head, all eyes will be on England and Bangladesh as they square off for the very first time in T20I history! Let that sink in for a moment...
Now then! England will come into this game as the favourites, and for a good reason. They beat defending champions West Indies by a big margin after decimating them with the ball in hand. And what's more, bowling isn't even regarded as their stronger suit! The likes of Jos Buttler and Jonny Bairstow ensure that England has explosiveness in abundance within the batting unit, something that Bangladesh would have to contend with in Abu Dhabi.
But Bangladesh has made rapid strides in the white-ball formats in the last decade or so. Bangladesh has made an ICC Champions Trophy semi-final (2017), qualified for the ICC World Cup knockout stage in 2015 at the expense of England and came close to winning the Asia Cup in 2018!
Bangladesh has relied on the trio of Mahmadullah Riyad, Mushfiqur Rahim and Shakib Al Hasan for a long time, with each of them being ever-present in their rise to prominence. While Riyad and Rahim blow hot and cold in this ongoing tournament, it has been Shakib Al Hasan who has single-handedly kept Bangladesh's slim yet active hopes of a semi-final berth.
In fact, this isn't the first time Shakib has stolen the show for Bangladesh in an ICC tournament. His 2019 World Cup heroics are still highly rated, although his 2021 T20 World Cup antics could outshine them. As the build-up towards the first-ever T20I between England and Bangladesh continues, here's some much-needed insight into Shakib Al Hasan's dream run in this year's T20 World Cup!
Bangladesh's Ace In the Hole! Shakib Averaging A Match Score of 117.53!
Yup! Shakib is averaging a match score of 117.53 in this T20 World Cup, the highest for any player who has played in two or more games. Shakib has been everywhere for Bangladesh with 118 runs and 11 wickets in just four games.
Batting in the top order, Shakib has been one of the better anchors in this tournament, mixing caution and aggression in equal measures. This shows in his strike rate, which reads over 120. Apart from his obvious batting talent, he has been Bangladesh's go-to bowler with the ball so far, picking 11 wickets.
His craft left-arm spin has tricked quite a few batters already, with Bangladesh captain Mahmudullah using him in the backend of the innings as well. Shakib truly is a captain's delight, influencing the game in all three departments, and what more could you ask for too?
But it isn't going to be just about Shakib at the end of the day! Yes, he could single-handedly win it for England in this fixture. But he will need the likes of Mustafizur Rahman and Mushfiqur Rahim to step up as well, which could make for an intriguing contest between Bangladesh and England. But until then, we've got both our eyes on Shakib, Bangladesh's Ace in the Hole!
Other insights that might interest you