Not A One-Trick Pony - Is Labuschagne In For T20 Honours With Australia?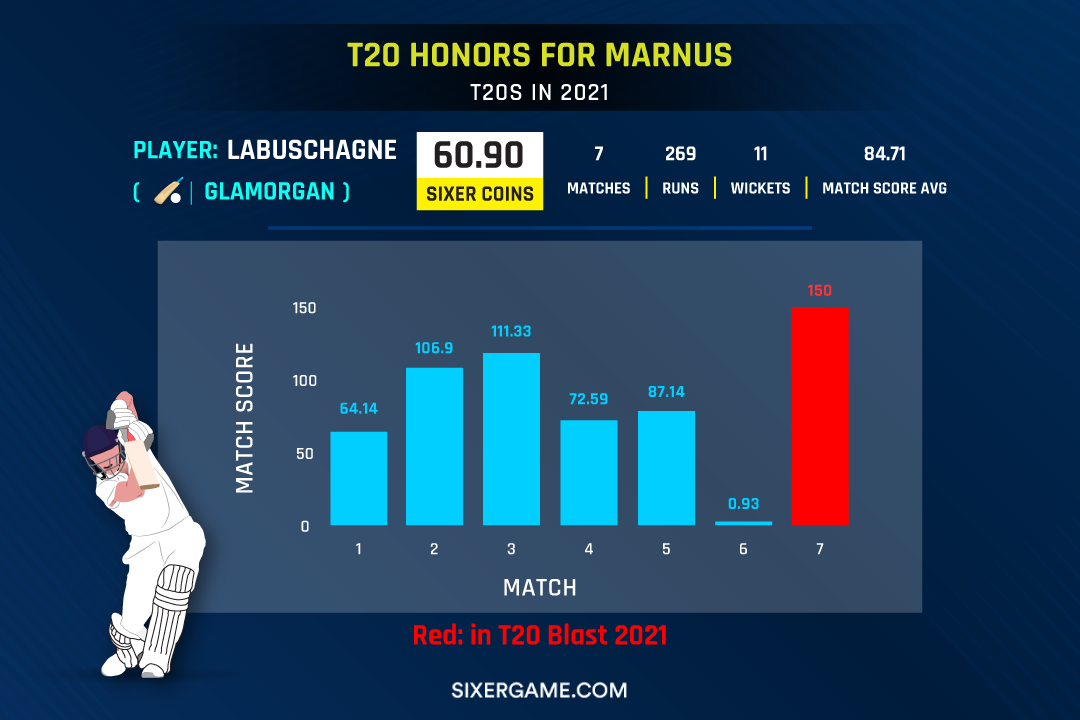 The concussion replacement is one of ICC's better ideas in the last few years, with replacements taking the place of concussed players during the game. While it has ensured smooth passage of play on a handful of occasions, it is safe to say that Australia benefited the most, courtesy of the rule.
Although his talent would have come into recognition sooner rather than later, Marnus Labuschagne first made his name in the 2019 Ashes as a replacement for Steve Smith. And the Rest is History! Nearly two years later, Labuschagne has become a vital cog in both the ODI and Test formats.
However, Labuschagne's fidgety technique and impeccable judgement with respect to deliveries in the corridor of uncertainty has somewhat given him the tag of a red-ball specialist. Marnus lacked the power game required to succeed in the shortest format, a skill, a lack of it, that perceivably limited his ODI potential.
Labuschagne has turned a leaf in his limited-overs career with some sparkling performances in T20 cricket since the start of the year. As he continues to star for Glamorgan, the question that lingers around is whether Labuschagne, like he did in the Test and ODI formats, can make a name for himself in T20Is as well.
Here's some much-needed insight on Labuschagne's stellar 2021 and perhaps an indication of things to come in the near future for the South African-born all-rounder.
Gamechanger with Bat AND Ball - Labuschagne Averaging 87.82 in T20s This Year!
Marnus Labuschagne has a decent technique that has worked wonders in the Test format. But he couldn't quite translate the same into the shorter formats. But like most great Test players like Rahul Dravid and Hashim Amla, Labuschagne has broken through the barriers.
With extension shots and a keen eye for gaps in the field, Labuschagne has become a sought-after asset in T20 leagues. He has over 300 runs in eight T20s in 2021, which is quite commendable. While he continues to be busy at the crease, he is beginning to power his sides to strong finishes towards the end, adding more value, in this case as a T20 cricketer.
Influencing a game in all facets is a skill not many can boast of. Well, this doesn't apply to Labuschagne. He has improved his leg-spin over the last few months with 12 wickets to his name this year. What's even more impressive is he is conceding less than six runs an over at the time of writing.
Although Australia didn't name him for the West Indies series, his name is surely to come up in the selection meeting for the ICC T20 World Cup 2021. While there is some speculation on whether the venues will remain in India or will be changed to UAE, Labuschagne's spin could be a vital asset.
Australia has also found some trouble finding the perfect middle order option in the shortest format, something that Marnus Labuschagne has filled in the ODIs. While he continues to star for Glamorgan, Australia will keep an eye on him, with the possibility of him making a T20I debut being quite high.
As far as the Sixer Market is concerned, Labuschagne is up by over 35% in his last two games, providing value for money without an iota of doubt. With Labuschagne being the go-to guy for the Welsh county, he could be a profitable option in the Real Market!
Other insights that might interest you