Partners Turn Counterparts - Can Rizwan Lead Multan To A Win Over Azam's Karachi?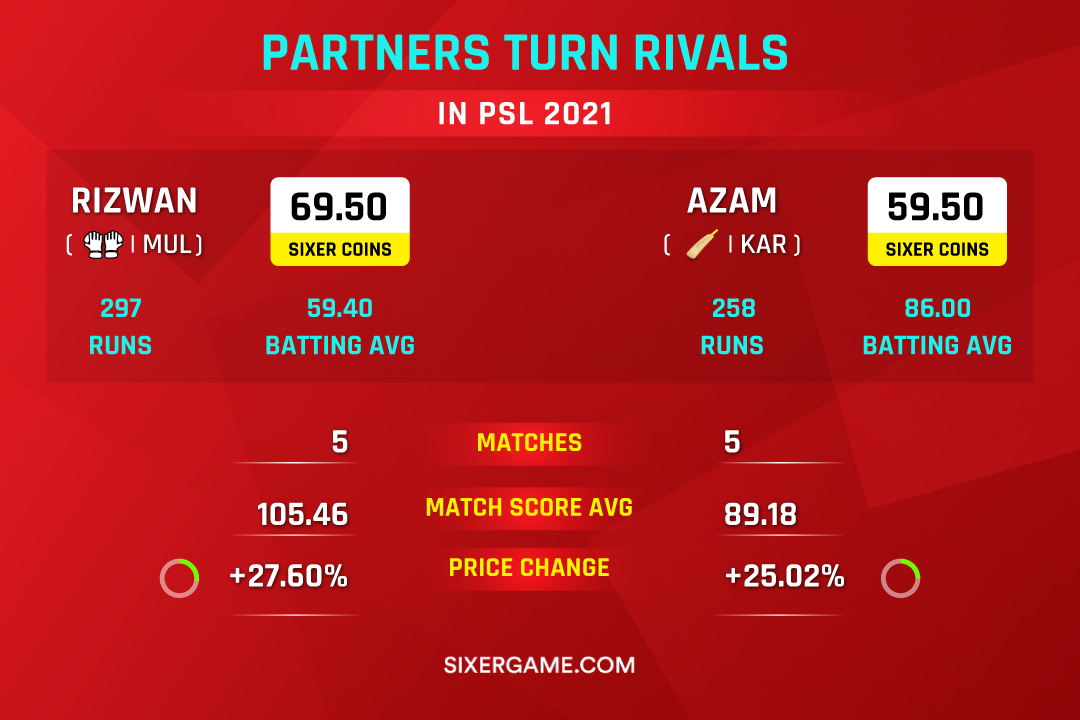 Pakistan is in a rebuilding phase with Babar Azam at the helm. His resume was bolstered when Karachi Kings won the PSL last season, although his impeccable batting prowess stole most of the headlines.
Babar Azam continued in his fine form in this year's PSL, although there was one individual who took batsmanship to another level. Mohammad Rizwan was the leading run-scorer in PSL 2021, with Azam at a close second before the tournament had to be suspended.
But now, with the PSL resuming, both Azam and Rizwan are back in action and start from where they left off in the tournament. While their recent T20I form has been outstanding, their PSL 2021 campaigns deserve a autopsy, which is exactly why we cast our eye in this direction. Here's your much-needed daily dose of Sixer Insight!
The Chartbusters Collide - Azam and Rizwan Among Select Few To Average Over 50 in PSL 2021!
Mohammad Rizwan was one of the few bright spots in the Multan Sultans' first-half campaign. Although they could only win one game out of five, Rizwan managed a 50+ match score in all five of them. In fact, his tally of 297 runs is the highest at the time of writing.
However, it isn't just about the runs with Rizwan. He often held one end up despite the likes of Vince and Lynn failing to get going in the middle overs. His match score average of 105.46 was the highest in the competition before its suspension. Not many were as influential as Rizwan was for the Sultans although his national team captain Azam might have an argument.
Babar Azam opened the batting alongside Sharjeel Khan, who was one of the best batsmen in the competition. Complementing Sharjeel's attacking prowess, Azam often came up with consistent performances, averaging a whopping 86 with the bat. His match score average also read 89.18, only Rizwan and Zaman boast of a higher match score average in PSL 2021!
But when it comes to price increases, both Azam and Rizwan are neck and neck. While Rizwan rose by 27.60%, even briefly topping the Sixer Market, Azam's 25.02% increase was also pretty impressive. Both of them are now available from a similar price to the beginning of the PSL in February. If they are to replicate their performances, fantasy shareholders are in for a treat over the next few weeks.
Other insights that might interest you