Sixer Scout: Are Brook and Carter In For Higher Honours with England?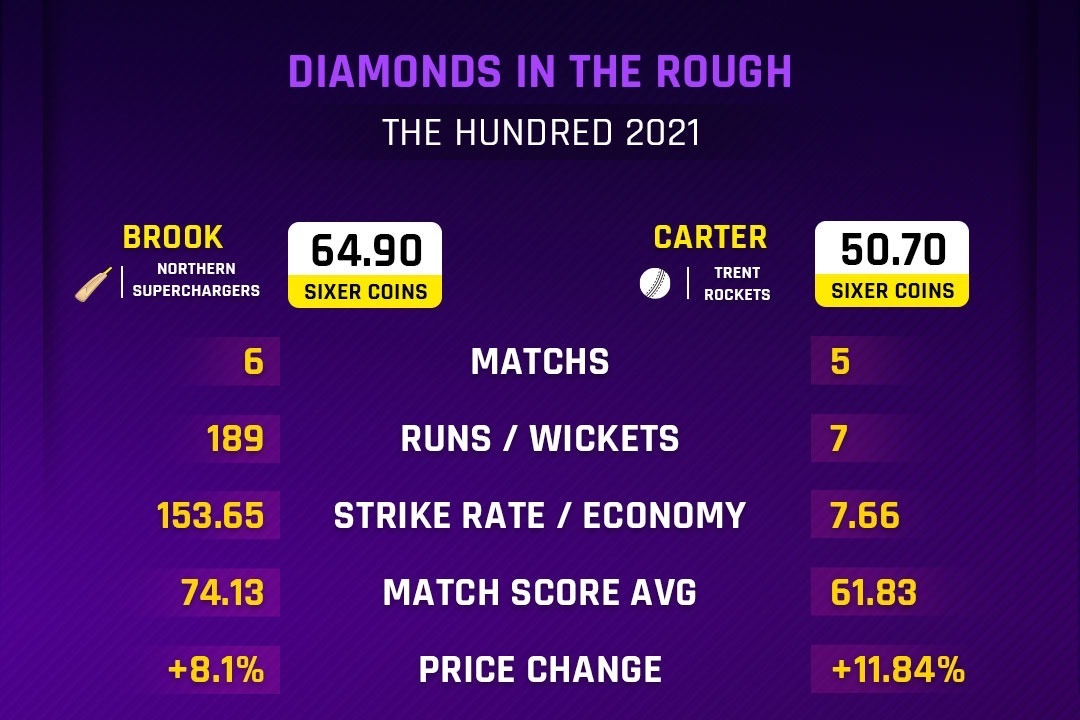 The Hundred opened up a new outlet for young English stars to make a name for themselves. In the past, the lack of a renowned franchise league competition in England was seen as a missed opportunity, something that is now rectified to a degree with the Hundred.
A franchise league system allows a country's board to gauge their young talent and help them rub shoulders with the best. A greater exposure allows youngsters to seek overseas stints in other leagues, which in turn help their progression into the national set-up.
The Hundred has seen its fair share of entertainment with overseas players and experienced campaigners such as Jason Roy and Rashid Khan starring for their respective teams. However, the youngsters aren't to be left behind by any means.
While a few youngsters such as Finn Allen and Matt Parkinson were earmarked for great things, the likes of Harry Brook and Matt Carter have overshadowed them by a stretch.
Harry Brook and Matt Carter have been sensational in the Hundred despite having no international experience. The aforementioned youngsters have stood out among international stars, even earning calls for a national call-up. Here's an insight into their recent performances to get yourself up and running in the Sixer Market!
Likened to Pietersen, is Brook the Next Big Thing in English Cricket?
Harry Brook, a former U-19 star for England, has been overshadowed by the likes of Joe Root and Jonny Bairstow in the Yorkshire set-up for quite some time now. Predominantly a top-order batter, Brook has reformed himself in a middle-order role, that could be his calling at the end of the day.
Brook is an explosive batter who likes to play in the V. Hitting straight is his strength, and is equally comfortable against pace and spin. Brook is also adept at playing the pull shot with the tall batter riding the bounce and often taking the attack to the opposition.
He had a brilliant T20 Blast season and he has merely continued the same form in the Hundred as well. In six matches, Brook has scored 189 runs at a strike-rate of 153.65. His match score average reads 74.13, with a price increase of 8.1% doing his fantasy shareholders more good than harm.
Although Brook has enjoyed a fine Hundred campaign with the Northern Superchargers, the former U-19 star still has some way to go in his career. He often lacks the tactical know-how to time a chase. In short, he needs to mix caution with aggression, an art that separates the best from the rest. As for an English call-up, it might not be too long before he does get a call-up owing to lack of depth in the English middle-order.
Old-Fashioned Yet Effective, is Carter A Wild Card for the England T20 World Cup plans?
Speaking of lack of depth in the English middle-order, the spin department is another area where the English lack quality resources at the moment. Although the likes of Adil Rashid, Matt Parkinson and Moeen Ali hold the fort, they will need a spinner or two to back up Rashid and Ali, who might not stay for too long.
Here's where Matt Carter comes into the picture. A tall off-spinner, who can give the ball a fair amount of flight and revs, Carter has been a revelation for Nottinghamshire and Trent Rockets in the Hundred. He generates uncomfortable bounce due to his tall frame and is also more than handy with the bat in hand.
He fits into the England set-up perfectly - effective with the ball and adds depth with the bat. He has seven wickets in five Hundred games to his name at an economy of just 7.66. His match score average of 61.83 has resulted in a 11.84% increase with his price reading 50.70 Sixer Coins per Share!
Although Carter has been pretty consistent off late, he still has a long way to go in all formats of the game. He doesn't have too many variations, something that can be perceived as a weakness in the modern era. However, his performances are too good to be ignored. If he keeps this form intact, he could well be a wild-card to make the English T20 World Cup side owing to the nature of the pitches in UAE. You never know!
Other insights that might interest you