Sixer Scout: Is Garton Here to Stay After Stellar Season With Sussex?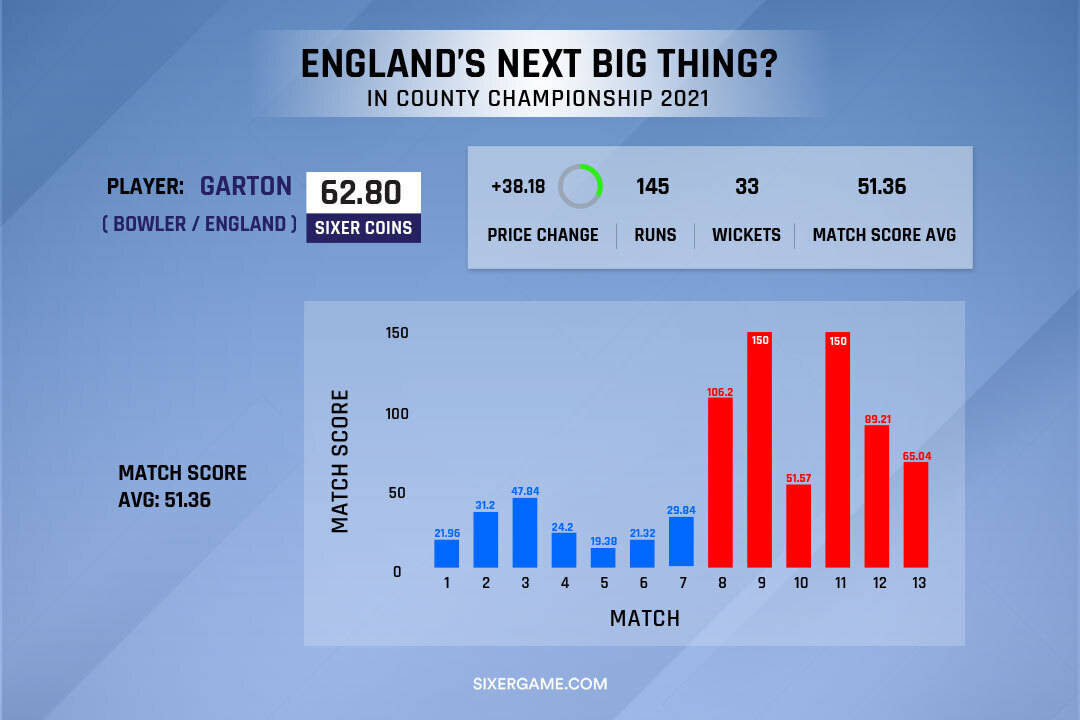 England is back in coloured clothing as they face Sri Lanka in a bout of three ODIs and T20Is over the next week or so. With their Test stars given a break owing to the much-awaited India series, England will be looking to build towards the future.
A key aspect in England's rise in world cricket has been their approach. Gone are the days where their openers would see out the first ten overs and build a platform. They now emphasise an ultra-aggressive brand of cricket, inspired by the 2015-New Zealand side led by Brendon McCullum.
Now in this system, you would need a lot of depth and resourceful all-rounders to pull this off. An ultra-attacking approach also increases the risk of wickets, which is why Morgan has preferred bowlers who can bat over specialist bowlers in the past.
As good as a Harry Gurney or even a Jake Ball can be, the three-dimensional talents of a Sam Curran or a David Willey can influence the game in one way or the other. This is precisely why the inclusion of the in-form George Garton makes complete sense.
George Garton is a pinch-hitting bowling all-rounder who has improved in leaps and bounds over the last year. Featuring for Sussex, Garton has taken up the mantle of the lead pacer and has even won a few games single-handedly. As he waits for a debut for England, a further insight is required to understand his rise, his capabilities and whether he can sustain his form on the biggest stage too!
Rags to Riches - Garton's Match Score Average up by over 100% in his last eight games!
George Garton had had to wait for his chance given the riches that Sussex boasts of on the bowling front. However, Archer and Jordan's international commitments allowed Garton to churn out valuable performances for Sussex.
It wasn't easy at the beginning with Garton only averaging a mere 35 in his first seven T20s since 2020. The left-arm, who does get the ball to swing a bit, wasn't able to hit his lines with the older ball, something that he has improved upon. His pinch-hitting was always highly rated but with a touch of caution added to it, Garton has seen a rapid rise.
In his last six T20 games, Garton has averaged nearly 100 with two perfect match scores of 150 to his name as well. This has seen his match score average since 2020 jump to 51.36, a remarkable rise given his woes in 2020. He has impressed with the new ball as well in the death with his extra burst in pace adding value to his case.
Garton also has over 140 runs in his last 13 games for Sussex, that has played a part in him earning a national call-up. In the mould of David Willey, Garton will look to use his new-ball skills if given the chance. But with that extra bit of pace, Garton provides a different threat than the current England stars in Chris Jordan and Sam Curran.
With a price increase of 38.18% in his last five games, Garton is in the midst of a purple patch, which could work in his favour if he is handed an English cap. Although Garton would only be auditioning for a long-term role, he does have all the tools to succeed in this England system, reliant on ultra-attacking cricket. But it remains to see if Garton can hold his nerve and translate his domestic form onto the international circuit!
Other insights that might interest you