Spin to Win For Team India - All Eyes on Ashwin and Jadeja Ahead of WTC Final!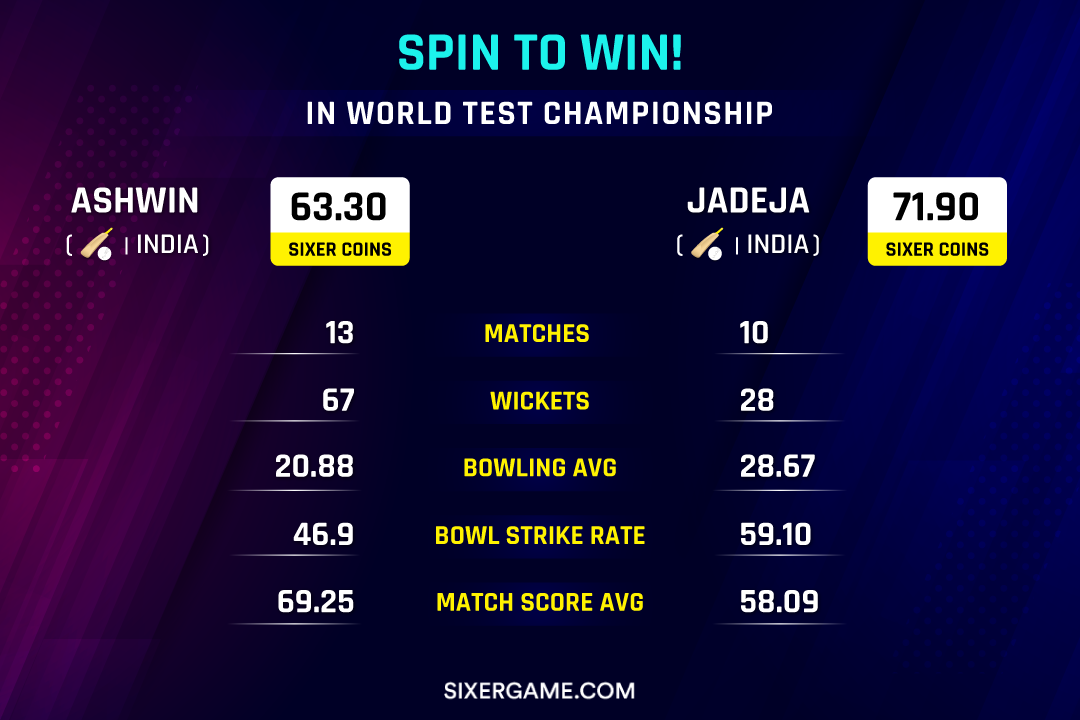 The first-ever World Test Championship Final is fast approaching, with cricket enthusiasts trying to figure out India and New Zealand's best possible combinations. The Rose Bowl and the English weather adds a different dimension to the already intriguing contest.
While English conditions generally favour the pacers, India is contemplating fielding both Ravichandran Ashwin and Ravindra Jadeja in this Test. India has benefited by sticking to its guns, i.e. quality spin bowling, in recent times, which justifies the move at the moment.
Even without considering the conditions, Ashwin and Jadeja perhaps walk into the side in the absence of a genuine pace-bowling all-rounder. Both the spin-bowling all-rounders have proven their mettle in this World Test Championship campaign with stellar performances with bat and ball.
But how important are they to the Indian cause at a ground where spin could play a significant role? Here's some much-needed insight on India's spin-twins heading into the all-important WTC Final!
Spin to Win - Ashwin and Jadeja Averaging A Match Score Above 55 in WTC!
Not many can boast of a match score in excess of 55 in the WTC, let alone spinners. But Ashwin and Jadeja have delivered when it matters, both in overseas and home conditions.
Ashwin has been the standout bowler for India over the last few years in Tests. With 67 wickets in 13 games, Ashwin is just three behind Cummins' 70. The Tamil Nadu all-rounder has come up Trump's with the bat as well, with his superlative hundred in Chennai earlier in the year being a testament to his batting ability.
What strikes out in Ashwin's bowling number is his average of 20.88, among the least for a spinner in the WTC. In addition, Ashwin has ample experience playing in England with the national team and Nottinghamshire, adding value to his case ahead of this game.
The Yin to Ashwin's Yang, Ravindra Jadeja, has done well alongside Ashwin in the WTC. Although he has only 28 wickets at an average of 28.67, Jadeja provides value with his clever bowling and relentless accuracy.
His impact is felt in both the batting and fielding departments, something that no other player can do in the current Indian side. Jadeja's batting has gone up a notch in the last year or so, with his stunning onslaught on Royal Challengers Bangalore in the IPL earlier this year being proof of it.
Both Ashwin and Jadeja provide the balance to this side and also sustain the pressure in the middle overs as their quicks rest up after tedious spells. At a ground where India doesn't have good memories, read Moeen Ali ten-fer in 2014, spin could well play into their hands.
Although New Zealand is quite complete in terms of balance and depth, Ashwin and Jadeja's performances with the bat and ball will go a long way in determining the outcome of this game. With both of them in line to feature against England in the coming months, they could well be excellent additions to your portfolio ahead of the IPL!
Other insights that might interest you