T20 WC Triumph Hangover for Zampa - Can The Stars Leggie Hit Back in the BBL?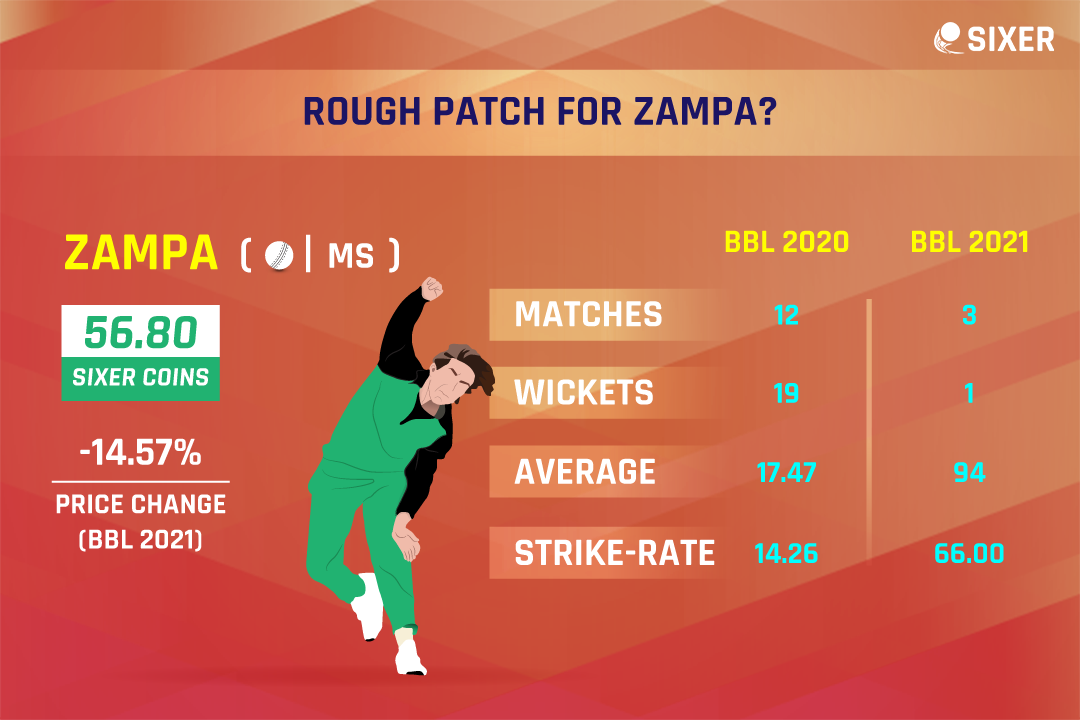 The BBL has seen a new lease in life this season and part of it can be attributed to the Australian T20 World Cup triumph a month back. Some of the stars of that campaign, be it Mitchell Marsh or David Warner, have also taken their game to the next level. Speaking of Marsh, he even scored a hundred in his first BBL game of the season against the Hurricanes!
Going back to the T20 World Cup, Adam Zampa was perhaps Australia's best bowler in the tournament. Zampa is one of the premier spinners in the world with his wicket-taking ability being second to none in the Australian set-up.
However, Zampa's form hasn't been great in the BBL so far. He has only picked one wicket in three games for the Stars, who haven't done bad despite his poor form. But to get a better idea of his performances here's some much-needed insight on Zampa and his BBL exploits!
A Stark Contrast - Zampa's fantasy price down by 14.57 in BBL 2021-22
Adam Zampa is perhaps the best spinner in the league's history and rightly so. He has over 80 wickets with a respectable average and strike rate. Last season was a good one for Zampa, who accounted for 19 wickets in 12 matches with a strike rate of 14.26. But this is where it gets a bit messy.
His 2021-22 numbers are way off at the moment. Just one wicket in three games with his bowling average and strike-rate reading 94 and 66 isn't something you associate with Zampa. But there's more to it than just plain old numbers.
Zampa has played a couple of games away from home, at venues where spin has been received particularly well. In fact, both his away matches were against Sydney-based franchises, who are known to have a good strategy against spin. At the MCG against the Thunder, Zampa did hold his own in terms of economy, even bowling the Stars to a last-over thriller.
With the pitches in Australia likely to become slower as the tournament progresses, Zampa will be one to watch out for in the BBL. His experience and ability to hold his own against the very best make him a good addition to your fantasy portfolio. Although his price is down by over 10% in the BBL already, Zampa's potential and talent should pave the way for a selection. But will he be able to get the better of the Sixers today? Only time will tell!
Other insights that might interest you