Tale of the Tape: All Eyes on Dhawan, De Kock Ahead of India-SA ODI Series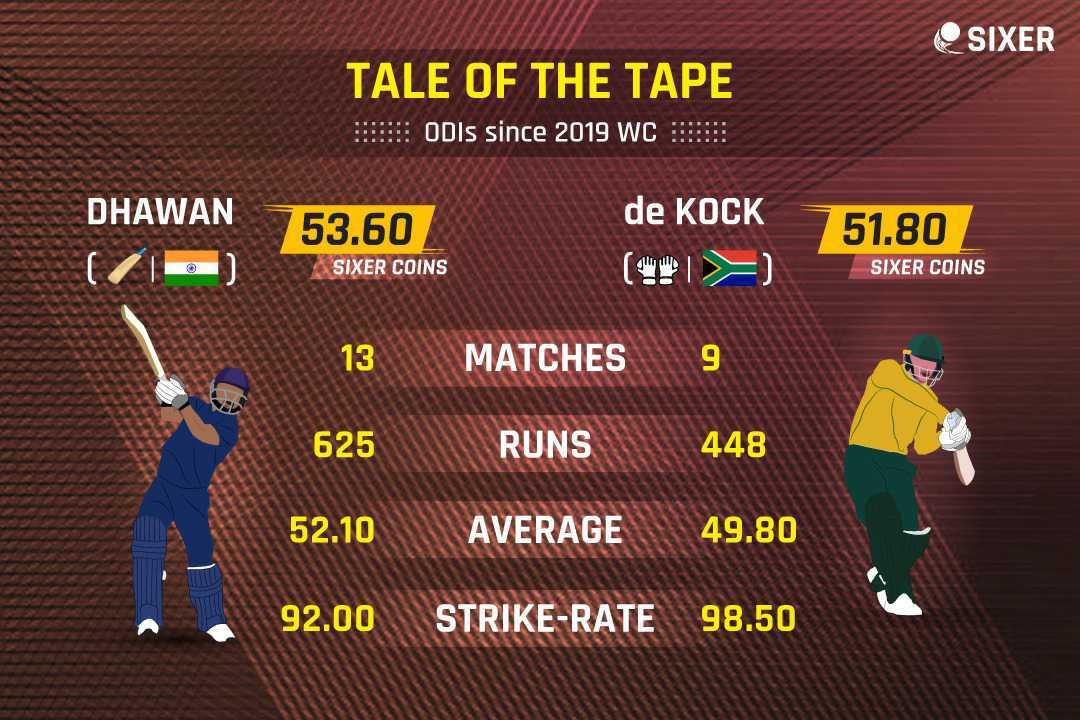 Shikhar Dhawan and Quinton de Kock are set to return for their respective sides in the ODI series. Here's why they are highly rated in this format as India and South Africa lock horns in a three-match series starting this Wednesday.
After a pulsating Test series, the action shifts to the fifty-over format with both India and South Africa looking to build towards the next ICC Cricket World Cup. While youth could be the flavour of the series, two individuals have shrugged off competition and continued to perform at the highest level - Quinton de Kock and Shikhar Dhawan!
The pair of left-handers are among the best when it comes to white-ball cricket. While the likes of Marco Jansen and Venkatesh Iyer hog the spotlight ahead of this series, we cast our eye on de Kock and Dhawan's returns over the last few years and what actually makes them the hottest assets in the fantasy market! Without further ado, here's some much-needed insight to get yourself going
Explosive and Reliable - De Kock continues to sizzle for South Africa!
Quinton de Kock is a generational talent, there's no other way to put it also. The southpaw has featured in two World Cup campaigns already although he is still has some unfinished business in national colours.
Over the last two years, de Kock has been brilliant at the top of the order, using his experience and skill to great effect. In fact, de Kock has scored 448 runs in just 9 ODIs with an average of 49.80 to show for his efforts. In addition, he has been striking at 98.50, not giving the bowlers much of a chance and relentlessly applying the pressure from ball one.
Defying the Odds - Dhawan stands apart from Gen Z in ODIs!
Another player who likes to go after the bowling from ball one is Shikhar Dhawan! Like de Kock, Dhawan has been part of two World Cup campaigns and is one of the most efficient batters in ODI cricket. Although India is looking towards a more youthful roster for the 2023 WC event, Dhawan's numbers make sure he doesn't stay out of the conversation.
In 13 ODI matches, Dhawan has accumulated 625 runs at an average of 52.10. He also boasts of a strike rate of 92.00, which is noteworthy in this format. An able player of spin, Dhawan's game against the pacers have also improved, which holds him in good stead ahead of this series.
Why De Kock and Dhawan in the Sixer Market?
While the numbers tilt the odds slightly in De Kock and Dhawan's favour, the prelude to this series, i.e. the Test series adds another layer of intrigue. With the three-match Test series bound to take a toll on the likes of Markram and Dussen, de Kock might be the only one among the South African unit to be assured of playing all three ODIs.
Similarly, Shikhar Dhawan is fresh and raring to go, unlike Virat, Rahul and Pant, all of whom played at least two Test matches in the series. Although Rahul Dravid's policy of handing every squad member a chance could play spoilsport, Dhawan's chances of featuring in two or more ODIs are bright.
With both de Kock and Dhawan set to lock horns as a part of this series, you wouldn't want to leave them out of your portfolio at all. But the question remains - Can they fire at the top of the order for their respective teams? Only time will tell!
Other insights that might interest you