The Afghan Wizards Are Here - How Will Rashid and Mujeeb Fare in this T20 WC?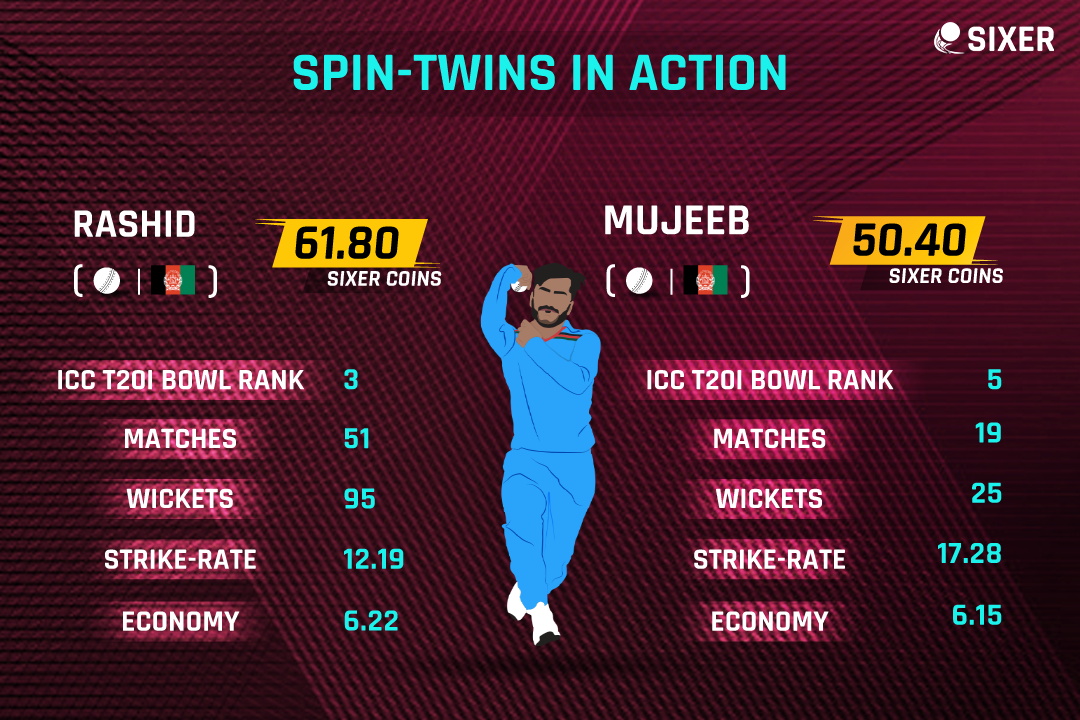 The action continues in the T20 World Cup as Afghanistan locks horns with Scotland at the Sharjah Cricket Stadium on Monday. The Afghans have come a long way since the previous T20 World Cup in 2016, unearthing superstars in Rashid Khan, Mujeeb ur Rehman and Rahmanullah Gurbaz.
While Afghanistan's rise in world cricket has come as a breath of fresh air, the same can be said about Scotland's unbeaten run in Round 1 of this World Cup. They overcame Bangladesh and Oman to seal a place in the Super 12 alongside the likes of India and Pakistan.
Now Scotland have always been home to brilliant talents, be it Calum MacLeod, George Munsey and Josh Davey. But they haven't had the same exposure as perhaps the Afghan players due to the lack of cricket they play against Test-playing nations, a flaw in the current ICC calendar and scheduling.
But Scotland have earned their spot in the Super 12, and their players have a significant opportunity to show their quality against the best in the business. With the IPL mega auction, including two extra teams, coming up next year, Scotland players such as George Munsey and Mark Watt will be keen to throw in their names as well.
Their first test will be to encounter the spin-twins of Afghanistan - Rashid Khan and Mujeeb ur Rehman! Ranked number three and five respectively in the T20I Bowlers Ranking, Rashid and Mujeeb have been sensational for their nation over the last few years. To get a better understanding of why they are so effective and their method of operation, here's some much-needed insight to get you going for the day!
Rapid Rise for Young Mujeeb in T20I Cricket!
For a teenager who still has a very long way to go in international cricket, Mujeeb ur Rehman has been a revelation for Afghanistan. Having caught the eye in the U-19 World Cup a few years ago, Mujeeb has gone on to play in over 40 internationals for Afghanistan and feature in almost every T20 franchise league there is in the world of cricket!
Mujeeb's ability to turn the ball both ways without changing his arm speed or action makes him a good asset to any team. Like his senior colleague Rashid, Mujeeb also relies on a fast action, making him difficult to pick at times. He ranks among the top five T20I bowlers and rightly so given his knack of picking wickets with the new ball. Even so that Afghanistan's lack of new-ball pacers has been covered up by Mujeeb's brilliance. He isn't like most spinners and is likely to come good on pitches that should suit him this World Cup!
2016 to 2021 - Rashid's Come A Long Way!
Back in the 2016 ICC World Cup, Afghanistan did beat West Indies in a thrilling contest. However, that did come after they suffered a tough loss to South Africa, in which a certain AB de Villiers smashed a young Rashid Khan for 29 runs in an over.
From that point to today, Rashid has certainly come a long way, even being crowned the T20 player of the decade. Rashid has always been an effective leg-spinner, with his consistency being his USP! Rashid's quick-arm action and nearly unplayable variations have often outfoxed batters all around the world.
And to make it even better, Rashid has often looked to evolve as a bowler, developing new variations every now and then, making him a world-class talent. His numbers speak for themselves - 95 wickets in 51 games, a wicket every 12 balls, is insane in the T20I format. The leggie often bowls in the death overs for Afghanistan, but there's more context to this.
Afghanistan has the luxury of using two mystery spinners, two very unique spinners. Keeping their characteristics in mind, Afghanistan use Mujeeb in the first innings, to keep the powerplay overs in check. They try to pair up Mujeeb with the likes of Nabi and Naveen ul Haq, who can then have the comfort of taking their time and easing through their spells. With enough pressure on the batters until perhaps the tenth over, Rashid is then called upon to do a job on the opposition batters, who have no other option than to take on Rashid. Taking on Rashid Khan isn't a chore that has yielded much success in history, a match-up that Afghanistan will keep in mind.
With a lot riding on their spin-twins, Afghanistan might fancy their chances of qualification as well. Their spin attack coupled with youngsters Rahmanullah Gurbaz and Naveen-ul-Haq makes them a force to reckon with in this format. But can they pose a threat to New Zealand, India or Pakistan in the so-called easy group in the Super 12? Only time will tell!
Other insights that might interest you