The Third Pacer Conundrum! Will India Opt for Siraj over Ishant?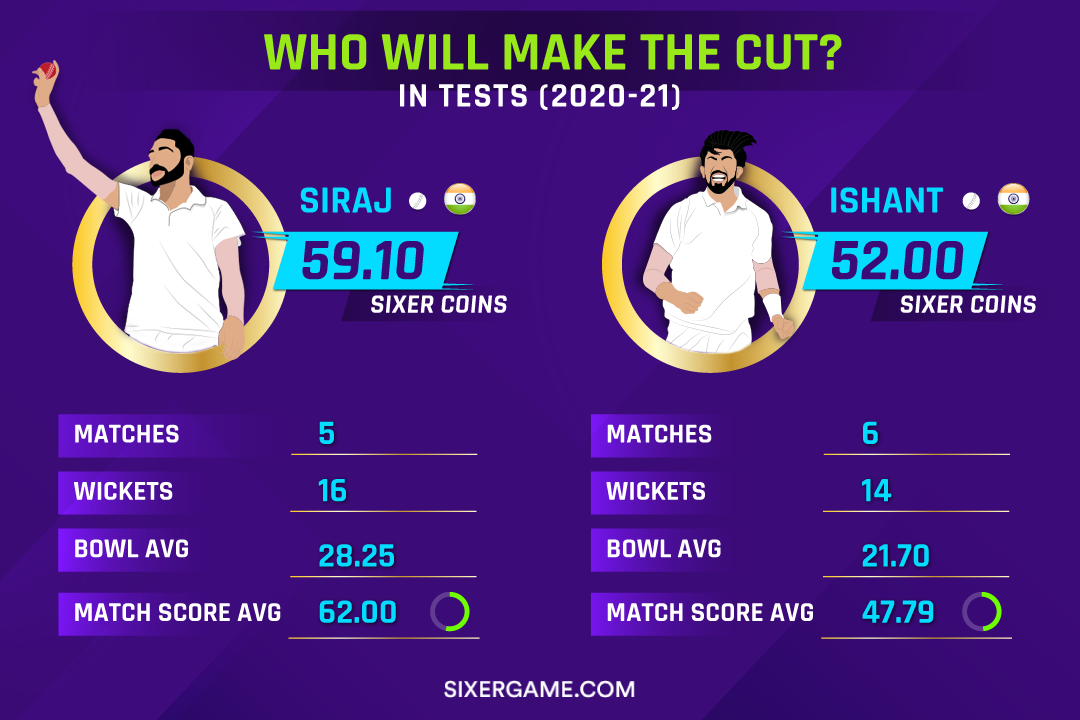 The much-awaited India-England Test series is nearly upon us! This series could be viewed as the second instalment to the fierce rivalry between the two nations, which escalated to a whole new level earlier in the year in India.
However, the build-up to this series has been far from ideal for both teams. While the English have enjoyed a terrific white-ball season, it's the red-ball format that they severely lack confidence in. Especially after a drubbing at the hands of New Zealand earlier in the year at home, indeed, this is their last chance at redemption before the Ashes.
As for India and their fans, indeed they aren't over the World Test Championship Final heartbreak. This unfortunate result, again at the hands of New Zealand, has opened up a lot of questions over places in the side. There is a lot riding for the likes of Pujara and Rahane, who haven't been at their best with the bat in hand.
Team India has a few selection headaches ahead of the much-awaited Test series against England, one of them being the third pacer slot. The men in question, Mohammed Siraj and Ishant Sharma have been consistent, but only one might make the cut. Here's a look into their performances in the last year or so!
Experience and Skill The Go-To Weapon for Wily Ishant!
Ishant Sharma, for long, has been India's star pacer in this format. In fact, his performances in England, especially in 2014, are still remembered by many. However, the riches that India has on offer on the bowling front have shifted the spotlight back on Ishant and his place in the side.
Since 2020, Ishant has averaged a match score of 47.79 in six Tests. Although this number isn't as great, he averaged 21.70 with the ball, which is quite acceptable given he played on rank turners earlier in the year. He can get the ball to move both ways with his height also adding another dimension, making him a tough customer to tackle.
Experience is what plays into Ishant's favour, and especially after a good performance against New Zealand in the WTC Final, Ishant could well start alongside Bumrah and Shami. However, he faces some tough competition in the form of Mohammed Siraj!
A Touch of Aggression and Exuberance for Siraj in First Year as a Test cricketer!
Mohammed Siraj has been a breath of fresh air for Indian cricket. Ever since his exemplary spell against KKR in IPL 2020, Siraj has looked quite composed and impressive. Often labelled as wayward and inconsistent, Siraj is now one of India's leading pacers.
To back that claim are his Test numbers. He averages a match score of 62.00 in his Test cricket with 16 wickets to his name. Although his bowling average reads 28.25, one needs to account for his tiresome spells in Australia and also at home on rank turners against England.
Like Ishant, Siraj can get the ball to move both ways and gets the ball to skid off a length too. With prior India A experience in England, Siraj wouldn't be a bad bet to start the series as the third pacer. However, Ishant's WTC performance could give him the nod. Nevertheless, with this being a long tour, we could well see Mohammed Siraj being unleashed upon the English!
Other insights that might interest you