What To Expect from India's Latest Mystery Spinner Varun Ahead of SL T20Is?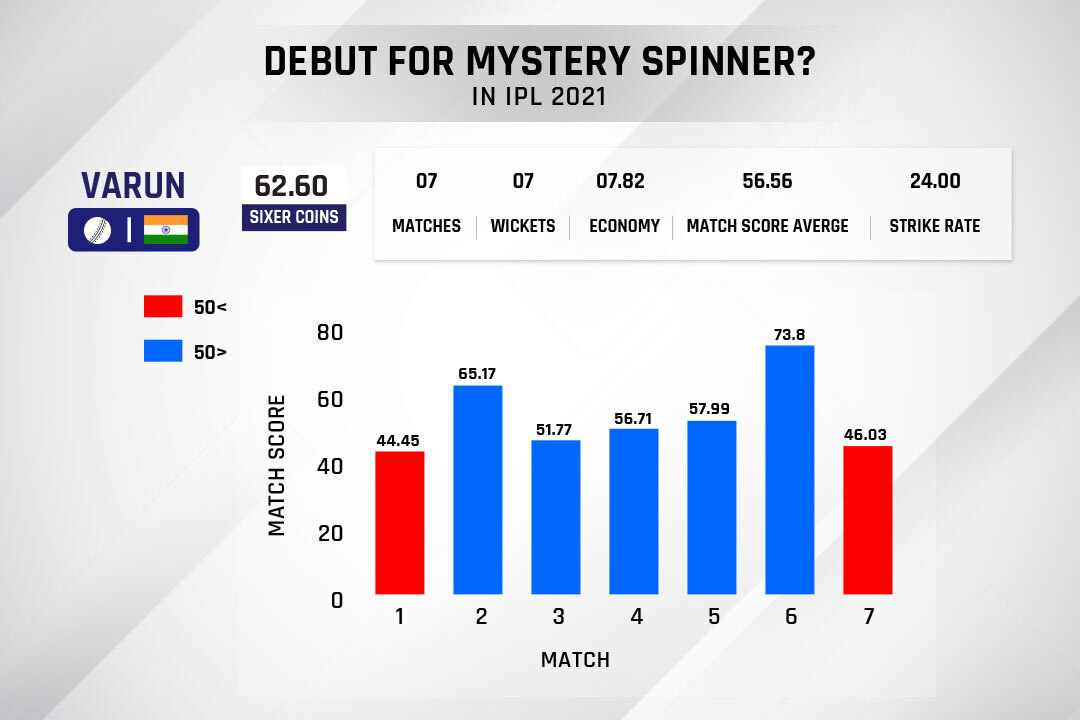 It's safe to say that mystery spinners or spinners who have a certain degree of intrigue around their bowling, are one of the most sought-after commodities in T20 cricket. Not often do you see a bowler turn the ball both ways off the same trajectory and action.
Varun Chakravarthy is just another in this special group of players that includes the likes of Rashid Khan and Mujeeb ur Rehman. However, Varun has had to ace an uphill battle to come to a point of an Indian debut. Hogging the spotlight in the 2018 IPL auctions, Varun Chakravarthy earned a big contract with Punjab Kings, only to be sidelined with injury.
At a time when his chances of succeeding in IPL cricket were all but over, Varun silenced his critics with a stellar IPL 2020 season, where he picked 17 wickets, even forcing KKR to drop Kuldeep Yadav to the bench. His guile and accuracy were critical to the Knight Riders' bowling attack although they couldn't make it to the playoffs.
Wizard of TN - Variations the Key for Varun!
Varun Chakravarthy, with a Sunil Narine-like action, can get the ball to turn both ways. This is possible due to the umpteen variations he has under his sleeve. Classified as an off-break bowler, Varun's control over the sliders and the carrom ball make him a brilliant asset to not only KKR but the Indian team as well.
Although he was selected for the Australian tour, Varun's fitness delayed the inevitable - the off-spinner making his debut. Now, Varun Chakravarthy has improved his fitness to an extent although the focus will solely be on the Tamil Nadu spinner's performance with the ball.
While he hasn't played much cricket in 2021, Varun Chakravarthy did have a decent IPL 2021 season, until it lasted of course. Although Kolkata in general had a poor season, Varun was one of the shining lights in their dismal campaign. Without further ado, here's some insight on his IPL 2021 performances ahead of the all-important T20I series against Sri Lanka!
Varun Among A Select Few Spinners To Average A Match Score Of Over 50 in IPL 2021!
As already mentioned, Kolkata Knight Riders had a dismal 2021 season in the IPL. None of the bowlers could really hold their own except for our man, Varun Chakravarthy. The offie could only manage seven wickets in seven games but held his own against some of the big names in world cricket.
Varun conceded runs at an economy of 7.82 per over, which considering the venues he played in is quite acceptable. In fact, Varun was Morgan's go-to bowler, bowling the crucial powerplay overs and in the death at times. He picked a wicket every 24 balls, the best among the Kolkata spinners.
While Indian spinners like Yuzvendra Chahal and Ravi Bishnoi failed to strike a chord with consistency, Varun Chakravarthy managed five 50+ match scores in seven games, the highest for any out-and-out spinner among Indians in the IPL. Alongside Rahul Chahar and Axar Patel, Varun Chakravarthy was among a select few to average a 50+ match score average in the IPL, showcasing his class in the process.
India's Spin Struggles = Varun's Gain?
India has struggled in the spin department since the 2019 ICC World Cup. The likes of Yuzvendra Chahal and Washington Sundar, to an extent, hasn't really delivered. Which is exactly why this tour of Sri Lanka presents a golden opportunity for India to find a genuine mystery spinner capable of turning the odds in their favour.
Varun Chakravarthy and Rahul Chahar are the prime candidates at the moment for India. Given that the next World Cup is being held in UAE, Varun's 2020 exploits will definitely factor in. However, everything will rely on his performances against Sri Lanka, a team that isn't put down by the prospect of facing mystery spin. Only time will tell if Varun can be the next big thing in India but one thing is for certain - he is definitely one to keep tabs on in the near future.
Other insights that might interest you