Will The 'Big Show' Show Up Against The Super Kings?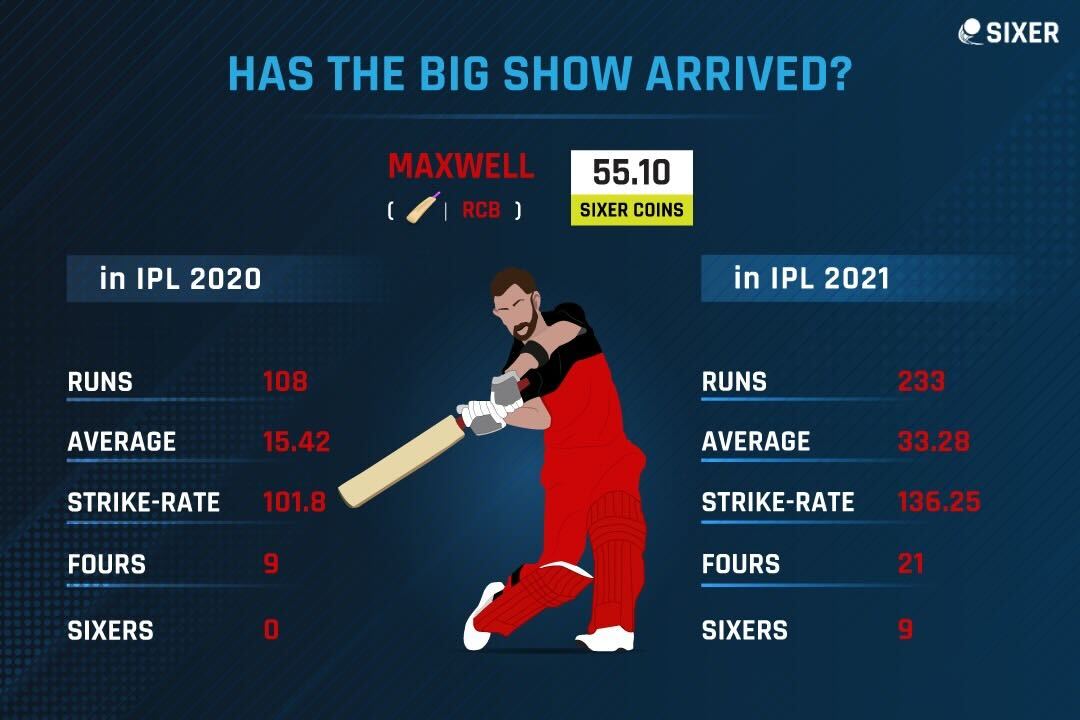 Royal Challengers Bangalore are back in action as they face the Chennai Super Kings in Sharjah today. Although Bangalore comes into this contest on the back of a loss, they are one of the teams to beat in IPL 2021 with five wins in eight games.
Crucial to their fortunes have been Glenn Maxwell, their star recruit in the IPL 2021 auction. Despite a lacklustre campaign in the previous season, Maxwell's talent was backed by the Royal Challengers, who are now reaping the rewards for their decision.
However, Maxwell returns to the UAE for the first time since his woeful 2020 campaign. While his first outing in this UAE leg didn't go according to plan, Maxwell presents a unique threat to the Chennai Super Kings, who are undoubtedly the favourites heading into this game.
Can Maxwell be the go-to man for RCB as they look to get past a resourceful Chennai side? Here's an insight into how Maxwell has transformed his fortunes in the IPL from the previous season.
Here Comes the Big Show! Maxwell Averaging A Match Score of Over 60 in IPL 2021!
Glenn Maxwell had a poor IPL season last time around with only 108 runs at an average of 15.42. His strike rate also read 101.8, a poor number for any batsman. In fact, Maxwell could only hit nine boundaries in the entire season with none of them being a six.
However, Maxwell flipped his fortunes in a jiffy for his new team RCB, who seem to have found the perfect role for Maxwell - a floater hell-bent on taking on the spinners. This new role has worked wonders for Maxwell with 233 runs in just eight games. His strike-rate has bumped to 136.25 with the Aussie also hitting 21 fours and nine big sixes!
His match score average is also in the high 60s, holding him in good stead of this game. While CSK has done well to thwart Maxwell in the last few seasons, they will be wary of Maxwell and his antics in the middle overs. But can their spinners come good against the big-hitting all-rounder? Only time will tell!
Other insights that might interest you