Youth Over Experience? All Eyes on Hales and Brook Ahead of T20 Blast Hiatus!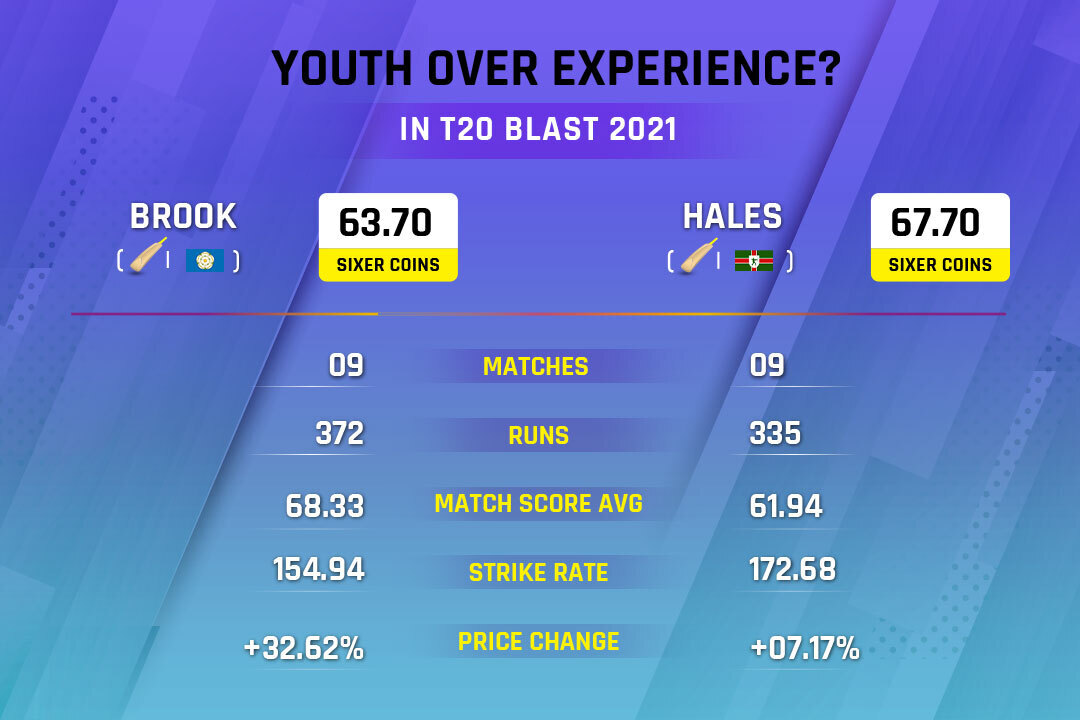 The T20 Blast has truly delivered in terms of entertainment and opportunities in the Sixer Market. Some global superstars have walked the talked, read Devon Conway, while some have gone from zero to hero in a matter of matches, read Tom Banton.
However, none can boast of a better T20 Blast campaign than young Harry Brook. The Yorkshire batsman has upped his game like no other, while Adam Lyth and Dawid Malan have struggled in the top-order.
Although Brook is amongst the highest run-scorers in the competition this season, his style of play and intent is quite similar to that of Alex Hales, who hasn't slowed down at all. Despite being cast out of the international scene, Hales continues to plunder runs like no other opener in the T20 circuit.
While you've got your Eskinazis and Denlys, the battle between Harry Brook and Alex Hales is one to keep an eye out for, given their similar progressions in terms of price and performances. As the wait for the final round of fixtures continues, here's some much-needed insight on Alex Hales and Harry Brook to get yourself going in the Market!
Intent and Aggression! Brook and Hales Averaging A Match Score of Over 60
Harry Brook has had to wait a long time for his breakout season. Captain of the England U-19 Side a couple of years ago, Brook is a swashbuckling top-order batsman who has had to reinvent himself given the riches Yorkshire possesses in all three departments.
Predominantly batting at number five this season, Brook's tally of 372 runs is astounding. But part of this is due to Lyth and Kohler-Cadmore's repeated failures at the top of the order. Nevertheless, Brook has won a few games single-handedly with a strike rate of 154.94 and a match score average of 68.33 to show for his efforts.
But what stands out is that he has been particularly severe against pace and leg-spin. He strikes at over 150 against both bowling types with a dot ball percentage of just 8.3% against leg-spin, critical to Yorkshire's success in the middle overs. However, he has struggled against left-arm spin with a strike rate of under 100, yet his ability against spin is quite impressive for his age.
These numbers also remind us of Alex Hales, who has been at his sparkling best this season for Nottinghamshire. Hales has 335 runs in nine games at the time of writing, with his price up by 7% in his last few games. In addition, Hales has been striking at 172.68, which ranks amongst the best this season.
However, the similarity between Hales and Brooks starts here. Hales, like Brook, has been particularly impressive against pace (221 SR) and leg-spin (235 SR). This is one of the primary reasons why Nottinghamshire have done well in the middle-overs. But Hales also has his weak spots, with his average against left-arm spin not being particularly great.
Having said that, there are more than just a few similarities in Hales and Brooks' game. Both are tough on fast bowling and look to pile the pressure on the leggies, who could be a threat in the middle overs. But Hales is a master at attacking cricket. He picks his spots and bowlers to perfection, which has earned him numerous contracts around the world.
Although Brook is still young, he has a lot of potential and experience under his belt. With a near 33% increase in the T20 Blast this season, Brook is already in the reckoning for at least an England Lions berth. And if he continues to plunder runs, in the same manner, we could well see him in England colours sooner than we think.
Other insights that might interest you