Can Kuldeep Deliver on the Promise as India Works Around Spin Woes?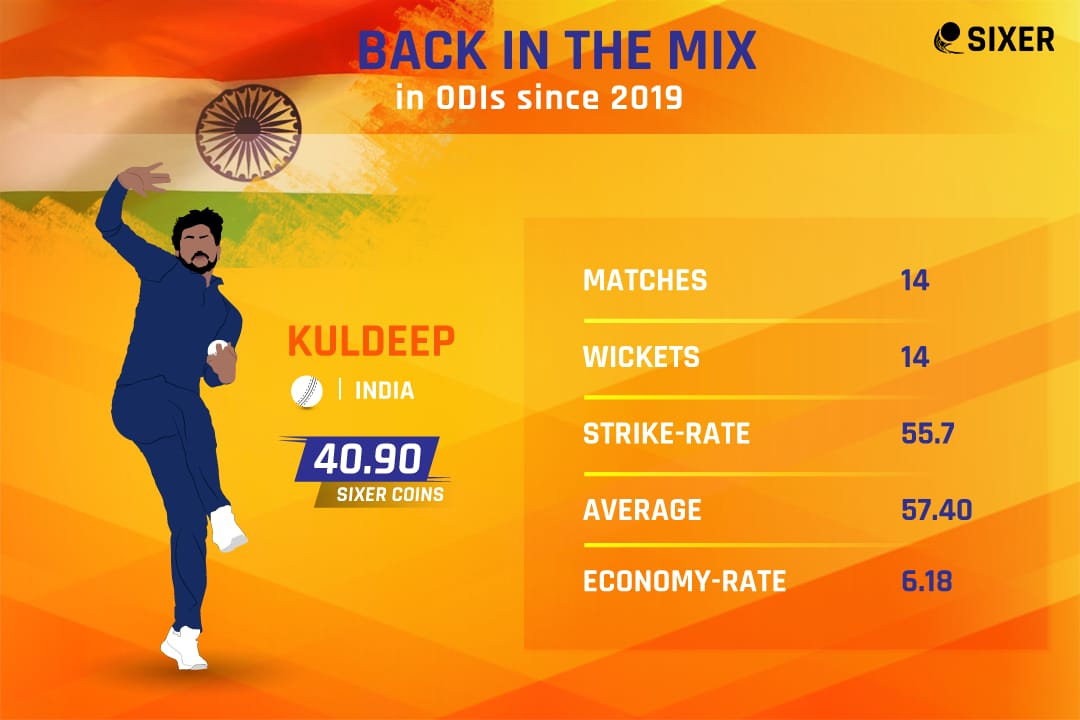 Team India's home season got off to the perfect start with Washington Sundar and Yuzvendra Chahal picking seven wickets between them against West Indies. This comes as a welcome suprise for the Indians, whose spin department hasn't been upto the mark since the 2019 Cricket World Cup.
Once regarded as India's X-factor in the ODI format, India's spin department is something that needs a rethink, which has seen a rather familiar face pop-in to the ODI squad. Although India has tried and tested a few combinations, read Jadeja-Ashwin, Sundar-Chahal etc, the combination of Kuldeep Yadav and Yuzvendra Chahal tops them all.
Granted Kuldeep isn't in the best of forms for the last few years, it is easy to ignore the fact that he is still 27 years of age and has picked 107 wickets in just 63 innings. Mind-boggling numbers for any bowler, let alone a spinner.
But again, in a country where there is an abundance in riches across almost every department, Kuldeep's lack of form has impacted his long-term fortunes. Even his sacking in the KKR set-up didn't help, a team that had initially vested its faith in the chinaman bowler.
But how bad has Kuldeep really been in the last few years? Is there really no way out for the Chinaman? Here's some much-needed insight to get yourself going in the Sixer Market!
Can Kuldeep Overturn Poor Form and Regain his Old Mojo?
Kuldeep's numbers haven't been great since IPL 2019. The first instance of his supposed decline was Moeen Ali taking him to the cleaners on a spin-friendly Eden Gardens track. Since then, Kuldeep hasn't been the same.
Kuldeep has picked 14 wickets in 14 ODIs since the Cricket World Cup in 2019, which isn't too bad. However, this is where it gets a bit messy. Kuldeep has conceded more than 6 runs an over with an average of 57.40, which isn't acceptable for even a sixth bowling option.
The left-arm leggie seems to have lost his confidence and subsequently has tried to come up with something new to get him out of his rut. A bowler who relies on extracting turn off the surface at a relatively-low speed, Kuldeep is being attacked early in his spell and dictated by the pace of the game that the batters are more comfortable at.
However, this opens up wicket-taking options for India. If Kuldeep can regain his confidence and put more faith in his leg-spin, he could well be India's answer to their spin woes. But it isn't as simple.
Team India's balance isn't what it used to be before. The presence of Hardik Pandya and Kedhar Jadhav at six and seven offered them depth and the space to include both Kuldeep and Chahal in the side. But with India seemingly struggling with the number six role and Hardik Pandya's fitness up in the air too, only one of them can make the role at the moment. But with Hardik nearing full fitness and Kuldeep's potential in mind, a good series or even a noteworthy IPL season could be Kuldeep's best way back.
Other insights that might interest you