Is It The Beginning of the End for Virat?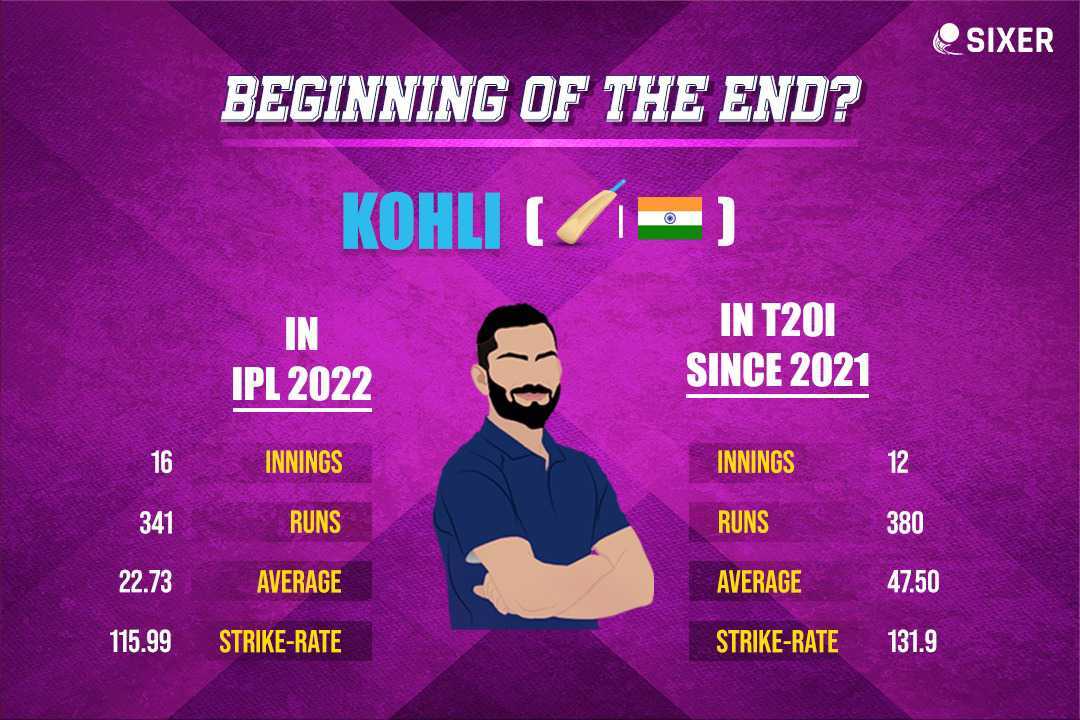 Virat Kohli is a world-class talent with his record speaking for itself. There's no debate around his records and achievements in world cricket at all. However, Virat hasn't had the best of times as a batter since 2020 at least.

He has looked a shadow of himself in T20Is, struggling to get going in the middle-overs. A confident batter at his best, Virat seems to have hit a road-block as he finds himself "rested" yet again by the Indian management. But has he really been that bad? Here's some much-needed insight to decode the supposed decline in Virat Kohli's stature as a world-class batter.

Sub-Par Numbers for the King!

Virat Kohli is a beast in white-ball cricket and could give any cricketer a run for his money when it comes to being the best in the business. However, he hasn't been the same since the start of 2021.

His international numbers seem decent - 380 runs in 12 innings at a healthy strike-rate of 131.9. But considering most of his runs came in just one series against England at relatively high-scoring venues, there's more to be decoded. The IPL is where Virat was truly exposed as a slight liability.

In this year's IPL, Virat scored just 341 runs in 16 matches, averaging a mere 22.73 and striking at 22.73. The highest run-scorer in the history of the IPL, Virat Kohli could only do so much as RCB finished third in the tournament.


What Has Gone Wrong?
Looking back at his IPL campaign, Virat Kohli was tried in a number of different roles - an opening anchor, an aggressor and a middle-order anchor. For starters, a lack of clarity could have resulted in a poor run of form. However, there's more to his consistent failures.
Virat Kohli is an elite player against pace, capable of playing square of the wicket and toying with the field with his game sense. However, he has historically struggled against spin in the middle overs, often looking content at nurdling them around. The game of cricket has evolved with teams looking to attack every bowler in a unit, even if the bowler is a Jasprit Bumrah or a Rashid Khan.
Kohli, in his T20I career, has a strike-rate of less than 130 against right-arm off-break, left-arm spin and leg-spin. In stark contrast, he strikes at over 150 against right-arm pace. The middle overs aren't Kohli's cup of tea anymore by the look of things.
Even while batting at the top of the order, Kohli has seemingly struggled to get going. Another aspect where teams have evolved is deploying two hard-hitters at the top of the order and going all guns blazing, something Virat is not known to do.
Is it really the beginning of the end?
It might not be the exact end for Virat but surely an indication for change in his mindset and approach. For a long time, Virat's role was to build an innings and accumulate runs while the rest did the heavy-lifting. But at the moment, there are better options to do the same, where a change in approach comes in handy.
A player of his calibre cannot be taken for granted, even if he doesn't score a single run in the next two years. Every great player has his ups and downs and like every elite player does at the time of need, Virat has also stepped up at times. But with the T20 World Cup fast approaching, Virat would have to find his mojo sooner rather than later.
Other insights that might interest you