Is Stirling Finally Ready for an IPL Stint?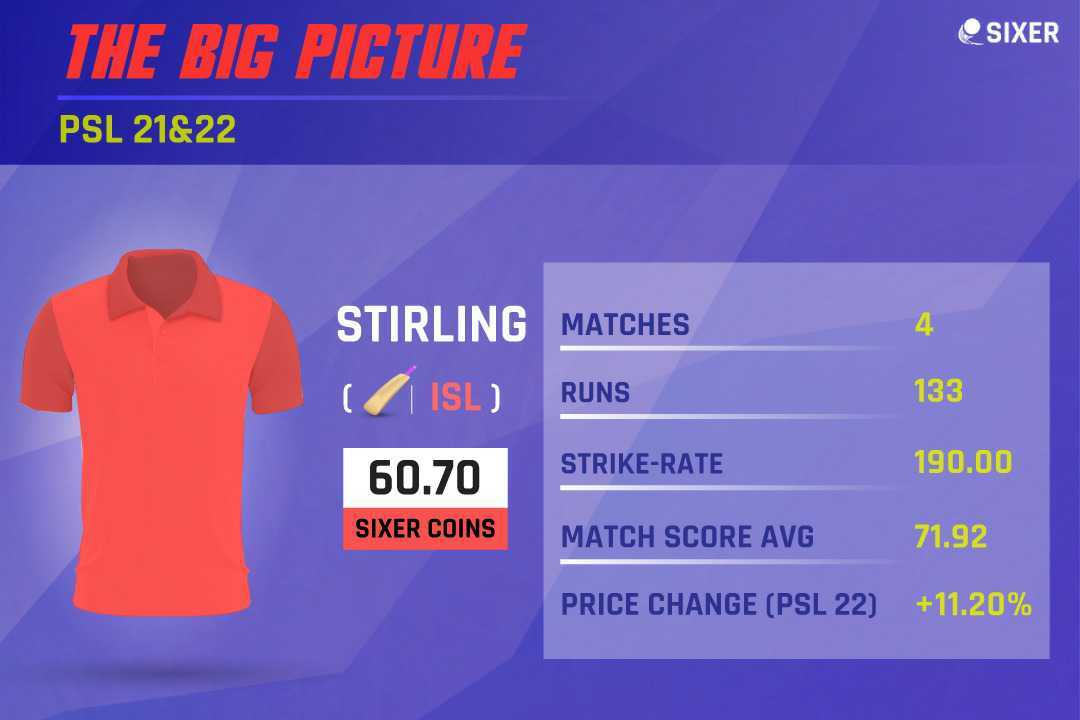 The PSL has been a revelation this year with some exquisite batting performances enthralling the crowd and the fantasy shareholders in the Sixer Market. Be it, Shan Masood or Fakhar Zaman, it's been raining boundaries in Karachi.
However, there's one player that has gone under the radar despite putting in a virtuoso performance with the bat - Paul Stirling. The Irishman has already lit the PSL with his explosive batting ability and shows no signs of slowing down, which brings us to the next act - is Stirling worthy of an IPL contract?
To give us a better understanding of how Stirling has fared in subcontinent conditions in the PSL, here's some much-needed to get yourself going. Here. We. Go!
Knocking On the Doors - Stirling Averaging A Match Score of 71.92 in PSL 6 and 7!
Paul Stirling has been a consistent performer in T20 cricket but it's safe to say that he has been overlooked for the IPL. Stirling is one of the better players of spin in the world and has a decent record against Afghanistan, a team that boasts of the best spin attack in the world.
Even in the PSL, whose quality isn't far off from the IPL, Stirling has been bang on the mark. In four appearances across two PSLs, Stirling has scored 133 runs at a strike rate of 190! His match score average of nearly 72 holds him in high regard within Islamabad United, a team that has put a lot of faith in the Irishman.
Not to mention, Stirling has proven himself in various other leagues as well. In fact, Stirling was the player of the match in the final of the Hundred, showcasing his obvious talent with the bat in hand.
Onto the burning question - Yes, Stirling is capable of holding his own in the IPL. He is seemingly at the peak of his powers and can pack a punch against the best spinners and pacers. In addition, he provides some value with the ball, which can be used as a sixth or even seventh bowling option.
However, a lot of factors go into a player signing in the IPL auction with age and quality of oppositions one has played against in the last year or so. Although Stirling hasn't done too bad in either aspect, there's a lot of competition among overseas openers which leaves him stranded with a contract.
But with an increase in the number of overseas spots available, thanks to the addition of two new franchises, Stirling could be an astute signing, possibly at base price. With Ireland and Stirling out to prove their critics wrong on the big stage, the burly opener making it to the IPL could go a long way in cementing Ireland place as one of the top nations in world cricket.
Other insights that might interest you