Stokes Bids Adieu - How Stokes Set the Tone for An English WC Win!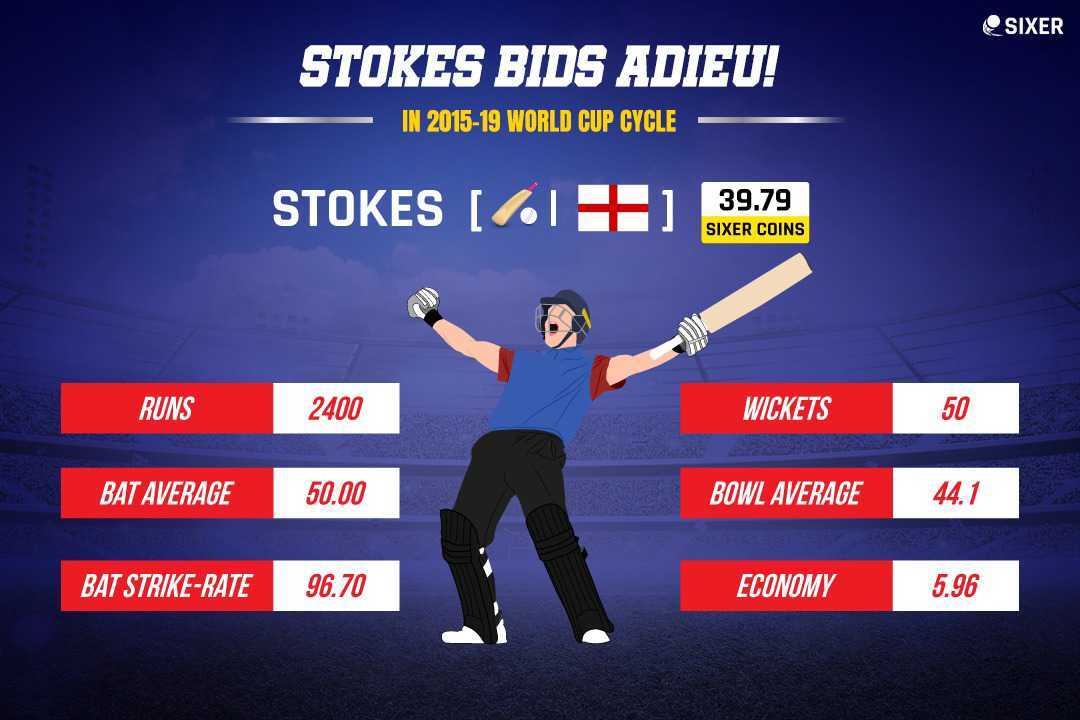 Over the last few years, England has emerged as the runaway leader in white-ball cricket. A fearless approach coupled with a sense of freedom within the roster has gone a long way in the nation's revival after their 2015 ICC World Cup debacle.

The 2015 ICC World Cup failure spurred England to adopt a more aggressive approach in white-ball cricket, one that would take over world cricket pretty soon. At the helm was Eoin Morgan, who sought specific players to take up certain roles. Alas, the legend of Ben Stokes was up and running.

Ben Stokes, who was always known to be an enigma, on the field and off it as well, was viewed as an outlier before the 2015 World Cup. Inconsistent performances coupled with off-the-field issues didn't do his case any good. But the talent he possessed was pretty obvious. He was likened to Kevin Pietersen given his attacking style of play and boy has he not lived upto the hype.

Fast forward to 14th July 2019, Ben Stokes was at the forefront of a historic World Cup win, the first of its kind for England. Everyone remembers the World Cup final, for a variety of reasons, but there's no denying Ben Stokes' brilliance on the field and during the course of the World Cup prep as well.

Without further ado, here's some much-needed insight into Ben Stokes' role in England's WC campaign, both during the tournament and leading up to the marquee event.

England's Enforcer - Big Ben Steps Up!
Ben Stokes' aggressive approach with the bat and ball allowed England to go all-out even in the face of a defeat. The balance he provided in the middle-order served England well in both white-ball formats as well.
In ODI cricket during the 2015-19 cycle, Ben Stokes scored 2400 runs at an average of 50.00, which is worth its weight in gold given he used to bat in the middle-order. What's more noteworthy is the strike-rate that he operated with 96.70 to show for his efforts.
But that's not all, Ben Stokes was used impressively by England with the ball with his ability to rile batters up with his lethal short ball coming in handy in pitches that allowed the pacers to have a big. Although his bowling average during this period reads 44.1, the 50 wickets he has to his name weigh a lot more.
But Stokes isn't about plain old numbers. It was his response to adversity that set him apart from the rest. A couple of performances stand out - the first being his sensational hundred against Australia in the 2017 ICC Champions Trophy Group Stage and the second being his brilliance against South Africa in the 2019 World Cup curtain-raiser, which set the tone for a title-winning campaign.
Ben Stokes was the recipient of four Carlos Brathwaite sixes in the 2016 ICC T20 World Cup, a memory that would haunt many others but not Stokes. The Kiwi-born all-rounder flipped the script in a matter of three years and stood tall when it mattered the most in the ICC World Cup.
Stokes may not have been England's best bowler or batter but his approach and mindset played a crucial role in England's current success. Although many worthy successors in Sam Curran and potentially Ben Green in the mix, living up to Ben Stokes' legend and brilliance will be a tough task.
While Stokes will continue playing in Tests and T20Is, the ODI format is in which he had the biggest impact as an England cricketer. With only 104 ODIs to his name, Ben Stokes has called it a day a touch too early albeit understandably. But the Englishman would remain in the memories of the cricket faithful for a long time to come.
Here's to Big Ben!
Other insights that might interest you