Super Assets v/s Standard Assets in Sixer - Which One To Choose [Detailed Guide]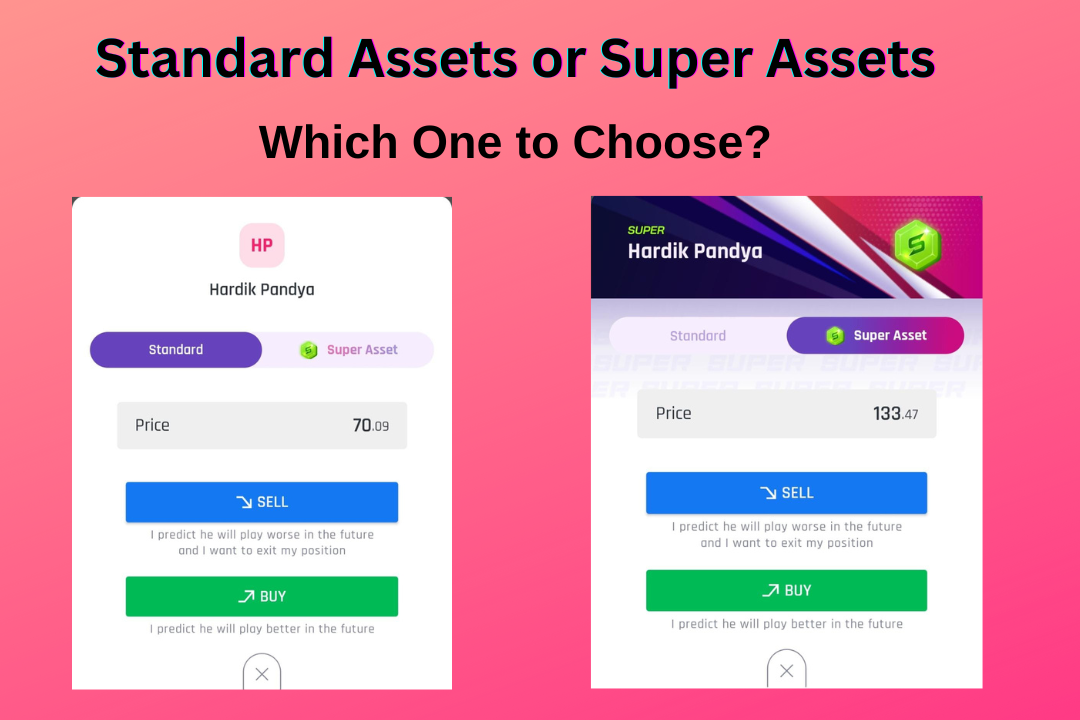 Sixer is the one-stop shop for trading in fantasy stocks in cricketers. Think a player will do well, you can trade and earn big with your skill and knowledge. And If you've got an appetite for big winnings - Super Assets are just for you!

To help understand the Sixer Market landscape even better, here are answers to some of the most frequently asked questions about Super Assets!


1. What are Super Assets?


There are two types of Assets that you buy in a cricketer - Standard Asset and Super Asset. Standard Assets of a cricket are priced and scored from 0 to 100, i.e. the max score a player can get in a match is 100 and the max price the Standard Asset can go upto is also 100.

Here come Super Assets - where the scoring and pricing ranges from 0 to 200. An increase in price and scoring range means Great Performances are More Rewarding AND Better Returns across Four Matches.
Example: Let's say Hardik Pandya has a brilliant game where he gets 67 batting points, 45 bowling points and 5 points for being named in the playing 11.
In an ideal case, Hardik's total score would be 67+45+5 = 117

In Standard Assets: Hardik Pandya's score would be 100 as the range is 0 to 100, limiting price increase to say 5%.

In Super Assets: Hardik Pandya's score would be 117 as the range is o to 200, further boosting price increase to almost 9%.


2. How else do Super Assets differ from Standard Assets & How To Decide Which Asset Type to buy?

Apart from pricing and scoring ranges, the Super Asset and Standard Asset prices of the same player are different and in no way linked to one another.
For example: Jasprit Bumrah's standard asset is worth 75.60 Sixer Coins whereas his Super Asset pricing is worth 42.54 Sixer Coins! You would have to buy each of them separately
Standard Assets provide a more stable experience whereas Super Assets are for those who love more price movements across multiple matches. Depending on your appetite for big winnings, skill and intuition on whether a player would perform, you can choose between Standard and Super Assets in a particular player.
3. How Can You Buy Super Assets in A Player?

It's simple! Once you hit the 'BUY' option for the player whose fantasy stocks you wish to buy, you should see two options in a player - Standard and Super. By tapping on the 'Standard' and 'Super Asset' text, you can toggle between Standard and Super Assets of the same player.
Once you've chosen the 'Super Asset' option, all you need to do is tap on 'BUY' and voila - you own a Super Asset!
4. Sweet! Can you hold Super Asset and Standard Assets in the same player?
Of course you can! After you've created your first portfolio, you can own a maximum of 200 Super Assets and 500 Standard Assets in the same player. If you think David Warner is going to go ballistic in the T20 World Cup, you can 200 Super + 500 Standard Assets at the same time!

Super Assets are currently available for only players playing in the T20 World Cup this year. However, you would be allowed to buy Super Assets of all players like Sunil Narine and Shubman Gill in the near future!
Other insights that might interest you